Why IdealFit is FIT for a Queen: Nutritional Supplements for Women

Best Shakes and Supplements For Ladies
You may have wondered, 'How is IdealFit made for women?', we're here to answer that question!
At IdealFit, it's been our mission is to help women reach their fitness goals by providing macro-friendly, female fitness supplements, various workout plans, and healthy recipes to help make the process easier.
There are some common misconceptions in the fitness world that we want to clear up. Many still think that protein and other supplements are only for those looking to bulk up. That's simply not true! Supplements can be a great way to support various fitness goals for women, as long as they have the right ingredients.
IdealFit products are made with women in mind to help support women's fitness goals and help you live your best life!** Let's talk about some of our best supplements for ladies and how they can help support your goals.
Protein Shakes For Women
Whey Protein:   
If you're new to fitness, you might wonder why women need protein. It doesn't matter what stage of life you're in or your goals; you need protein! It provides many excellent benefits for women, such as building lean muscle, healthy hair, and more.**
Key Reasons:
Maintain Lean Muscle Mass:

Protein is key to helping you build lean muscle. It also helps you recover from your workouts.

Healthy Hair, Skin, and Nails:

Protein is essential for healthy hair, skin, and nails because they're MADE from protein. More specifically, they're all made from a structural protein called keratin. Because keratin is a form of protein, you need to give your body the right building blocks to keep making it.

It's Yummy:

You can satisfy your sweet tooth with protein supplements, like

IdealFit Protein

! There are a variety of ways you can eat it, so you can still enjoy super tasty treats and get your protein too.** 

Stay Fuller, Longer:

Protein takes longer to digest than other macronutrients, so you're going to

feel fuller longer, which

 is one of the reasons why we recommend eating protein with every meal or snack. You don't want to eat only to end up hungry soon after.
Sometimes it's hard to get enough protein into your diet, which is why protein powder is a convenient solution. But not all protein powders are the same! 
There are hundreds of men's protein shakes on the market, and they're loaded with sugar, calories, and other ingredients that you don't need. IdealFit Whey Protein has 90-110 deliciously smooth calories and 20 grams of whey protein isolate so that you can fuel your body right! Plus, each shake provides 50% DV for Vitamin D, which can help boost your energy.**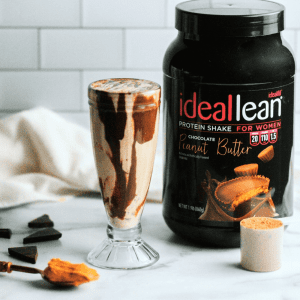 🌟🌟🌟🌟🌟"1 frozen banana, 8oz water, 1 scoop of chocolate peanut butter protein, 6-10 ice cubes…. you will not regret this 😍 I think it tastes like the chocolate peanut butter smoothie from smoothie king! By far my favorite I've had from IdealFit and I tried their single serving packets of practically everything they make!!!-ElizabethW