It's almost Valentine's Day, and some of you (like me…) might be wondering what the heck you're going to do for it.
Having a special someone is nice but then you have to think about whether you can squeeze into a reservation that you'll probably have to still wait 40 minutes for, or cook something from home.
But then there's the pressure of making something nice or at least somewhat different than the norm, am I right? Am I the only one panicking over here?
Maybe some of you are just relying on your friend in the jewelry business to come through, but for those of us just looking for a fun easy dinner to enjoy we've got the thing for you!
So throw on the slow jams and let's get to it! ?
VERY BERRY COOLER
INGREDIENTS
1/4 c cranberry juice
1 3/4 c water
INSTRUCTIONS
1. Mix all ingredients until BCAA powder has completely dissolved.
2. Pour over ice and enjoy!
Serves 1
Prep time: 2 minutes
Calories per serving: 30, Protein: 0g, Carbs: 8g, Fat: 0g
APPLE PECAN CRANBERRY SALAD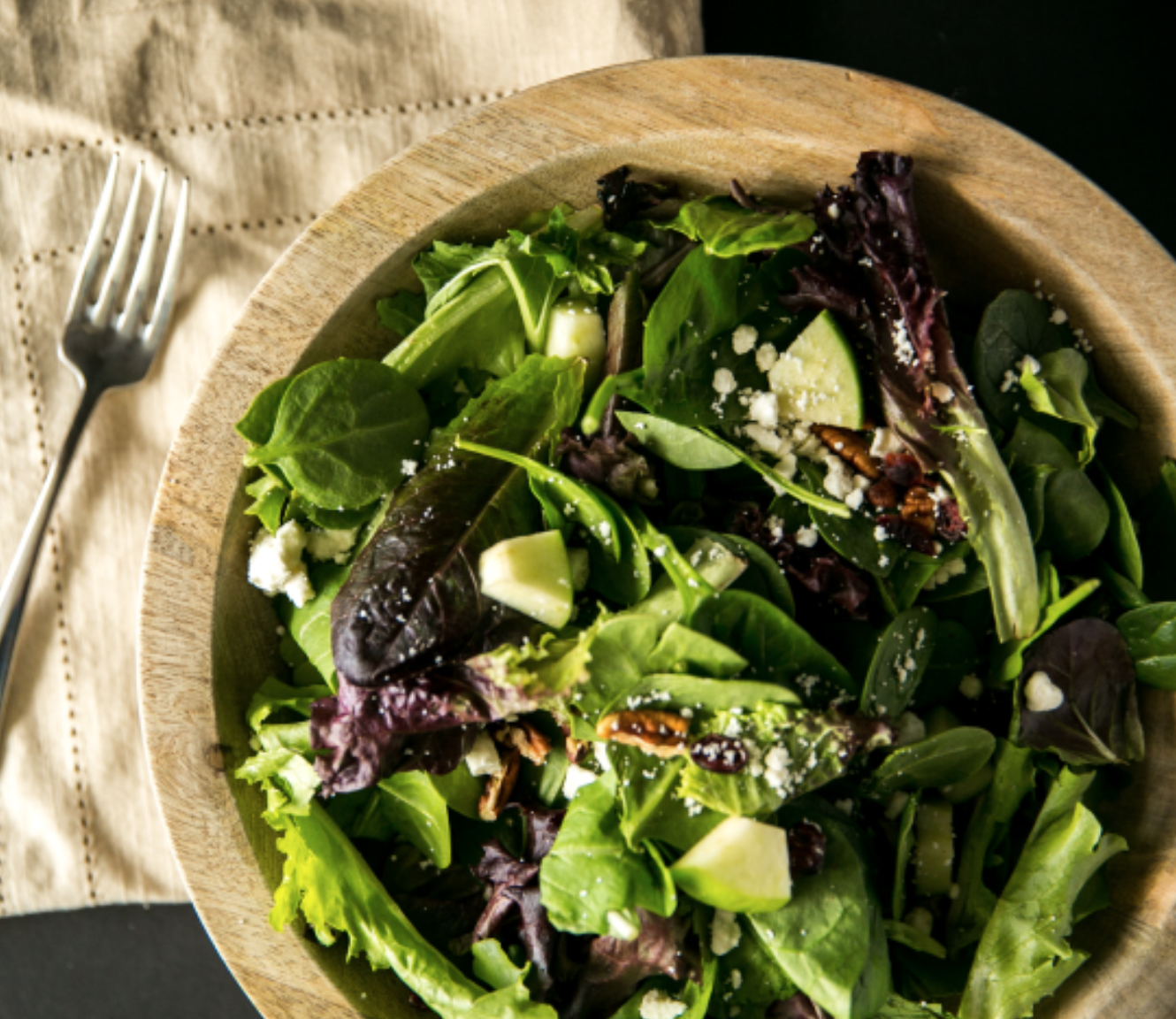 INGREDIENTS
2

 

c

 

leafy greens

1/4

 

apple, cubed

2

 

tbsp.

 

pecans

2

 

tbsp.

 

cranberries

2

 

tbsp.

 

crumbled feta cheese
INSTRUCTIONS
Toss all ingredients together and enjoy with your choice of dressing. Enjoy!
Calories per serving: 290, Protein: 8g, Carbs: 30g, Fat: 14g
Spinach Artichoke Stuffed Chicken

INGREDIENTS
2 (4 oz) chicken breasts
1 tbsp olive oil
2 tsp minced garlic
Salt and pepper
Spinach artichoke stuffing:
½ cup nonfat plain greek yogurt
2 tbsp greek yogurt cream cheese
1 cup fresh spinach
¼ cup artichoke hearts
1 tbsp parmesan cheese
2 tsp minced garlic
2 tbsp lowfat mozzarella cheese
salt and pepper to taste
INSTRUCTIONS
Preheat oven to 350 degrees F. Grease a baking tray and set aside.
Mix greek yogurt, cream cheese, spinach, artichoke hearts, parmesan cheese, mozzarella, garlic, salt and pepper.
Season chicken breasts with garlic, salt and pepper. Slit chicken in across the center of the breast and stuff with spinach mixture.
Bake chicken for 45-50 minutes, or until chicken is no longer pink and serve with a side of veggies. Enjoy!
Serves 2. Serving size: 1 chicken breast. Calories per serving: 290 / Protein 35g / Carbs 8g / Fat 12g
Protein Molten Lava Cake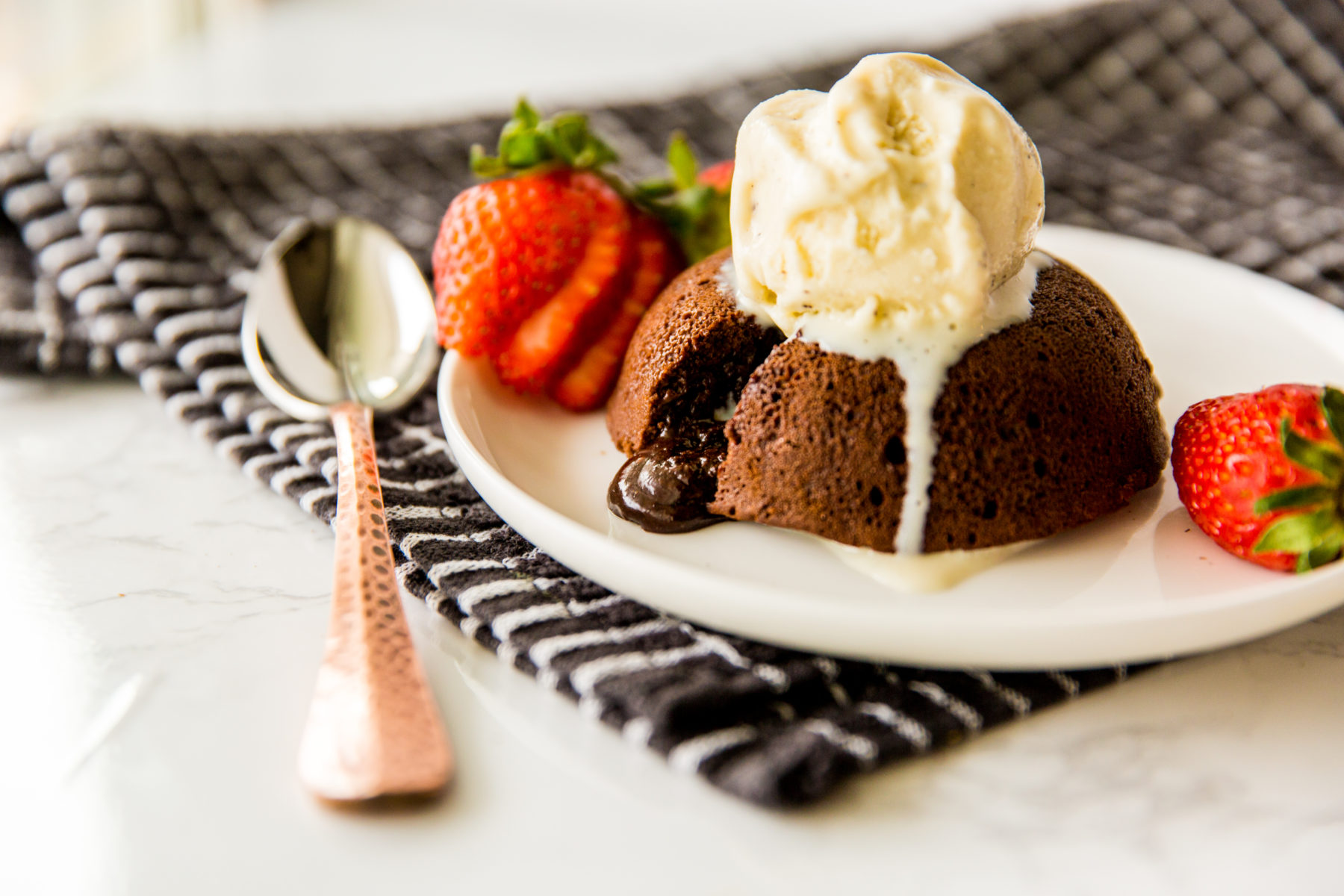 INGREDIENTS
2 tbsp dark chocolate chips
1 tbsp earth balance butter
½ large egg
½ tsp vanilla extract
1 tsp coconut sugar
1 tbsp white whole wheat flour
½ scoop IdealLean Chocolate Brownie Protein
⅛ tsp salt
¼ cup Vanilla Bean Halo Top Ice Cream
INSTRUCTIONS
Preheat oven to 350 degrees F and spray ramekins with nonstick cooking spray.
In a microwave safe bowl, melt 1 tbsp chocolate chips and butter and mix until smooth. Add egg, vanilla, and coconut sugar. Stir in whole wheat flour, protein powder, and salt.
Pour batter into prepared ramekins and additional 1 tbsp of dark chocolate chips to the middle of each one. Bake for 10 minutes. Top each with ¼ cup of ice cream. Enjoy!
Serves 2. Serving size: ½ lava cake with ice cream. Calories per serving: 195 / Protein 9g / Carbs 17g / Fat 12g
There you have it! Your crush is going to be blown away by this meal! Nothing wow's people like a yummy healthy meal!
And just a bonus, if you're needing some protein to go along with your cooking ventures, don't forget to check out our sale! ??