We all love dessert, right? I mean, who doesn't love to indulge in some sweet delicious goodness once in a while!
But let's talk real for a second. We all have fitness goals as well, which definitely creates a dilemma. They say that nothing tastes as good as being fit feels.
But you know what? Sometimes ice cream does! Am I right?
And that's totally okay! While your favorite desserts don't always fit with your nutritional goals, cheating every once in a while is fine. It's all about balance.
But with healthier dessert options (like sugar-free), you can have the great taste of cheating and still reach your fitness goals!
To give you some healthier dessert alternative ideas, I came through with a few of my favorite sugar-free dessert recipes you're going to love!
My ultimate 5 sugar-free desserts!
1. Key Lime Pie Bars
Serves 12. Serving size: 1 key lime triangle
Calories per serving: 117/ Protein 4g / Carbs 13g / Fat 6g
INGREDIENTS:
12 Medjool dates pitted
1/2 c whole almonds
1/2 c whole cashews
1 scoop French Vanilla IdeaLean
1/4 c unsweetened shredded coconut
1 1/2 tbsp. lime zest
1 1/2 tbsp. fresh key lime juice
INSTRUCTIONS:
1. Soak the dates in water for about 5 minutes to help soften the dates.
2. Drain the water and add dates to a food processor or high powered blender.
3. Add the rest of the ingredients and blend. Process until mixture is crumbly yet still holds together well when pinched between your fingers.
4. Press mixture onto parchment paper forming a square about 9 x 9 inches. Place bars in the fridge to chill if they seem sticky.
5. Cut into 12 triangle bars. Enjoy this sugar-free dessert immediately or wrap in parchment paper and store in a sealable container!
2. Strawberry Banana Nice Cream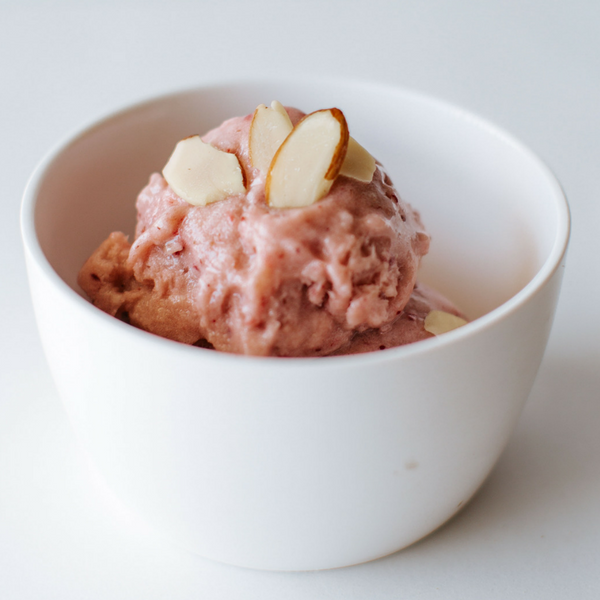 Serves 1. Calories per serving: 215 / Protein 22g / Carbs 34g / Fat 1g
INGREDIENTS:
1 medium banana, frozen
1/2 c frozen strawberries
1 scoop IdealLean Strawberries and Cream Protein
2 tbsp. unsweetened almond milk
INSTRUCTIONS:
Blend all ingredients together until smooth. Enjoy this sugar-free dessert alternative to appease your ice cream cravings!