We want to help you smash your goals this January! That's why we are so excited to introduce our NEW Bakery Range! With five new flavors to curb those sweet cravings.
Here's what you can expect:
20g of Protein
90 Calories
Zero Fat
Zero Sugar
Getting your protein in just got tastier. To prove that, we came up with 5 different recipes using our Bakery Range! Get these recipes below and be sure to grab a tub to get started.
1. Maple Protein Donuts

Ingredients
1/2 cup white whole wheat flour
1/4 cup blanched almond flour
1 scoop IdealLean Maple Syrup Protein
1/2 tsp baking powder
1/2 tsp baking soda
1/8 tsp salt
1 egg
1/2 cup plain nonfat Greek yogurt
1 tbsp coconut oil, melted
2 tbsp pure maple syrup
Frosting
1/4 cup raw cashews, soaked in water
1 tbsp pure maple syrup
1 scoop IdealLean Maple Syrup Protein
1tbsp water
Instructions
Preheat oven to 400 degrees F. Spray donut tray with nonstick spray and set aside.
In a mixing bowl, stir flours, IdealLean Maple Syrup Protein, baking powder, baking soda, and salt.
Add egg, greek yogurt, coconut oil, and maple syrup and mix until smooth. Add batter to a Ziploc bag, close, and snip corner. Pipe into molds (don't overfill) and bake for 10-12 minutes, or until golden. Let cool.
Drain cashews. In a high powered blender or food processor, blend cashews, maple syrup, IdealLean Maple Syrup Protein powder, and water until smooth (you may need to add more water as needed to help blend).
Frost donuts and enjoy!
2. Rocky Road Protein Bites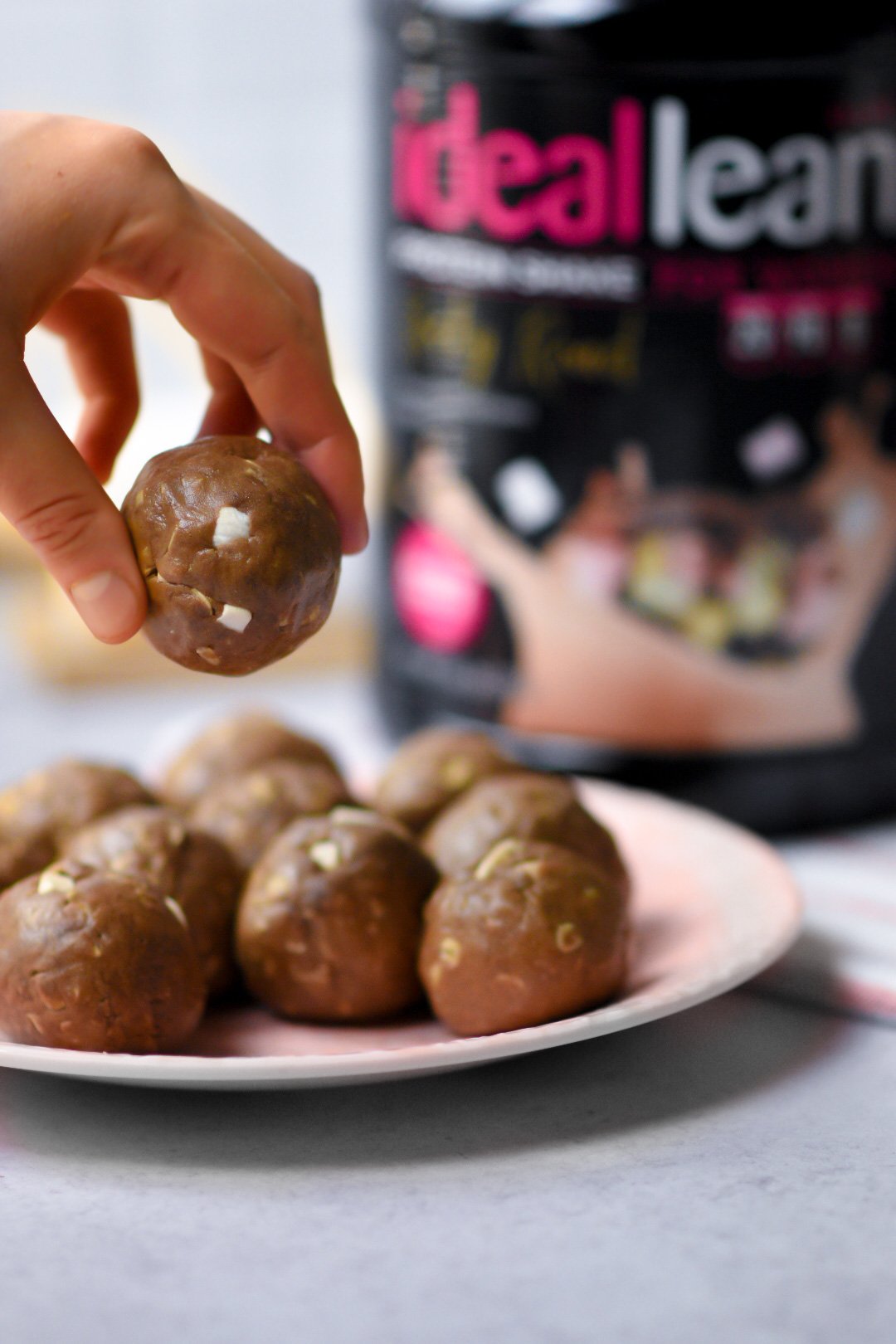 Ingredients
1 c rolled oats, partially blended
1 scoop Rocky Road IdealLean Protein
2 marshmallows (cut into small pieces)
2 tsp. cocoa powder
1/2 c almond butter
Instructions
In a microwavable bowl, add the almond butter and heat for about 30 seconds to slightly soften the almond butter to make mixing it easier.
Remove the bowl from the microwave and add the rest of the ingredients. Mix well until the ingredients are combined well. Using a tablespoon-sized measuring spoon, divide batter into 16 balls.
Place the protein balls in a sealable container and refrigerate for about 1 hour until chilled. Enjoy!
3. Gingerbread Protein Cookies
INGREDIENTS
1 3/4 c blanched almond flour
1 scoop Gingerbread Ideallean Protein
1/2 tsp. baking powder
1/4 tsp. baking soda
1/4 tsp. nutmeg
1 tbsp. ground ginger
1/2 tsp. salt
2 tsp. cinnamon
1/2 tsp. ground cloves
1/2 c unsweetened applesauce
1/3 c molasses
1/4 c sugar-free maple syrup
1 egg
INSTRUCTIONS
1. Preheat oven to 350 degrees F. Combine all dry ingredients.
2. In a separate bowl combine applesauce, molasses, sugar-free maple syrup, and 1 egg. Add to dry mixture and stir until combined.
3. Scoop dough onto greased baking sheet and bake for 10-15 minutes.
Makes 30 cookies, Serving size: 2 cookies, Prep time: 5 minutes, Bake time: 15 minutes
Calories per serving: 114, Protein 4g, Carbs 11g, Fat 7g
4. Cinnamon Roll Milkshake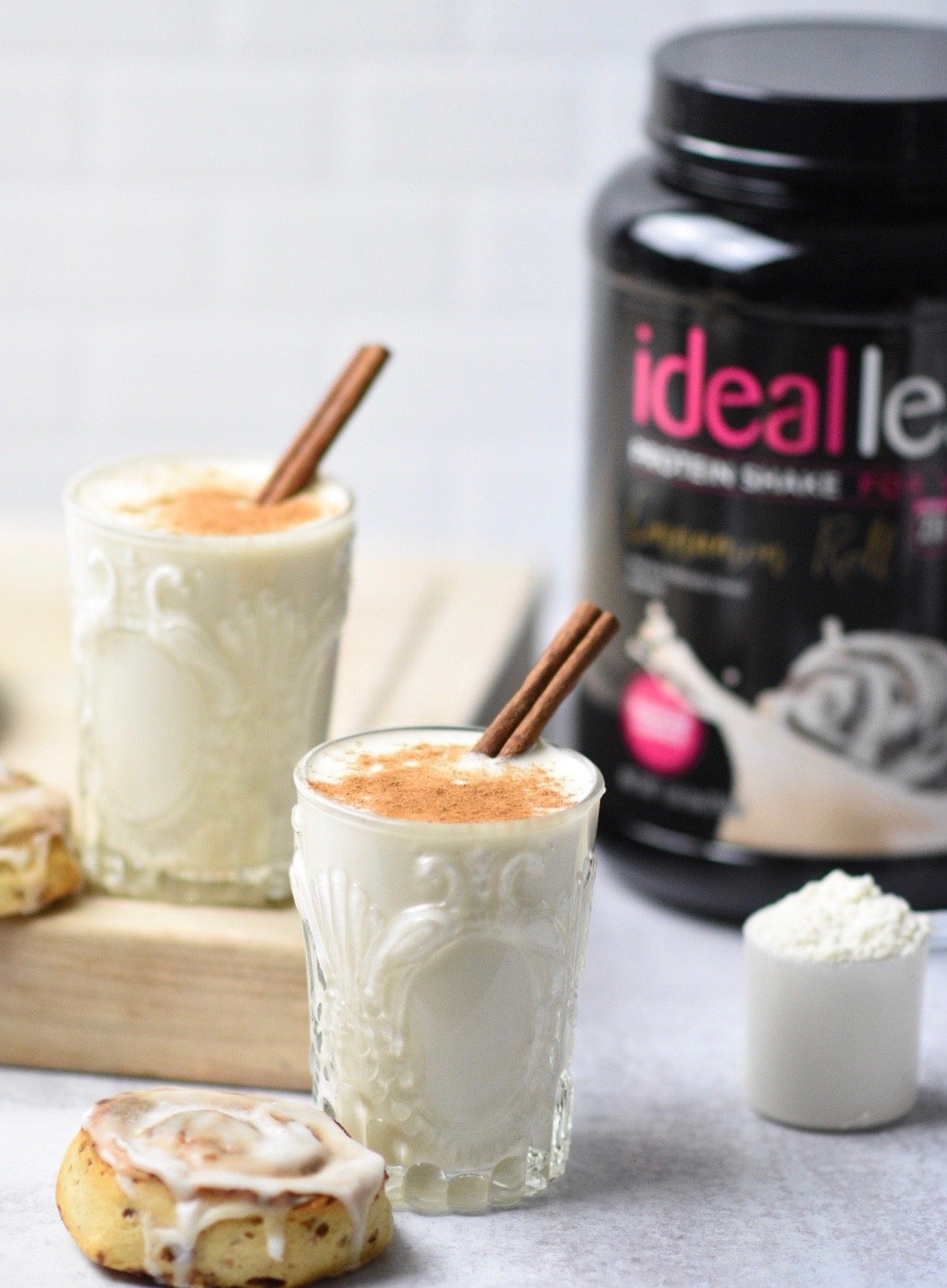 Ingredients:
¾ c almond milk
1 c Vanilla Halo Top Ice Cream
1 scoop Cinnamon Roll Ideallean Protein
⅛ tsp. cinnamon
Instructions:
Blend all ingredients and enjoy!
5. Butter Pecan Protein Cookies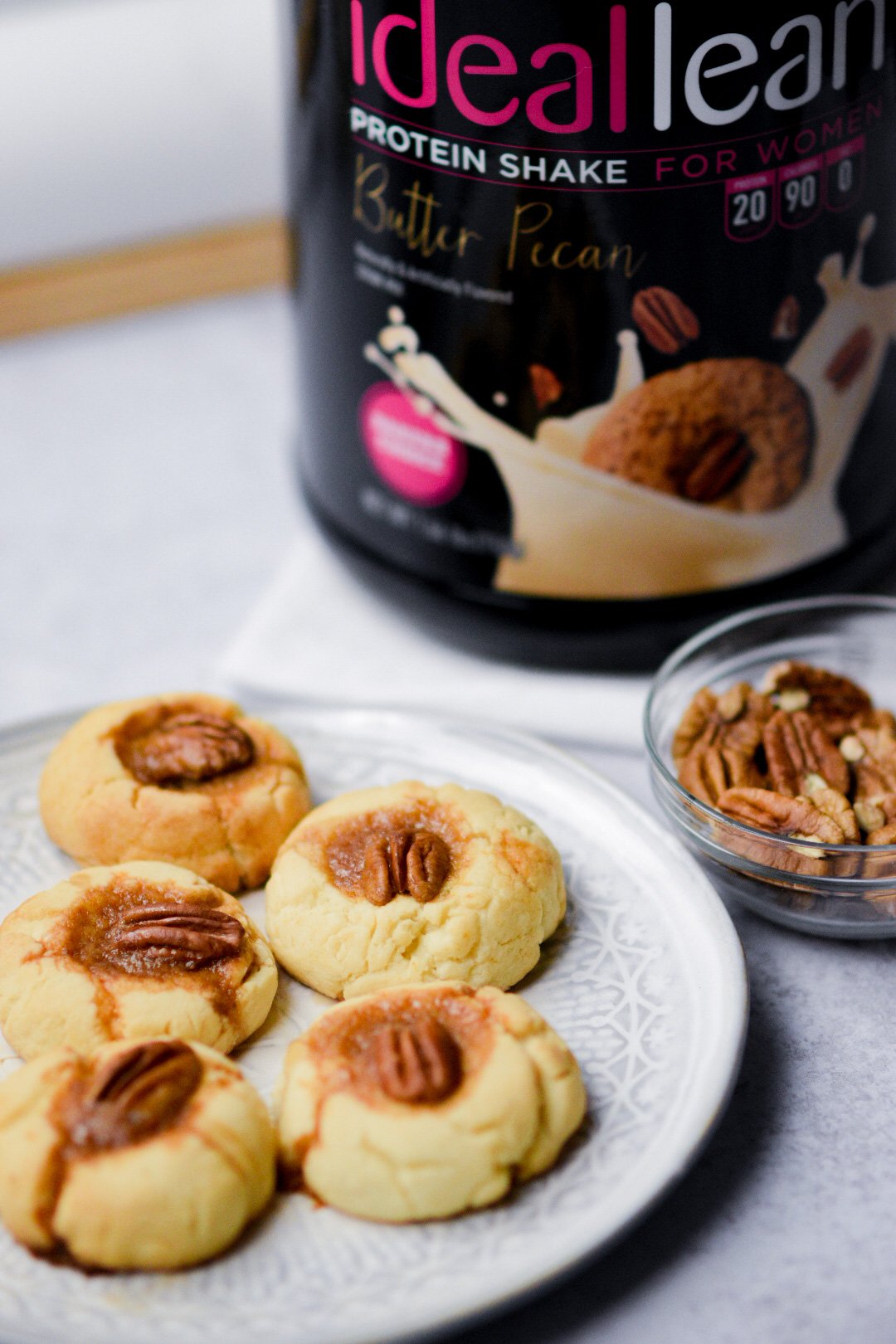 INGREDIENTS
1/4 cup coconut butter softened
1/4 cup coconut oil
1/3 cup erythritol or sweetener of choice
1/3 cup powdered erythritol or powdered sweetener of choice
1 scoop Butter Pecan Ideallean Protein
4 Tbsp almond milk
1 egg
1/8 tsp baking soda
1 tsp salt
1 cup coconut flour
1/4 cup almond flour
*Pecans (optional)
*Sugar-free Maple Syrup (optional)
INSTRUCTIONS
Preheat oven to 350 degrees.
Mix together coconut butter, coconut oil, erythritol, powdered erythritol, and almond milk until fluffy.
Add egg and mix until combined. Mix the rest of the dry ingredients and slowly incorporate into the mixture. Don't be alarmed if the mixture looks crumbly, it should stick together when you form into a ball.
Put parchment paper onto a cookie sheet. Roll into 12 balls (should be about the size of 1 inch). Press cookies down with the bottom of a cup. You can also press it into a cookie cutter for a smoother shape. They should still be thick.
Press thumb into center of cookie and drizzle with sugar-free maple syrup, then press pecan into the center of the cookie.
Bake for 8-10 minutes. Enjoy!
Each cookie: Calories: 118. Protein: 4g. Net Carbs: 3g. Fat: 8.2g.
We hope these 5 recipes help you satisfy your sweet tooth and keep reaching your goals! These new flavors are delicious on their own and in healthy treats. Grab a tub on sale today by clicking the banner below.