It's officially spooky season ladies!
We all know what that means… endless amounts of candy, chocolate, pumpkin spice lattes, and of course, Halloween parties! All of this is great, however, it's not so great if you're trying to stay on track with your goals.
That's why we're giving you some seriously spooktacular mocktail recipes that will give you all the tastiness and spooky vibes for way less calories! 
Try making these for your next Halloween party so that you can trick or treat without the cheat!
BLOOD SPRITZER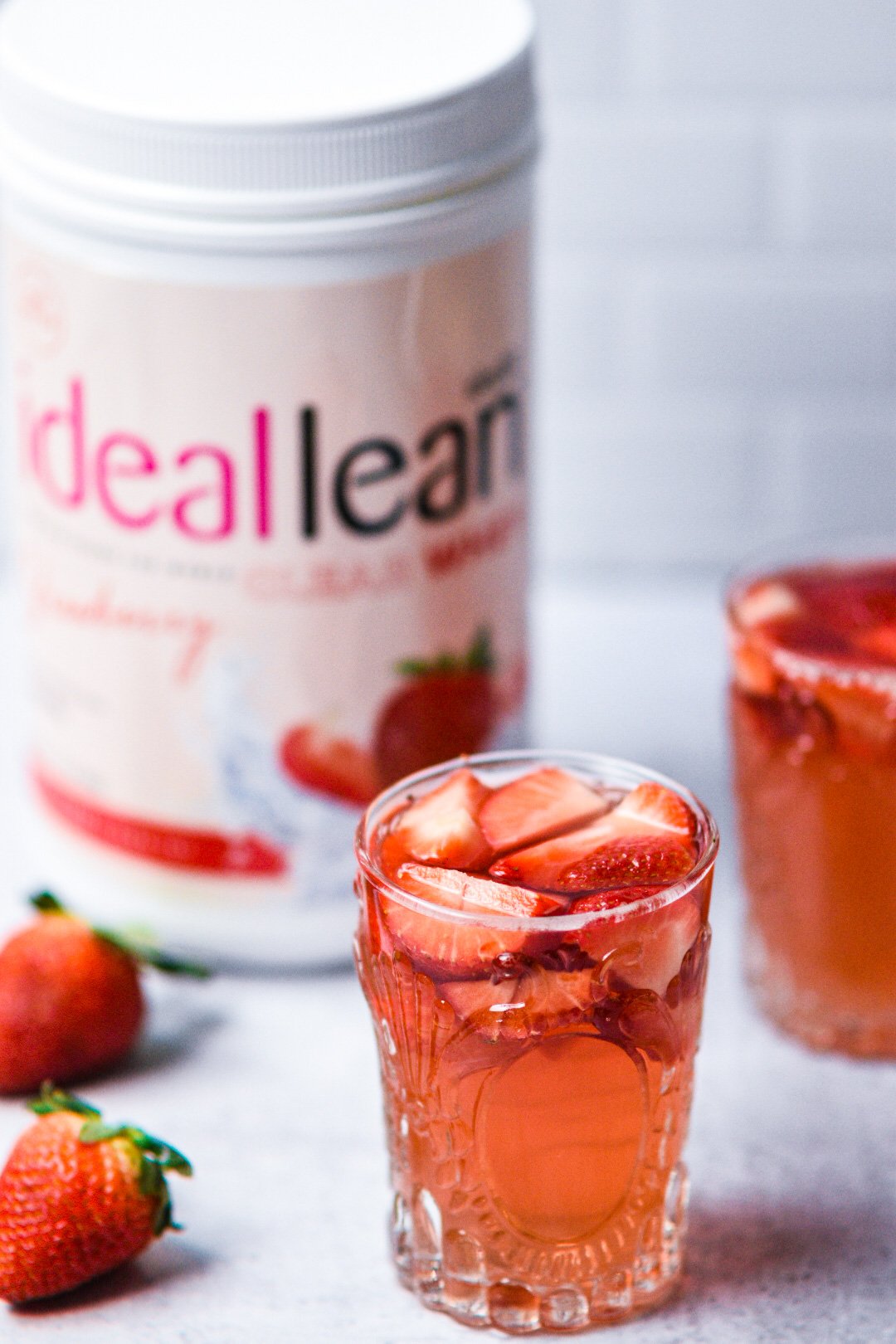 INGREDIENTS 
2 cups sparkling water
1 scoop Strawberry Clear Whey Protein
2 tablespoons lemon juice
1/2 cup fresh sliced strawberries
INSTRUCTIONS 
Mix the sparkling water with the Strawberry Clear Whey. Wait two minutes for the Clear Whey to fully dissolve. Add Lemon juice and strawberries. Enjoy! 
Serves 1. Calories per serving: 101 / Protein 20.5 g / Fat 0.3 g 
JACK-O'-LANTERN JUICE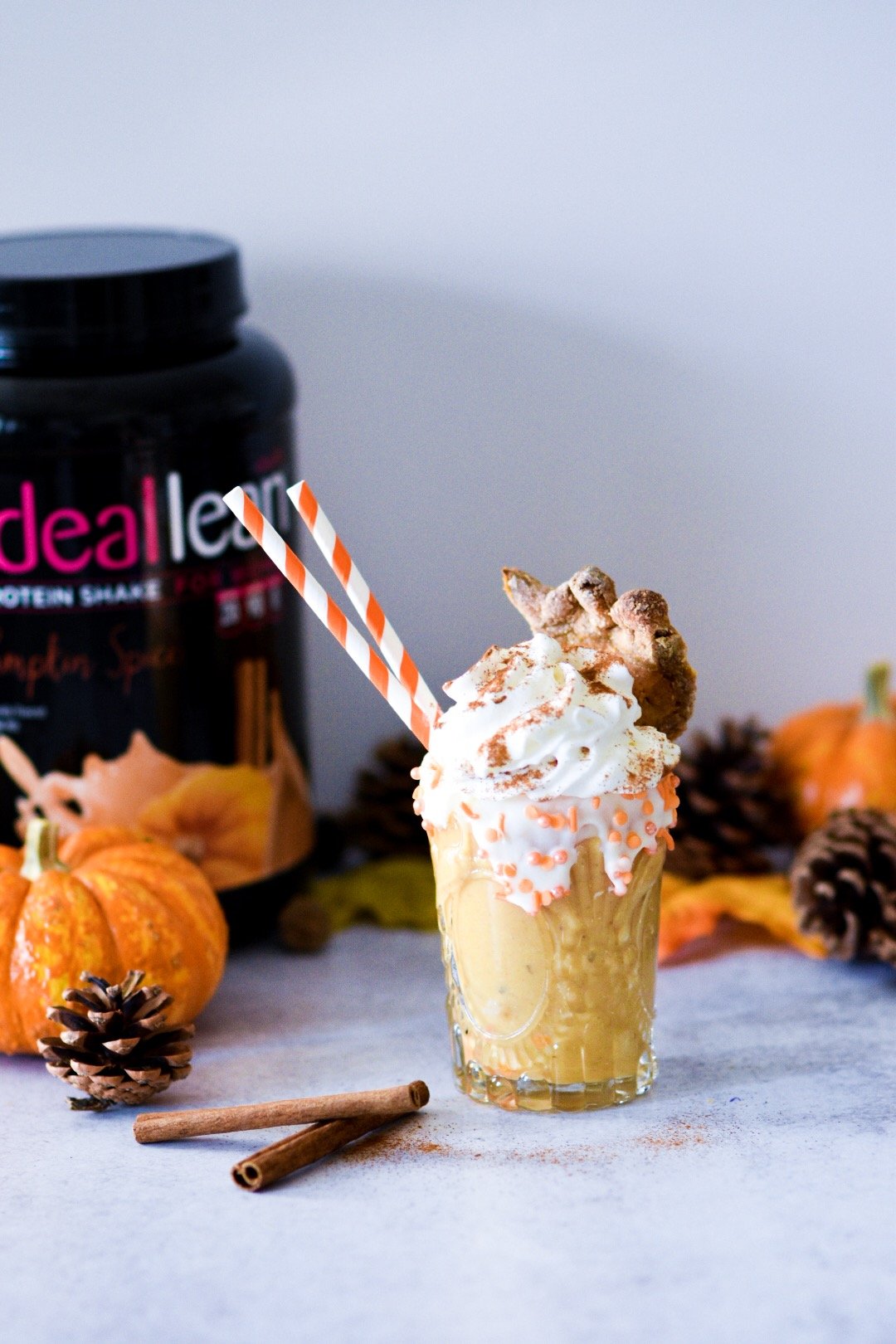 INGREDIENTS 
1 banana
1 cup almond milk (no sugars)
3 tbsp pumpkin puree
1/2 cup halo top vanilla ice cream
1 scoop Ideallean Pumpkin Spice Protein
1/2 tsp cinnamon
1/4 tsp nutmeg 
INSTRUCTIONS 
Blend all ingredients together and enjoy! 
Serves 2. Calories per serving: 197 / Protein 14 g / Net Carbs 23 g / Fat 2 g
DUNKIN' APPLE MARTINI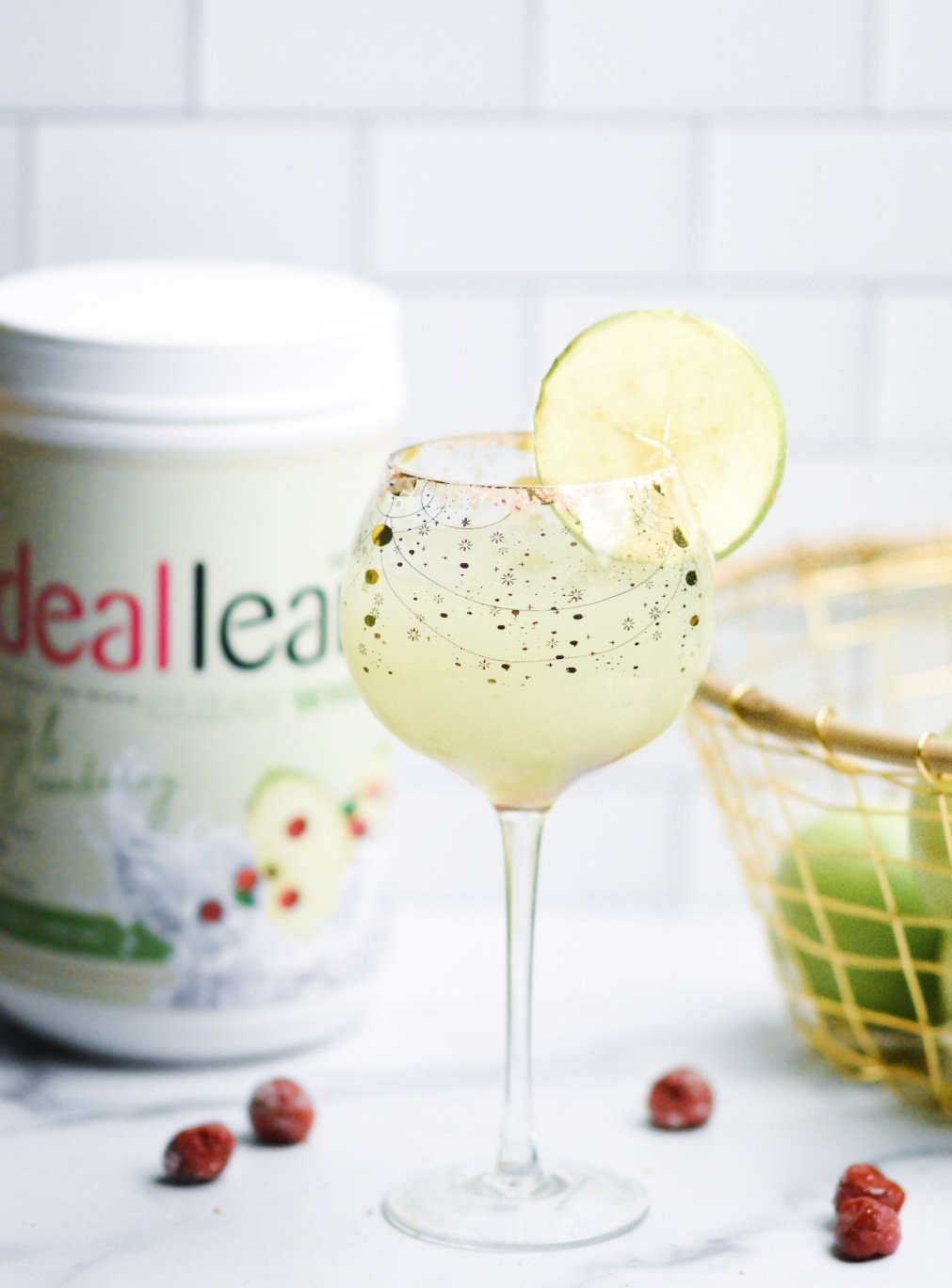 INGREDIENTS 
1 scoop Apple and Cranberry Clear Whey
2 cups club soda
1 tbsp lemon juice
Apple slices (optional)
INSTRUCTIONS 
Mix the clear whey into the club soda, shake or stir well. Wait for 2 minutes. Add the remaining ingredients and enjoy!
Serves 1. Calories per serving: 88 / Protein 20g / Net Carbs g / Fat 0g
If that's not enough to satisfy your candy cravings, we've also created some delicious healthy Halloween snack recipes using our Fall favorite Spiced Pumpkin protein which you can serve up along with your terrifyingly tasty mocktails!
PUMPKIN SPICED PROTEIN DONUTS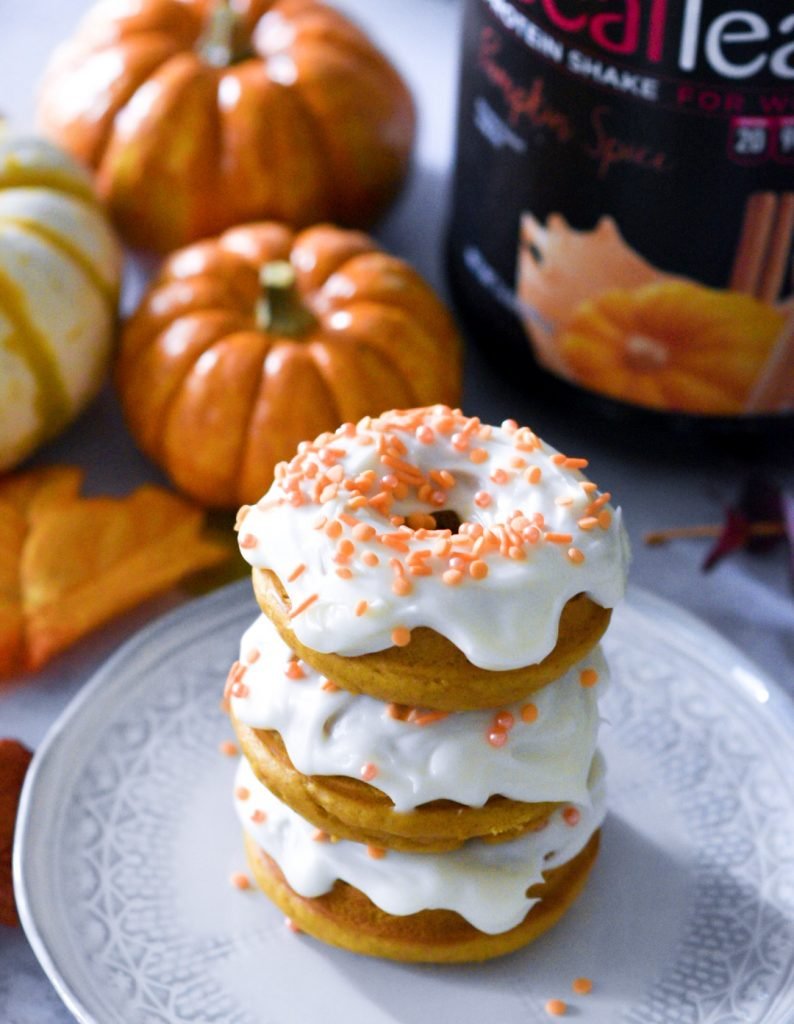 INGREDIENTS 
1/2 c Whole Wheat flour
1 scoop IdealLean Pumpkin Spice Protein
1/4 cup blanched almond flour
1/2 tsp. baking powder
1/2 tsp. baking soda
1/8 tsp. salt
1 egg
1/2 cup plain nonfat Greek yogurt
1/2 tbsp coconut oil melted
2 tbsp honey
2 tbsp pumpkin puree 
Optional: If you want to frost these, mix together 2 ounces of fat-free cream cheese with a 1/4 cup powdered erythritol, a dash of cinnamon, and a splash of unsweetened almond milk. However, the macros do not include the frosting.
INSTRUCTIONS 
Preheat oven to 400 degrees F. Spray donut tray with nonstick spray and set aside. 

In a mixing bowl, stir flours, IdealLean Pumpkin Spice Protein, baking powder, baking soda, and salt. 

Add egg, greek yogurt, coconut oil, honey, and pumpkin puree and mix until smooth. Add batter to a Ziploc bag, close, and snip corner. Pipe into molds (don't overfill) and bake for 10-12 minutes, or until golden. Let cool. 

Frost donuts and enjoy!
Serves 12. Calories per donut: 132 / Protein 17 g / Net Carbs 12 g / Fat 1 g 
PUMPKIN CHOCOLATE CHIP COOKIES

INGREDIENTS 
1 1/4 cups whole wheat flour
1/2 teaspoon baking soda
1/2 teaspoon baking powder
1 teaspoon ground cinnamon
1/4 teaspoon salt
1/2 cup erythritol
1 scoop Ideallean Pumpkin Spice Protein
2 tbs greek yogurt
1/2 cup + 2 tbsp pumpkin puree
1 large egg
1 teaspoon vanilla extract
1/4 cup sugar-free chocolate chips
Icing: 
1 tbs low-fat cream cheese
1/4 cup powdered erythritol
2 tbs almond milk
INSTRUCTIONS 
Mix the flour, protein, cinnamon, and salt together. Set aside. 

Cream together greek yogurt, erythritol, and 2 tbsp pumpkin puree. Add remaining pumpkin puree, egg, and vanilla extract. Slowly incorporate dry mixture. Then fold in chocolate chips. 

Preheat oven to 350 degrees. Line two cookie sheets with parchment paper. Scoop 18 cookies onto the sheets and bake for 12-18 minutes. Let them cool on a wire rack. 

Mix ingredients for glaze and drizzle over the cookies. Enjoy!
Serves 15. Calories per cookie: 72 / Protein 4 g / Net Carbs 8 g / Fat 2 g
PUMPKIN PROTEIN BALLS
INGREDIENTS 
3/4 c natural peanut butter
1/2 c pure pumpkin puree
3 scoops Ideallean Spiced Pumpkin Protein
1/2 cup Coconut flour
1/2 tsp. cinnamon
3 tbsp honey
INSTRUCTIONS 
Melt Peanut butter in the microwave for 30 seconds and mix with honey. Put all the rest of the ingredients in a medium bowl and stir to combine. Cover the bowl and place it in the fridge to chill for 2 hours. This will make them easier to roll. 

Roll the dough into 20 bite-sized balls. Enjoy or keep chilled until ready to eat.
Serves 20. Calories per ball: 94/ Protein 6 g / Net Carbs 6 g / Fat 5 g