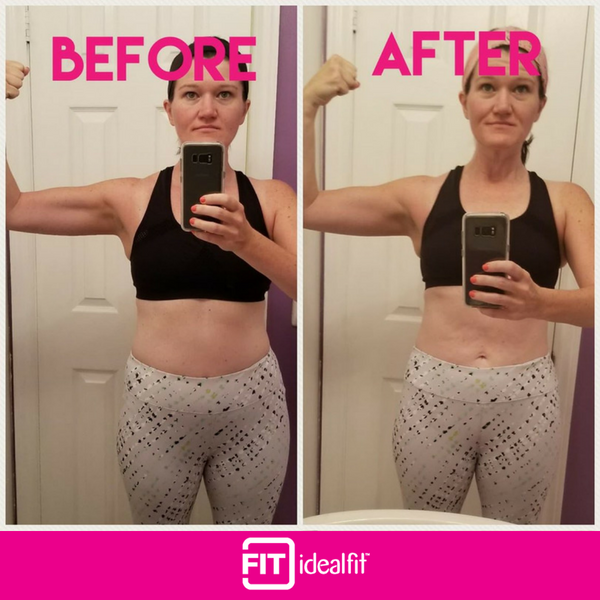 Check out our special Q&A and get inspired to create your own fitness journey!
Q: When did your journey start?
I've had my ups and downs over the years but I got serious about making a change about three years ago. I'd say in the past year, however, is when I've made the most progress.
Q: What made you want to make a change?
When I realized I was 178 pounds (which was the same weight as when I was pregnant with twins!), I knew it was time to do something.

Q: What tips do you have for others starting out?
Be consistent. Falling off the wagon is normal – don't let it get you thinking that all is lost. Just dust yourself off and laugh and get back up.
Also, make clear goals for yourself and celebrate each and every little victory along the way.
Keep your "fat pants" as a reminder of how well you're progressing.

Q: What have been some of the biggest obstacles you've had to overcome?
Probably self-sabotage. I'm still trying to master this one. For me, it's all about my emotional relationship with food. I've been working hard at trying to view it as fuel instead of as a lover.

Q: What are some of your go-to, favorite meals?
With Idealfit and its community, I'm starting to get a whole new appreciation for all the choices that exist for meals that are healthy and tasty too. Even for my treat meal, instead of heading for a burger and fries, I'll get myself a protein bowl that is just as satisfying and makes me feel good afterward, instead of bloated and upset with myself. I batch-cook oatmeal banana pancakes, grilled chicken, and sweet potato fries, and am gaining confidence in my food choices each day.

Q: What are some go-to supplements that have helped?
IdealLean Chocolate Brownie Protein is my go-to, and Raspberry Lemonade BCAAs for during my workouts. I also take IdealLean Burner which helps me power through my workouts.