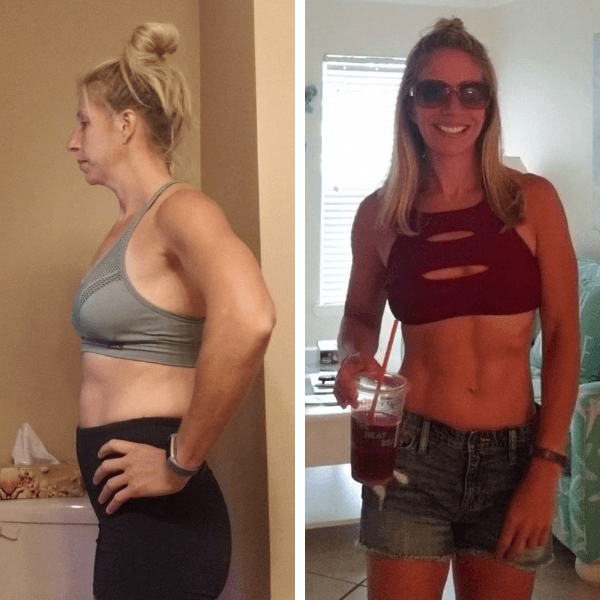 Q: When did your journey start?
My journey with fitness started many years ago when I realized that I really loved running and working out.  I have completed many road races and all types of Mudruns including Spartan, Warrior Dash, Rugged Maniac, Battlefrog, etc.
However, as much as I was active and did lots of cardio, my fitness journey really began when I started going to the gym and learning how to lift weights, build lean muscle, and eating properly.
Q: What made you want to make a change?
I changed from being a huge cardio person to someone who only incorporates it a few days a week now and only in short bursts.  The changes I have made with my fitness program is due to the fact that I love feeling strong, lifting weights, and shaping my body.
At 44, I have never felt stronger, leaner, or healthier.  I have made many changes to the way that I eat as well. I didn't diet or do anything crazy to look skinny or lose weight. I started having stomach issues and was constantly going to the doctor buckled over in pain. I couldn't figure out what to eat and what not to eat.  
I learned a lot about my body and how it responds to certain foods. I now fuel my body with protein, a little fat, and lots of carbs! Yes, healthy carbs. I love them and when I actually started eating more, I actually toned up more!
I also learned a ton about macros from Lindsey's 15-day challenge.  I learned how to figure out my carbs, fat, and protein for the day using MyfitnessPal. It was eye-opening when I saw how little protein I was taking in and that I actually needed to eat more calories daily especially for how hard I work out.
Q: What tips do you have for others starting out?
My tips for other people that are just starting out is to be patient and be consistent. I didn't have a lot of weight to lose, but it still took time for me to see changes.  
Take lots of pictures because it really helps to show you your progress.
Also be consistent. I go to the gym at the same time and food prep on Sundays so that I am prepared.
If you have a bad day, don't dwell over it, but shake it off and move on.
Lastly, if you feel overwhelmed, do small changes. Start with getting rid of soda, then adding more vegetables, replacing an unhealthy snack with a healthy one.  You don't have to do everything at once. Small changes and gradual weight loss is better and more sustainable.
Q: What have been some of the biggest obstacles you've had to overcome?
I have had many obstacles and hardships in my life that I believe have led me to fitness. At the age of 30, I had my first son, and 21 months later, I had my second son. It did not leave much time for working out or watching what I ate.  
At this same point in my life, I had a father in law who was very sick with ALS and my mother who was diagnosed with cancer. Four days after giving birth to my second son, my mother passed away. Soon after my father in law did as well. I was in  dark place with two young children and at this point even my marriage became unstable.
I was often depressed, sluggish, and just going through the motions of life. When my boys were just 3 and 5, I got divorced and moved home with my dad. It was here that I realized how much I needed fitness.  I started running almost every day. It felt great to hit the road and clear my head. I found a healthy escape that I looked forward to doing!
Soon this turned into signing up for road races and half marathons. I felt healthy and powerful. As the years went on, I discovered weight training and decided that I loved that even more than running.
Lifting makes me feel strong and in control! I also love being outdoors and started jump roping, hiking, and getting my kids involved as well.
Q: What are some of your go-to, favorite meals?
My favorite go-to meals are chicken, sweet potato, and a vegetable.  I could eat it every day. I also love ground turkey with peppers and onions. Lastly, a salad topped with tuna, chicken, or steak with goat cheese!
Q: What are some go-to supplements that have helped?
Some of my favorite supplements are IdealLean Protein. I love it because it tastes great and is low in carbs and fat. I mix it in my oatmeal, shakes, sweet potato muffins, eggs, pancakes, everything!
I l also love IdealLean BCAAs. Green Apple is my favorite and helps with my recovery.
I use the pre-workout when I need a push and lastly, I just started using IdealLean Nighttime Probiotic. This helps with keeping my gut healthy and helps me sleep!
Q: What are some of your biggest victories?
Some of my biggest victories are being able to move on from the past.
I met somebody new, bought a house and have a wonderful blended family. My boyfriend and I train together, run races together and love to hike with our dog and kids.
As for fitness victories, I am being able to complete pushups and pull-ups. I now do many variations of pull-ups and nothing makes me feel stronger. I just came in third in a pull-up contest which had just motivated me to work on them more.  
I also started my own fitness Instagram page @beckylovesfitness which has helped me hold my self-accountable, post videos, and hopefully inspire other people over 40 that it is not too late to start lifting weights, jumping rope, and feeling strong!
Q: How has this affected your life?
Fitness has affected my life because I feel better about who I am and what I am capable of. Fitness is an outlet for stress and I look forward to my workouts every day!  
I don't worry about the number on the scale because I don't care what I weigh as long as I feel healthy and strong. I have had no stomach issues in the past year since I started watching what I ate. This has been the greatest gift.  It was not fun always being in pain and not knowing what to do.
I now enjoy all types of healthy activities with my family including hiking, road races, and working out together. I have found a new passion for jump roping and kettlebells just recently.
Fitness is a huge part of my life because I love it and I love the way it makes me feel!