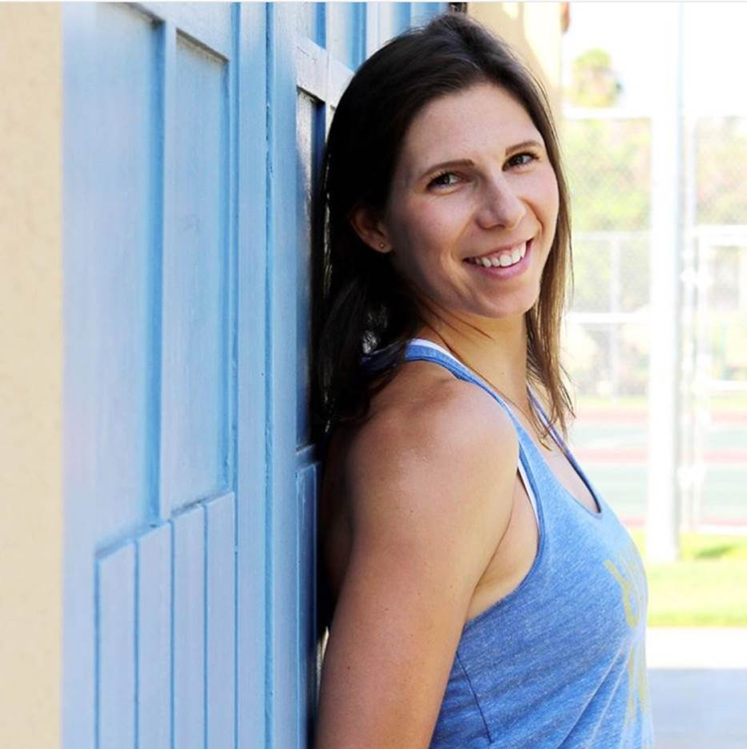 At IdealFit we love teaming up with incredible women who share our passion for fitness and nutrition. One of those awesome women is Amber, founder of Biceps After Babies, who is a fitness enthusiast and a total rockstar!
Amber is a registered nurse, competitive powerlifter, and a NASM certified personal trainer who taught group fitness classes for 8 years including Zumba, BODYCOMBAT, BODYPUMP, Ballet Barre, and CXWORX.
First and foremost, however, she calls herself a mom. She describes herself as a goal-setting girl boss who can't imagine a world without chocolate and peanut butter (combined, preferably)!
She created Biceps After Babies in 2016 with a mission to empower women everywhere (particularly moms) to take control of their fitness and nutrition in order to become the healthiest versions of themselves.
We recently had the opportunity to sit down for an amazing conversation with our girl Amber, where we were able to dive in and ask the questions everyone wants to hear the answers to!
You can read the entire Q&A below! (And check out her story here)
Haven't Subscribed to Our Newsletter?
Receive awesome FREE fitness and nutrition information, exclusive deals, amazing free recipes, expert advice, professional training tips and much more!
Q: When did you start your fitness/nutrition journey? And what motivated you to begin?
A: I started lifting weights as a teenager and did so off and on through my college years. After I had my first baby and had some weight to lose I started teaching group fitness classes and enjoyed working with and motivating class participants.
After years of teaching, I got to a point where I felt like my body stopped changing. I didn't lose any more fat, I didn't gain any more muscle, I just kinda stayed the same. And for someone who was teaching 8+ classes a week, that felt crazy!
I wanted to feel like I really looked like I spent a lot of time at the gym. It was at that point that I realized the missing piece was nutrition. I worked out a ton but paid zero attention to what I ate.
I set a New Year's Resolution to lean-out and get a six-pack. I set and tracked my macros and 8 weeks later I had dropped 10 lbs and had visible abs, something I had never had before.
I realized that the best way to hit my fitness goals was to combine exercise AND nutrition and since then I've gone on to build more muscle, build more strength and coach others to do the same!
Q: How do you balance your life between being a mom and coach?
A: Being a mom is always first and foremost my priority, but I also absolutely love what I do, and being able to walk a client through a transformation is incredibly rewarding.
To be able to do both jobs well, I have learned I have to be intentional about my time and focus. When I am working I try to be 100% focused on work.
And conversely, when I am mothering I try to be 100% focused on my kids. Somedays are better than others and that balance shifts over time, but it's always what I am striving to find.

Q: Do you Meal prep?
A: Because I am home all day long and have access to my fridge, I don't do full meal prep.
However, I do make sure I always have pre-cooked protein sources in my fridge for quick and easy meals.
Q: What is your favorite treat?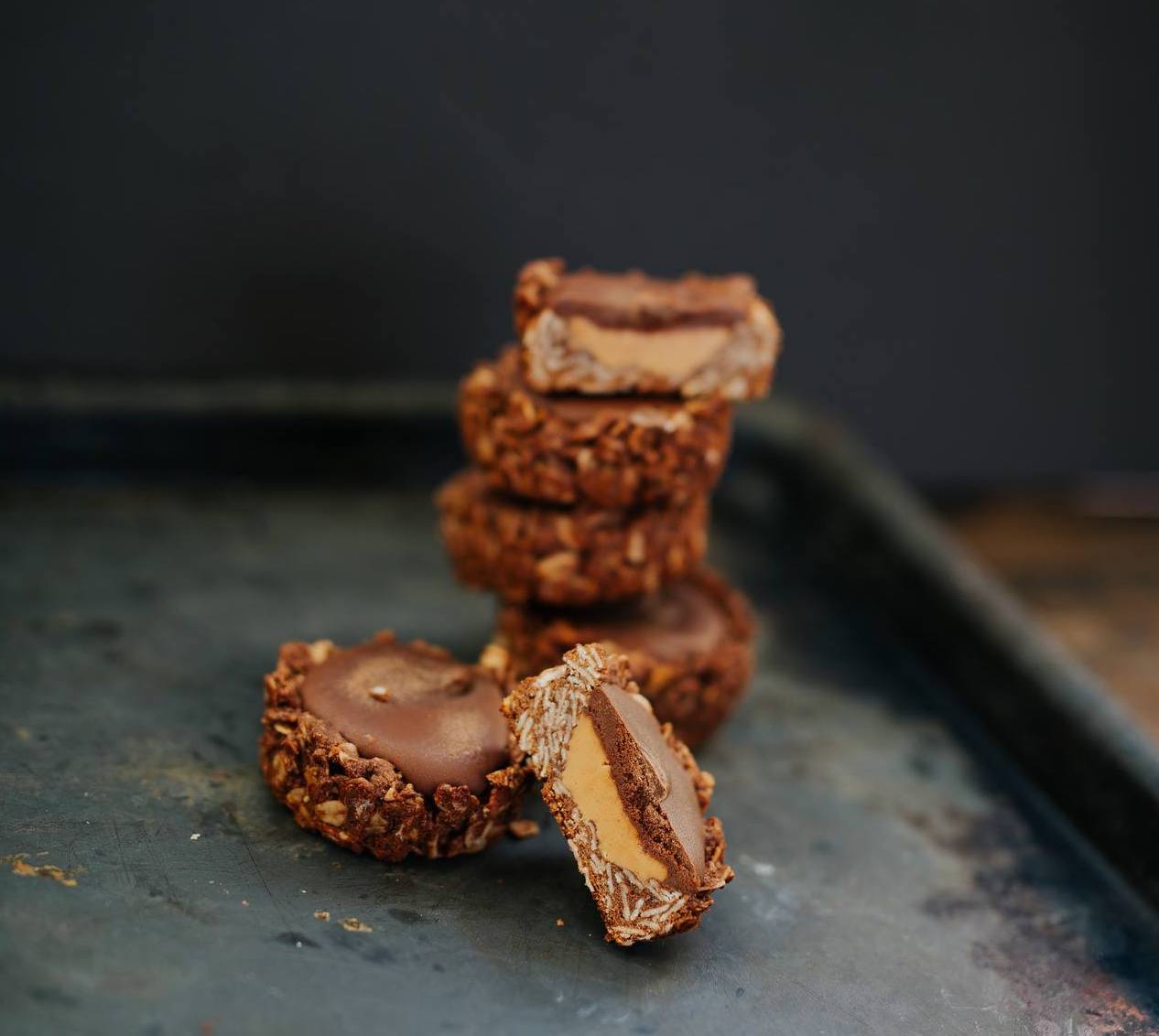 A: Anything chocolate and peanut butter!
Q: Would you advise women to have cheat meals during the week?
A: I don't love the term "cheat meal" because I feel like it creates an unhealthy relationship with food and invokes guilt.
If you like the way you eat, why do you need to cheat on it? I don't think food and guilt should ever go together.
Instead of having a weekly cheat meal I suggest doing a "treat meal" 1-2 times a week. By calling it a treat meal you acknowledge that food is just food and you can consciously choose to enjoy it without any guilt.
And food always tastes better without a side of guilt!
Q: Have you always taken supplements? Which ones would you say have helped you the most?
A: I started taking supplements when I became more serious about lifting weights and maximizing my results.
I definitely love whey protein for a quick and convenient protein source. I also have seen a lot of strength and muscle growth with combining creatine with my lifting regimen.  
Q: What's your favorite IdealFit supplement?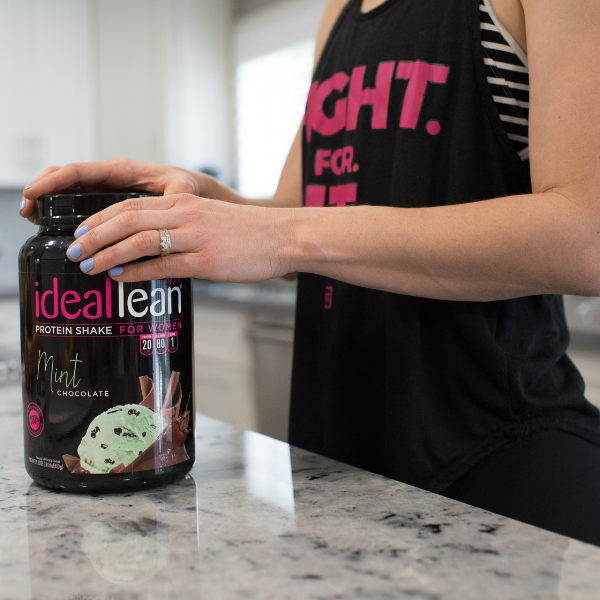 A: Hands down my favorite supplement from IdealFit is their protein. I've tried many many brands and Idealfit tastes the best by far!
Q: How many days do you train, and what's your favorite workout?
A: I lift at home in my shed gym 4x a week. My favorite lifts are the deadlift and bench press.

Q: If you do any cardio, what do you do and how many times per week?
A: We recently purchased an ergometer (rower) for our home gym and I will hop on and do 1,000-2,000 meters after some of my lifting sessions.
Q: What other sports do you do?  
A: I played soccer and volleyball in high school, but currently powerlifting is my sport of choice.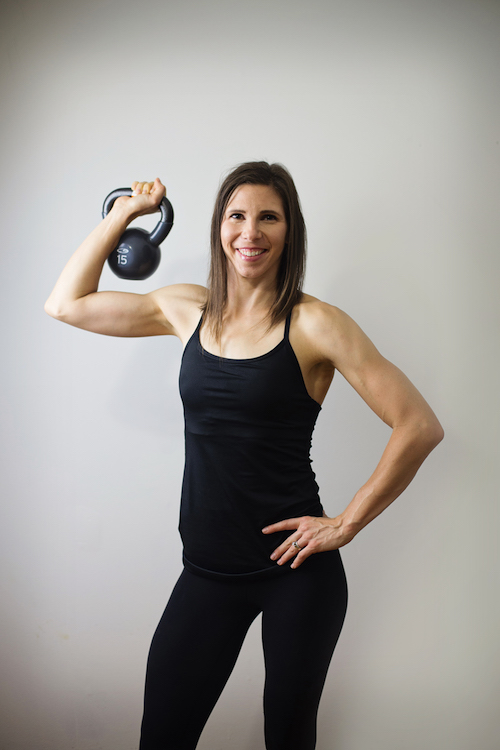 Q: If you could give advice to women starting their fitness journey now, what would it be?
A: Just take things one step at a time and keep on stepping. So many women try to dive in and overhaul their whole fitness routine, get overwhelmed, and then quit.
Instead, make small changes over time and you will be amazed at what you have the power to accomplish.

Q: Do you have any tips you wish you knew before starting your journey?
A: What you do most of the time matters much more than what matters some of the time.
If you want to be successful in a sustainable, maintainable way, get rid of the all-or-nothing mentality and focus on doing just a little bit better today than yesterday.

Q: If you have a favorite motivational quote, could you share it with us?
A: If you want success, figure out the price, then pay it.
Fuel-Up Like Amber!
Support your post-workout recovery and lean muscle building goals with Amber's favorite IdealLean Protein and BCAAs!