Memorial Day is right around the corner you guys! It's one of the greatest holidays because it gives us a chance to pay our respects to those who have served our country in defense of the freedom we enjoy.
Here at IdealFit, we're going to be honoring this Memorial Day with a special workout.
How exactly? By participating in the Murph Challenge!
If you've never heard of the Murph Challenge, or about the amazing individual whom this workout is named after, we've got you covered.
The Murph Challenge
Named after the man who invented it, The Murph Challenge is a Navy SEAL workout adopted by fitness lovers as a way to honor servicemen and women both past and current.
For those who may not be familiar with the story of Lt. Murphy and his men, read on.
In the summer of 2005, Lt. Michael P. Murphy led his 4 man team of Navy SEALs into the mountains of Afghanistan on a secret mission to capture a Taliban leader. The mission took a turn for the worst when Lt. Murphy and his team found themselves surrounded and impossibly outnumbered by enemy troops deep in the backcountry, miles from help.
Unable to establish communication from their covered position, Lt. Murphy risked his life by heading to an open area where a distress call could be placed. This risk would prove to be the ultimate sacrifice, as he was fatally wounded while calling for help.
Two other members of his team were killed in the fight, while the fourth man, Marcus Luttrell, was seriously injured but survived. For his service and sacrifice, Lt. Murphy was posthumously awarded the Medal of Honor, Silver Star, and Purple Heart, among other honors.
The Murph Challenge was created by Lt. Murphy himself, who called it "Body of Armor" because he would do the workout while wearing a 20 lb armored vest. After his death, the story of Lt. Murphy spread. His workout, which was already well-known among fellow soldiers, became famous.
In memory of his heroic service, and as a salute to America and those who serve and have served, the Murph Challenge has become the unofficial workout of Memorial Day. Every year thousands of people around the country gather to accept this strenuous challenge as a fun way to honor America and to raise money for a scholarship foundation created in his honor (to donate, visit the official Murph Challenge home page).
Participants in the Murph Challenge complete the following:
1-mile run

100 pull-ups

200 push-ups

300 body squats

1-mile run
*A 20 lb weighted vest is optional, but not required
To train to complete this challenge here's what our teams first week will look like: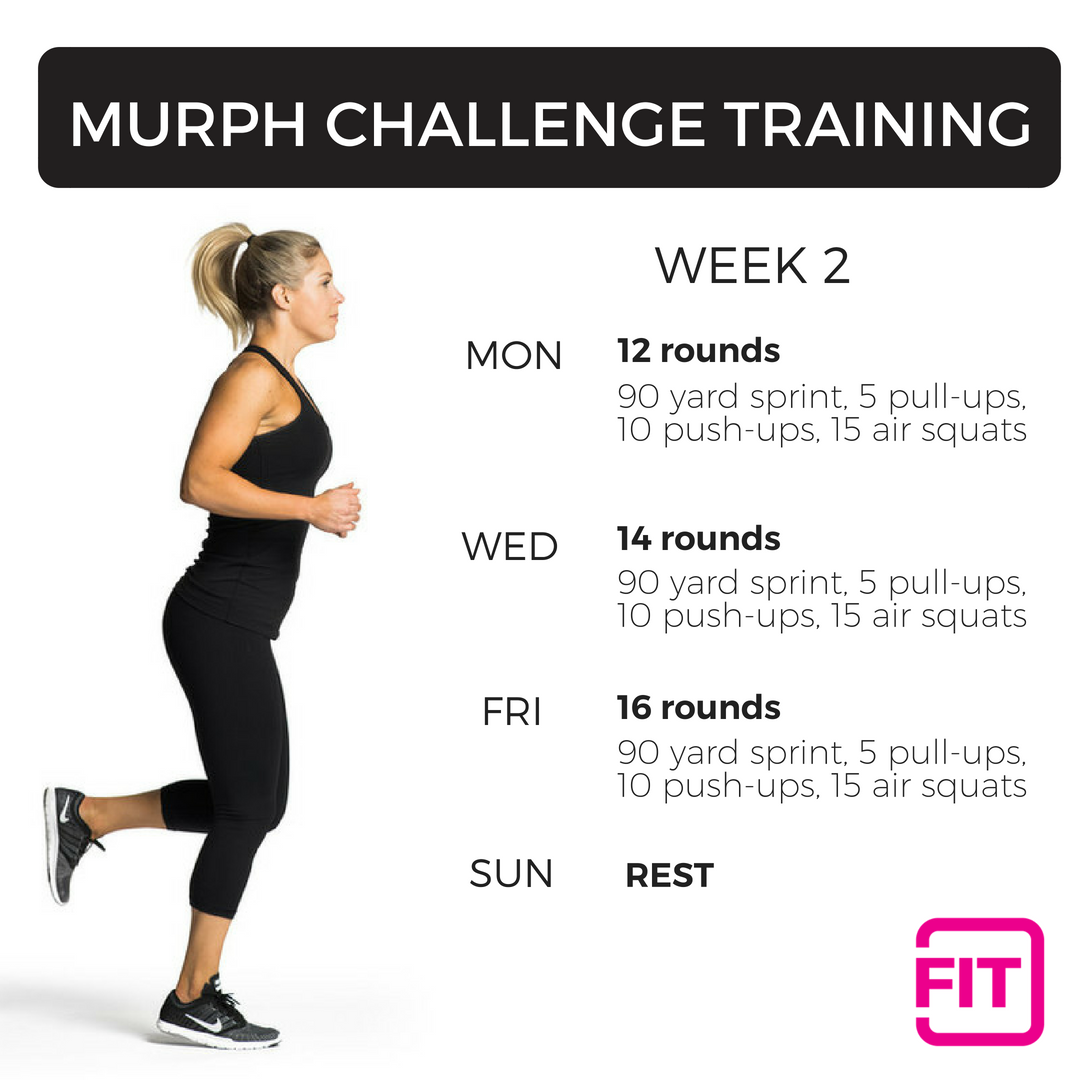 Stay tuned as our team will be posting on social media throughout the month to update you on our progress, and make sure to check in on Memorial Day to see how we do!
Try something different this Memorial Day, and honor America with fitness! Dedicate your workout to the memory of the great men and women of our military and join us by accepting this challenge yourself or with your friends.
For training ideas on how to get ready for the challenge, check out our weekly workout suggestions leading up to the big day.
Workout with a purpose this May, and make your Memorial Day meaningful!
Follow us on Facebook
Receive support and motivation as you prepare to take on the Murph Challenge, as well as fitness tips for getting ready!

(IdealFit is in no way associated with the LT. Michael P. Murphy Memorial Scholarship Foundation or with www.themurphchallenge.com)