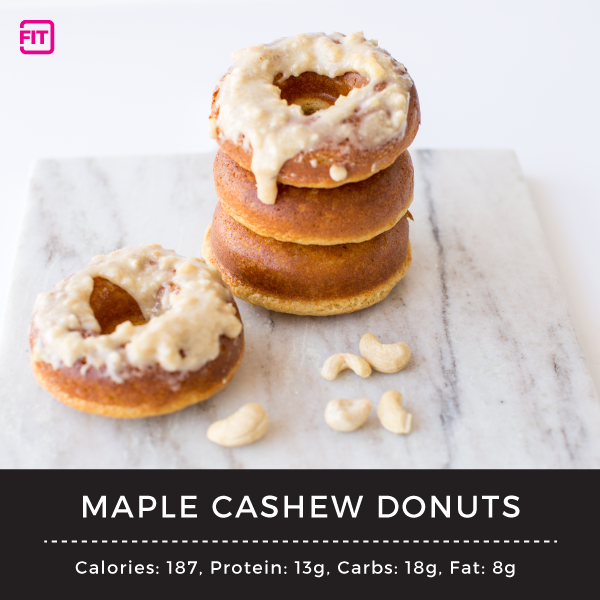 Ingredients
0.5cup - white whole wheat flour
0.25cup - blanched almond flour
1 - scoop IdealLean French Vanilla Protein
0.5tsp - baking powder
0.5tsp - baking soda
0.125tsp - salt
1 - egg
0.5cup - plain nonfat Greek yogurt
1tbsp - coconut oil, melted
2tbsp - pure maple syrup
- Frosting
0.25cup - raw cashews, soaked in water
1tbsp - pure maple syrup
1 - scoop IdealLean French Vanilla Protein
1tbsp - water
Instructions
Preheat oven to 400 degrees F. Spray donut tray with nonstick spray and set aside.

In a mixing bowl, stir flours, IdealLean French Vanilla Protein, baking powder, baking soda, and salt.

Add egg, greek yogurt, coconut oil, and maple syrup and mix until smooth. Add batter to a Ziploc bag, close, and snip corner. Pipe into molds (don't overfill) and bake for 10-12 minutes, or until golden. Let cool.

Drain cashews. In a high powered blender or food processor, blend cashews, maple syrup, IdealLean French Vanilla Protein powder, and water until smooth (you may need to add more water as needed to help blend).

Frost donuts and enjoy!