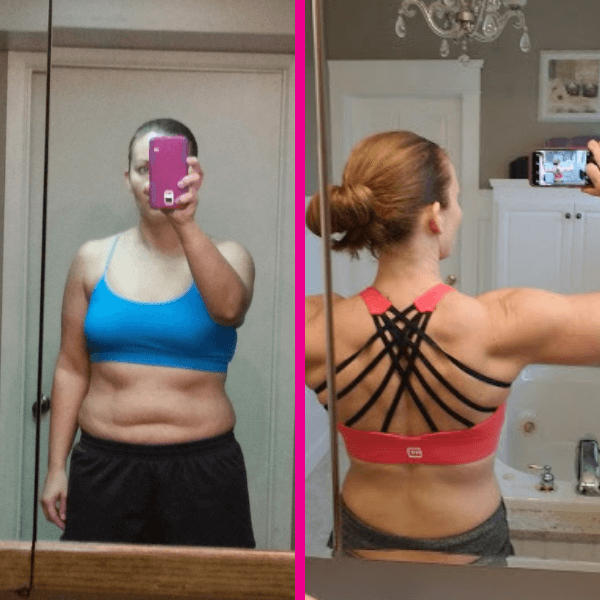 Q: When did your journey start?   
My journey really started in the fall of 2015.  Life at work had gotten so crazy and stressful that I was feeling a lot of anxiety and barely had time for my family much less myself. I was uncomfortable in all the clothes I owned and had recently started taking blood pressure medication. That's when I stumbled on Trainer Lindsey's 15-day challenge.
I told myself it was just 15 days, I was going all in. The results I had were crazy good and motivated me to keep going. I've done all of Lindsey's challenges multiple times and have been working out 5-6 days a week ever since then. I've learned so much about myself and about eating the right food at the right time to fuel my body properly.
Q: What made you want to make a change?
I needed to do something for myself. I was tired, stressed, had put on some weight, started taking blood pressure medicine and something just had to give. I wanted to lose about 10 pounds. I lost more than that and a lot of inches, but I gained so much more along the way!
Q: What tips do you have for others starting out?  
Be patient and just keep going. Also be honest with yourself, are you doing everything you can to reach your goals? But on the flip side, don't be so hard on yourself if you have a bad day. Pick yourself up and move on, don't feel like you have to start over or wait until next week to start over.
Q: What have been some of the biggest obstacles you've had to overcome?
I have an hour drive to and from work, and I had to get my workouts in before work so it meant getting up really early. It was hard to develop that habit, but now it's something I NEED to start my day right. Like everyone, I'm busy with work and kids so meal prepping was and still is a challenge. I just have to force myself to do it, or I'm setting myself up for failure.
Q: What are some of your go-to, favorite meals?
One of the meal plans on Trainer Lindsey's plan was buffalo chicken. I adapted it to fit my family's tastes and now we make taco chicken meat a lot. I freeze some every time and then have it for my lunches either on a salad, in a taco shell, with sweet potatoes, with mixed veggies….I have to have that in my freezer!
Q: What are some go-to supplements that have helped?
I love IdealFit's protein, BCAAs, and nighttime probiotic. I use all of them every day.
Q: What are some of your biggest victories?
At first, the big victories were the weight loss and inches lost, and then the muscle gains. Now I love that I can find a balance of sticking to my meal plan along with enjoying treats once in a while. I know a bad day isn't going to ruin everything I've worked for, and I like enjoying treats with my family.
Q: How has this affected your life?
I love feeling strong and confident. I just feel so much better about myself and love being an example for my kids.