It's time to break that glass ceiling! Here at IdealFit, we truly believe that women are capable of anything we put our minds to. Being the first woman to receive a full college football scholarship, Toni Harris couldn't compass that mindset more. It's taken some serious hard work and dedication to get there; overcoming ovarian cancer, losing loved ones and battling negative stigmas every day would have been enough to make most people throw in the towel… but not Toni. Read our interview with her and find out how she stays motivated to achieve her dreams. 
I prove people wrong by telling them: watch me work

How does it feel to be the first woman to receive a full position playing college football on scholarship?
"To be the first woman receiving a full football scholarship as a non-specialist is very exciting but also overwhelming. But I am very grateful for the position I have been put in."
There are a lot of people who still say that the NFL is no place for a woman, what inspires you to look past these stigmas and keep pushing forward?
" I think to all of those that say the NFL is no place for a woman, I think what inspires me is to prove those people wrong – I prove people wrong by telling them: watch me work!"
What advice would you give to any woman that is struggling to come through similar limitations or hardships? What are your aspirations/main goals for the future?
"I think the advice I would give to any woman who's struggling with the same hardships is to just keep moving forward no matter what nobody says or what nobody tells you. The only opinion that matters is yours. The only time your opinion matters is when you're believing in yourself. So as long as you believe in yourself, nothing else matters"
"I think some of my main goals for the future is to keep inspiring and motivating females and younger generations to keep moving forward in everything they do"
"I think I see myself in the next 5 years as being the first female to be drafted in the NFL, which is gonna happen and then becoming a criminal investigator"
"When I am drafted into the NFL I will be playing for the Seattle Seahawks or any other team that will happily take me" 
Who is your biggest inspiration?
"I think I use God as my biggest inspiration only because you know I have people that inspire me but I think at the end of the day God is the only one who won't let me down"
What has been your biggest setback that you have had to overcome?
"I think my biggest setback was when I had ovarian cancer at the age of 18…It took me almost a year to recover and go through remission. It probably was the most hard and troublesome time I've ever had. BUT I had a major setback for a major comeback"
How important is nutrition to your sports achievements? 
"I think nutrition is very important because as a female football player and playing in the sport of football not only for men but for women also, the sport can take a lot of toll on your body. So protein kinda helps with building those bones and muscles and repairing and rebuilding those tissues. I think that's what we try to do every single day, is trying to continue working on our bodies and our nutrition and just trying to stay healthy so that we can live longer."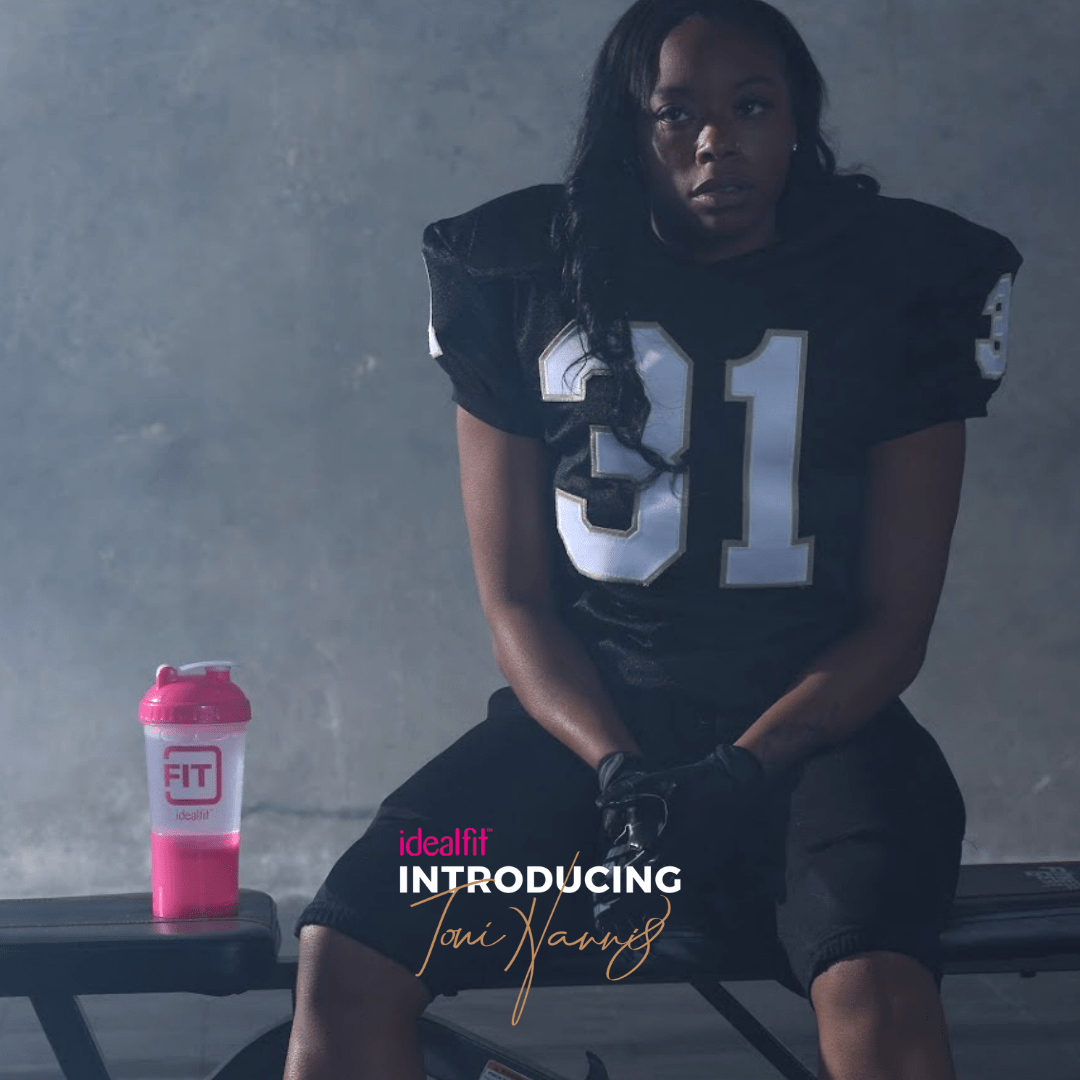 Toni Harris is truly a force to be reckoned with! We hope that her story motivates you to achieve your goals and keep pushing past limitations. If you would like to see more of Toni, be sure to follow us on Instagram @IdealFit and Facebook @BeIdealFit! Click the link below to shop all of Toni's top picks: https://www.idealfit.com/top-picks.list