Let's hear it for cardio! (Crickets chirping)
Okay, so maybe cardio isn't everyone's favorite thing to do, but it's a great way to burn calories, lose weight, and it has some major benefits for your heart!
When you think of cardio, it's likely that the first thing that comes to mind is running. And while running is a super awesome way to get in your cardio, there are SO many other options out there!
One great cardio method that's getting more popular all the time is indoor cycling!
You've probably heard of indoor cycling, but you might have some questions.
What is indoor cycling? What are the benefits of indoor cycling? How do I get started with an indoor cycling class?
As a Schwinn cycling certified instructor, I'm here to answer all your questions.
What is Indoor Cycling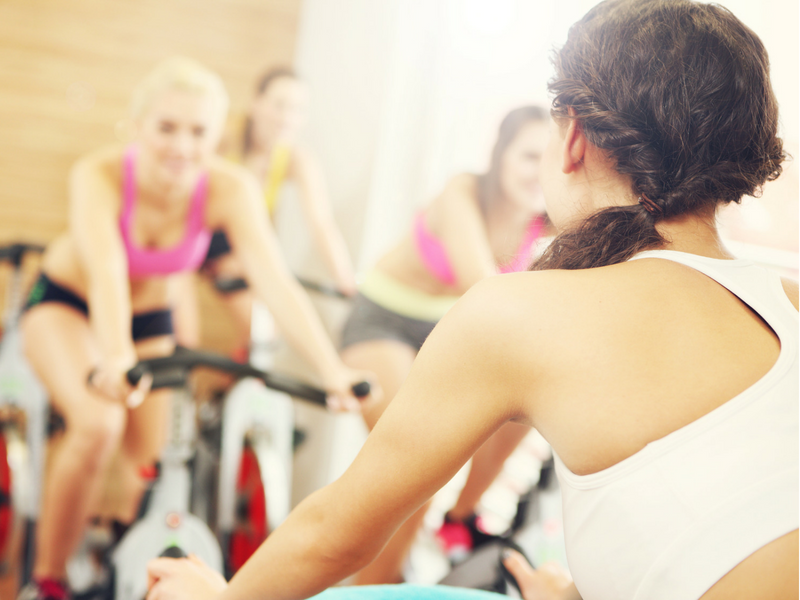 Okay, so first things first, let's define indoor cycling and what it entails.
Essentially, indoor cycling is getting in your workout on a stationary bike. It can provide a totally awesome cardio session, and it's a great way to increase lower body strength and stamina. But there's a little more to it than that.
Indoor cycling is best when done as part of a class! The structure that this provides allows for you to have more fun and get in a better workout than you probably would when going at it solo.
What Is an Indoor Cycling Class
An indoor cycling class is usually taught by an officially certified cycling instructor. These classes are focused on building endurance and strength, burning fat, and having a ton of fun!
Indoor cycling classes are a great way to get in your cardio with other people who have similar fitness goals! They're led by fitness experts or personal trainers and are most often specially designed for either a beginner, intermediate or advanced audience.
And like I said, they are seriously so much fun! It's not unusual for gyms to design their cycling studios like dance halls, with blacked out windows, giant speakers, colorful lights, and other features to invite an upbeat vibe. Talk about a fitness party!
Need a New Workout? Check Out Trainer Lindsey's FREE Challenge
With this FREE 15-day challenge, you'll receive awesome fitness and nutrition information, complete workouts, amazing recipes & meal plans, expert advice, professional training tips and much more!
Benefits of Indoor Cycling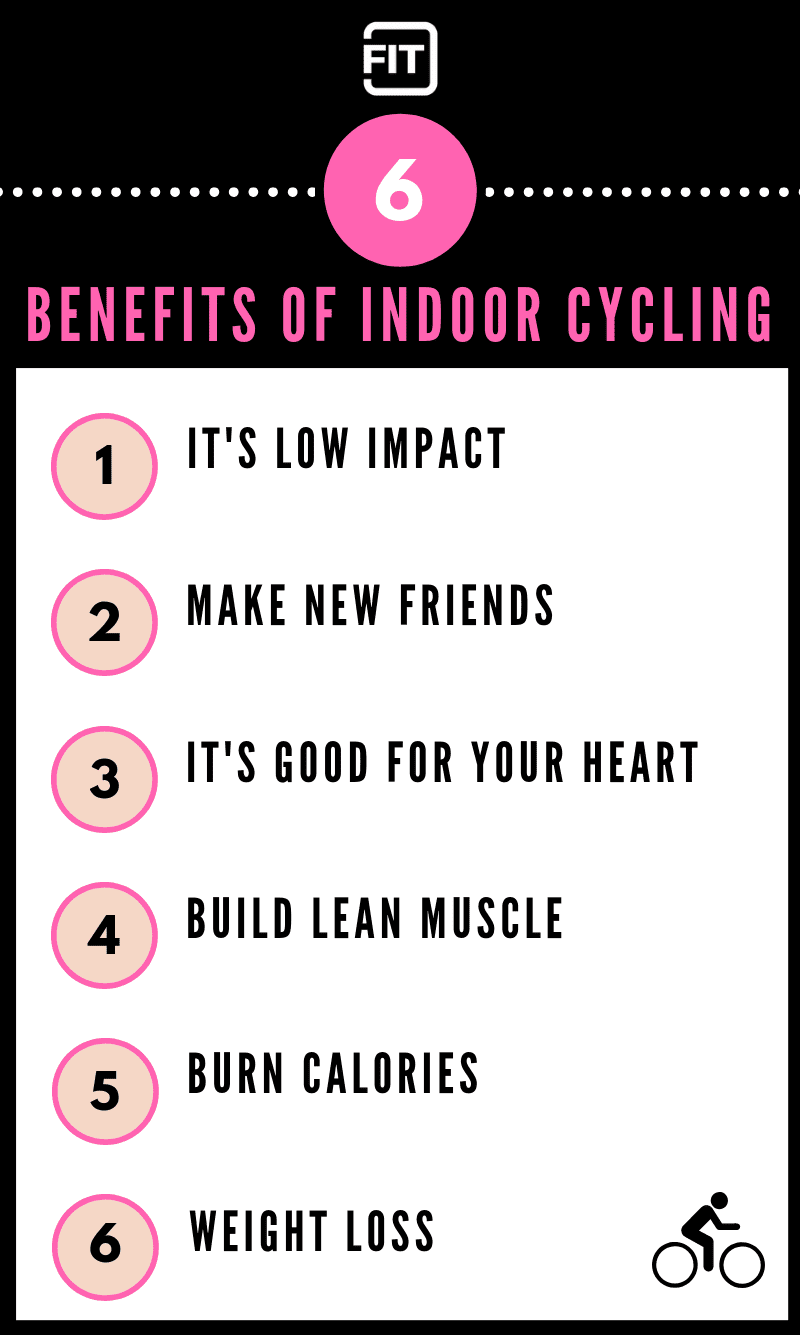 1. It's Low-Impact
Cycling doesn't cause an aggressive impact on any of the joints in your upper body, and the impact on your hips, knees, and ankles is extremely minimal.
This makes it a great cardio alternative to running, especially for those with lower body joint issues that cause pain during high-impact activities.
2. Make New Friends
Joining an indoor cycling class is like becoming part of a team, and it opens the door to forming friendships with your new teammates!
There's something special about working and sweating with a group of people that connects you together like nothing else can.
3. Cycling is Good for your Heart (and Soul!)
Spending time each week doing cardio provides a handful of heart benefits, including a decreased risk of heart disease and heart attack, lower cholesterol levels, and a decrease in blood pressure!
Cycling can be a super fun way to elevate your heart rate up and get your cardio in! You can use it as a nice break from running or make it your primary form of cardio.  It can also be a nice time to just focus on yourself and dig in deep!
4. Build Lean Muscle
Not only can indoor cycling be used as a way to lose weight, but it can also help you build lean muscle! By increasing the resistance on your stationary bike, indoor cycling can be performed as strength training.
And the muscles involved in indoor cycling are some of the largest muscle groups in your body! The primary muscles you work cycling are your quads, hamstring, and glutes. You also work the muscles in your lower legs as well as your heart. Yes-your heart is a muscle!
5. Burn Calories
Like I said, cycling incorporates the big muscle groups in your legs. This means that you'll burn through a lot of calories during your workout!
6. Cycling for Weight Loss
Is indoor cycling a good way to lose weight? The answer to that is definitely yes! A high-intensity workout based on interval training can definitely push you into the fat burning zone.
If your cycling workout is designed for fat burning, it can rival running as one of the most effective cardio methods for weight loss. For more info on how to design an effective high-intensity interval-based workout, you can read Trainer Lindsey's post on HIIT here.
How to get Started
While they're commonly called spin classes, only facilities and instructors that are officially licensed by Spin can host a class that has "spin" in the title. But if you head down to your local gym or fitness center and ask about cycling classes, you're sure to find that there are a handful available.
It's likely that they'll be arranged by skill level, and if it's your first time in a cycling class, you'll probably want to start with a beginner course. You can always move up if it's too easy for you.
The best part is that you won't need any special equipment! After you've checked a schedule and decided on the right class, just show up and be ready to sweat!
Conclusion
Whether you're unable to run or are just looking for an awesome new cardio method to shake things up, indoor cycling is a great way to go!
So what are you waiting for?
Grab a bike and saddle up!
Need a New Workout? Check Out Trainer Lindsey's FREE Challenge
With this FREE 15-day challenge, you'll receive awesome fitness and nutrition information, complete workouts, amazing recipes & meal plans, expert advice, professional training tips and much more!