Have you thought about trying a plant-based protein? We have some tasty recipes using IdealRaw Protein that are delicious and healthy!
Our IdealRaw Protein is:
Paleo-Friendly! No sugar, no dairy, nothing artificial
IdealRaw Flavor Pact — 100% Satisfaction Guaranteed
15g Complete Organic Protein — Build & Tone Lean Muscle
Vegan/Gluten-Free/Non-GMO — Eat & Live Clean
Satisfies Hunger & Supports Weight Loss
Grab a tub of IdealRaw here and Check out these recipes below!
Protein Birthday Cake Waffles

INGREDIENTS
1 ½ cup Oat Flour
1 Scoop IdealRaw Vanilla Protein
4 TBSP Cornstarch
1 TBSP Baking Powder
½ tsp Salt
1 can Lite Coconut Milk
6 TBSP maple syrup
¼ cup Cashew Butter
1 TBSP Vanilla
INSTRUCTIONS
In a large bowl, combine the dry ingredients (IdealRaw Vanilla protein, oat flour, cornstarch, baking powder and salt).

In a separate bowl, add the coconut milk, maple syrup, cashew butter and vanilla and whisk until smooth. Pour the liquid ingredients over the dry and whisk until just combined. Let the batter sit for 1-4 minutes to thicken.
Heat up waffle iron. Spray waffle iron with non-stick spray and scoop ½ cup batter (depending on your machine). Follow your waffle irons instructions but it should beep when it is ready. Repeat with remaining batter. Serve immediately with pure maple syrup or vegan whipped cream and berries! Enjoy!
Birthday Protein Bars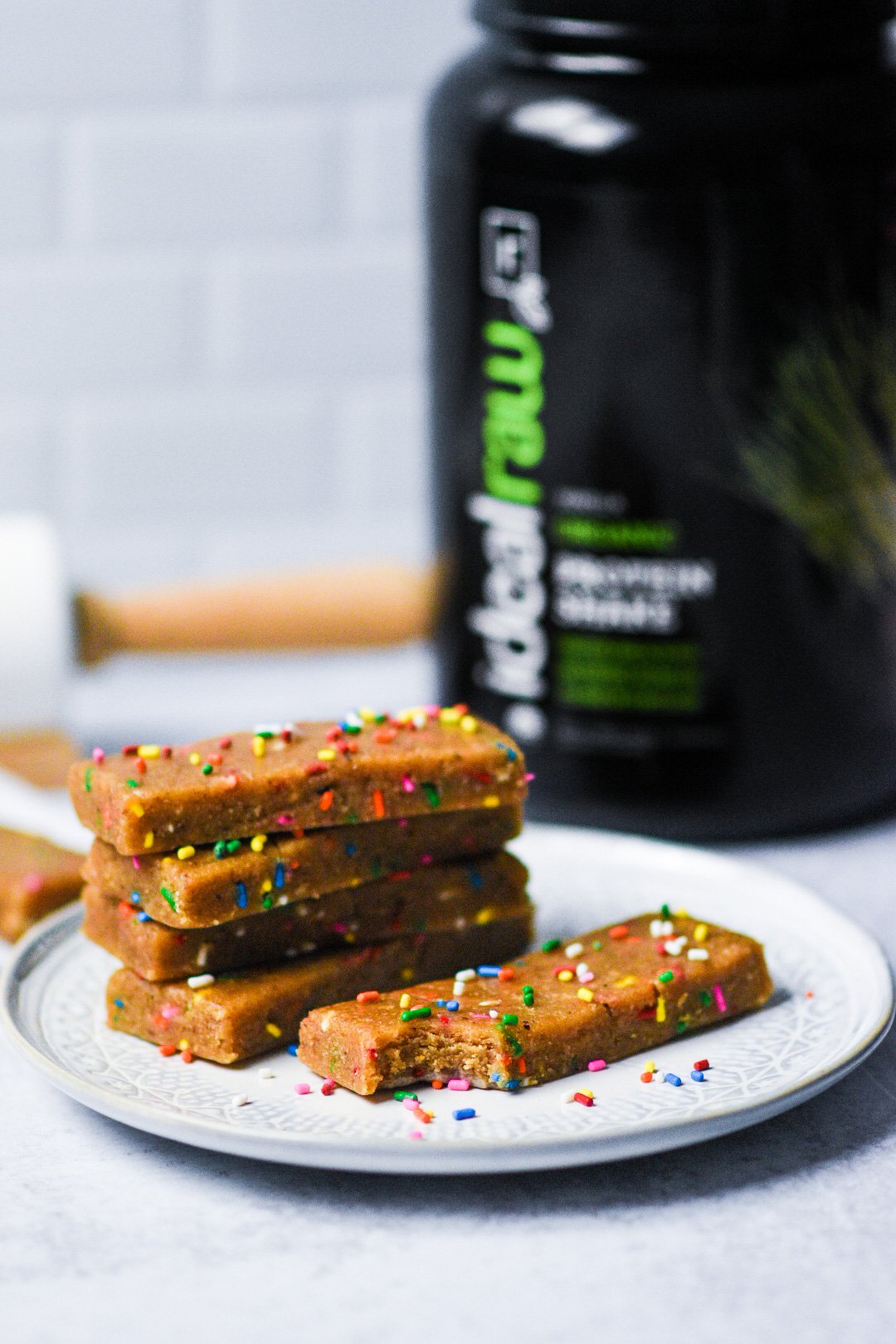 INGREDIENTS
⅓ cup IdealRaw Vanilla Protein
¼ cup Almond Butter
½ cup Cashew Butter
½ cup Maple Syrup
¼ cup Milk of choice (almond, cashew, coconut, soy, etc)
1 cup Almond Flour
½ cup Oat Flour
4 TBSP Sprinkles
Pinch of Salt
INSTRUCTIONS
Combine all ingredients (minus milk and sprinkles) together in a medium bowl. Stir to combine then add milk and sprinkles. Press dough into a parchment-lined baking dish (we used an 8×8 pan or you can use a 6×8 pan too).

Put in the freezer for 30-45 minutes to set. Remove from freezer and cut into bars. Refrigerate until ready to eat. Enjoy!
We hope you enjoyed these vegan recipes! They're the perfect way to satisfy your cravings and get the right nutrition, check out our IdealRaw here.