Grilled Jamaican Jerk Fish Tacos & Shrimp

Recipe by: @dianemichiko
Serving Size: (Makes 2 tacos)
For the fish:
3‐4 Fillets of any white fish (I used Tilapia)
IdealLean Jamaican Jerk Seasoning
0 Calorie Spray Butter
For the Shrimp:
IdealLean Jamaican Jerk Seasoning
Slap Ya Mama Seasoning
0 Calorie Spray Butter
For the Veggies (for 2 tacos):
1 Jalapeno
Handful of Shredded Red Cabbage
Handful of Shredded Green Cabbage
2 layers of Red Onion
2 Pineapple Rings
For the White Sauce (for 2 tacos):
2 tbsp. (30g) Fat-Free Sour Cream
1/2 tsp. IdealLean Jamaican Jerk Seasoning
1⁄4 tsp. Slap Ya Mama Cajun Seasoning
1⁄4 tsp. Lime Juice
14g Low Fat Shredded Mozzarella
2 Small Tortillas
Directions:
Thaw your shrimp & fish. If you use wooden skewers for your shrimp, be sure to soak them for at least 30 minutes to prevent them from burning.
Light your coals, & while its warming up, prep your food.
Add your shrimp onto your skewers. Spritz on some 0 cal butter & sprinkle on a thin coat of IdealLean Jamaican Jerk & Slap Ya Mama Seasoning. Set aside.
Lay out your fish fillets & pat dry. Sprinkle on a thin layer of IdealLean Jamaican Jerk seasoning, then spritz with 0 cal butter.
Slice the top off of your jalapeno & then slice it in half. Remove the seeds. Set aside.
Slice the onion in half, & remove 2 of the layers to one of the halves. Set aside.
Slice & shred a section of each cabbage; enough to make about a handful of each. If you like your cabbage raw, set it aside. I like mine cooked, so I spread it on some foil, spritzed it with EVOO spray & set it in the oven at 350 for about 10 minutes. Once cooked, I set it aside until everything is done cooking.
When the coal/grill is ready, spay the grill gate with EVOO. Place your fish, shrimp skewers, & veggies on the grate. Fish & small amounts of fruits & veggies cook quickly, so only 2‐3 minutes is needed on each side, depending on the heat of the grill. (I stay outside with the food since its cooking for just a short time. Im not exactly the best at grilling 😛 But, if you're good at it, you can use this time to start making your sauce.)
Once removed from the heat, chop your veggies. (I love grilled onions & pineapple, so I chop them into them to about the size of tip of my pinky. Jalapeños, however, I like, but in small amounts. I knew it'd add some great flavor! I chopped mine into the size of pencil erasers)
For the sauce, grab a plastic zip baggie, and place a corner in the cup. Drape the top of the bag around the cup. Add 2 tbsp. (30 g) of Fat-Free Sour Cream into the bag, as well as 1⁄2 tsp. IdealLean Jamaican Jerk Seasoning, 1⁄4 tsp. Slap Ya Mama Seasoning, & 1/4 tsp. Lime Juice. Twist the bag just above the mixture and squeeze/roll the sauce until blended together.
Place shredded cabbages onto a tortilla, followed by fish, fruit & veggies. (I didn't measure how much of each I put on. I just added what looked like enough of each. Add cheese (7g) to each taco.) Here you can add your shrimp if you want, but I choose to eat mine on the side.
Snip a very small piece of the baggie corner. Keep the part above the mixture twisted or closed off from the rest of the baggie and drizzle it over your tacos.
Jamaican Jerk Sweet Potato Fries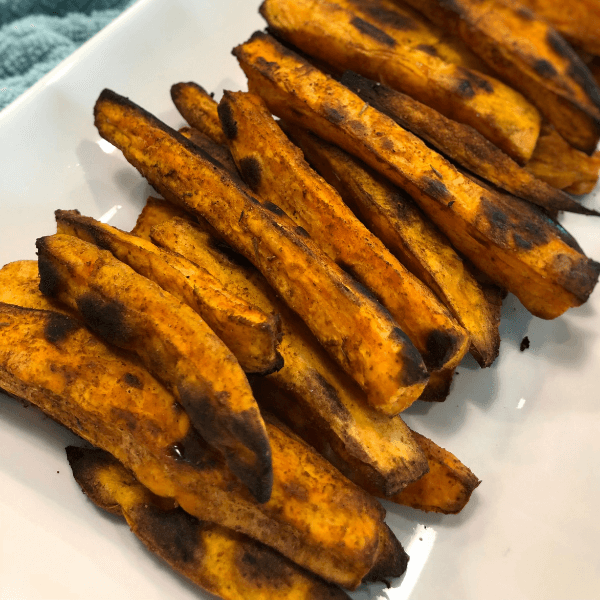 Ingredients
600g sweet potatoes
2 tsp. Jamaican Jerk Seasoning
non-stick cooking spray
DIRECTIONS
1. Preheat oven to 425 degrees. Line a large baking sheet with parchment paper and spray with non-stick cooking spray.
2. Wash and peel sweet potatoes.
3. Cut sweet potatoes in fries about 1/4 inch.
4. Place sweet potato fries in a bowl and spray lightly with non-stick cooking spray. Add Jamaican Jerk seasoning and toss.
5. Spread fries out on prepared baking sheet.
6. Bake for 30-35 minute, turning occasionally or until brown.