It's our 4th Birthday and that means we're celebrating with some delicious protein recipes. You can't have a birthday without cake, am I right? You'll be shocked by how yummy these low-carb desserts are! 
They're the perfect way to indulge in something tasty while staying within your macros. So if you want some delectable recipes that will help you keep your sugar intake in check, these should do the trick.
1.Lemon Cream Birthday Cake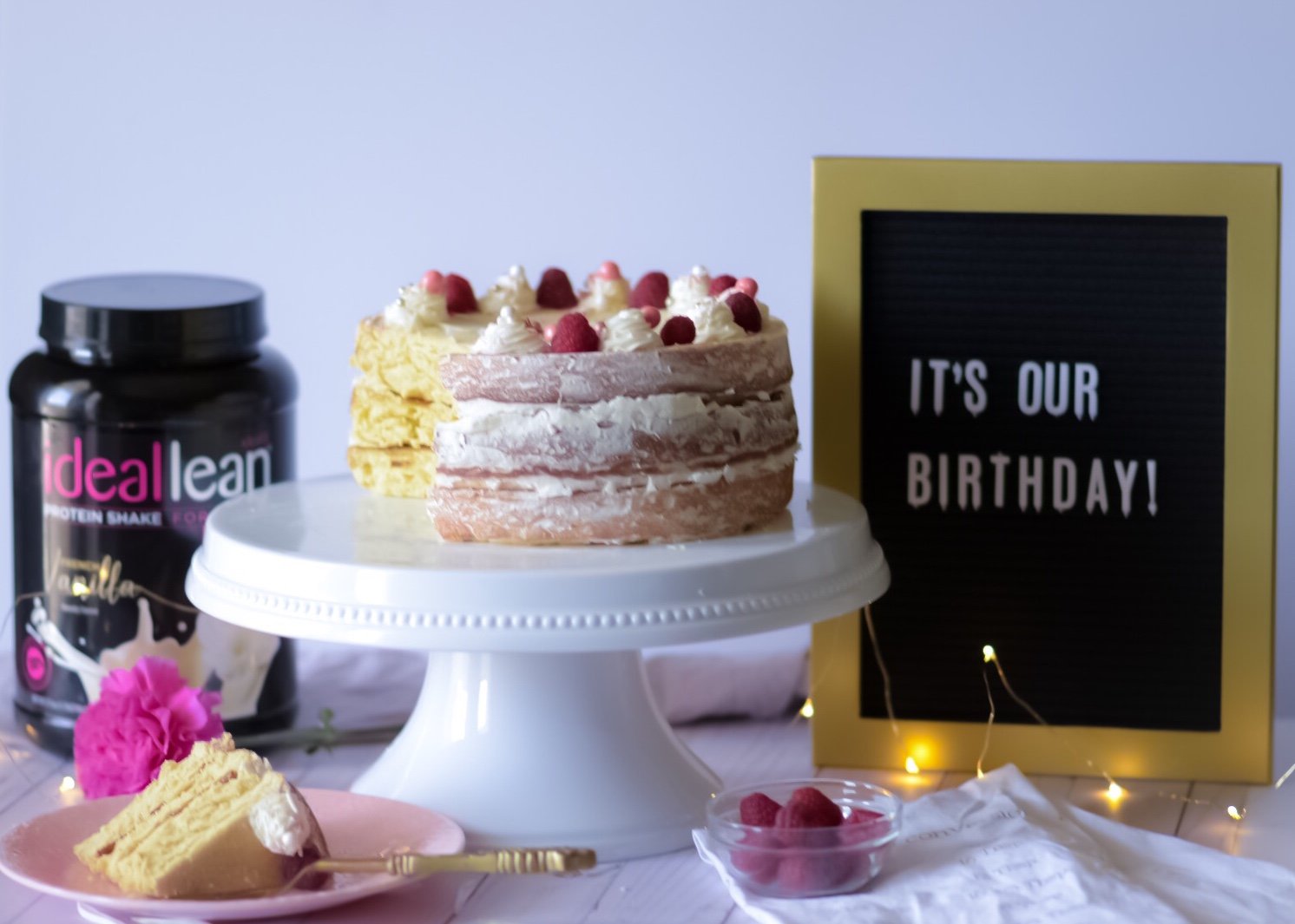 INGREDIENTS
1 cup erythritol or sweetener of choice
3/4 cup coconut butter
8 large Egg
1/2 cup unsweetened almond milk
½ cup coconut cream
1 tsp Vanilla extract
3/4 cup almond flour
2 cup Coconut flour
1 1/2 tbsp baking powder
¼ lemon juice
2 tbs lemon zest
1 scoop French Vanilla Ideallean Protein
Topping:
Sugar-free whip cream
INSTRUCTIONS
Preheat the oven to 350 degrees and spray canola oil onto three 9 inch cake tins. Place parchment paper on the bottom of each cake tin.

Beat together the coconut cream, coconut butter, and erythritol until fluffy.

Add the eggs, beating them in one at a time. Then add almond milk, vanilla extract, lemon zest, and lemon juice. Then fold in dry ingredients, the mixture should be thick but smooth.

Pour equally into the three cake tins. Smooth the top and bake in the oven for 20-25 minutes. The top should be lightly browned.

Remove and let the cakes cool, then frost with sugar-free whip cream. Enjoy!

16 slices, each slice: Calories: 167. Protein: 7. Net carbs: 4. Fat: 10.
2.Coconut & Chocolate Dessert Pizza

INGREDIENTS
2 eggs
2 tsp. Vanilla extract
1 ½ cup sugar-free maple syrup
4 tbs coconut oil
2 cups coconut flour
1 scoop French Vanilla Ideallean Protein
½ cup almond flour
½ tsp baking soda
½ tsp salt
Chocolate Whip Cream
1/2 cup heavy whipping cream or coconut cream
3 tablespoons sugar-free chocolate syrup
1 teaspoon pure vanilla extract

INSTRUCTIONS
Set your oven to 350 degrees. Beat all wet ingredients together in a large bowl.

Mix all your dry ingredients and slowly add them to your wet ingredients.

The dough will get crumbly when fully incorporated. Knead the dough together into a ball.

Grease a cast iron pan or oven-safe pan, you can also use parchment paper. Flatten the dough down into the pan.

Bake for 20-25 minutes.

Whip the cream until peaks form, then add the sugar-free chocolate syrup and vanilla extract. Lightly frost the top of your cookie crust. Optional: top with fruit and pecans.

Serves 16. Calories per slice: 145. Protein: 5. Net Carbs: 4g. Fat: 9g. 
3.Protein Shortbread Cookies

INGREDIENTS
1/4 cup coconut butter softened
1/4 cup coconut oil
1/3 cup erythritol or sweetener of choice
1/3 cup powdered erythritol or powdered sweetener of choice
1 scoop French Vanilla Ideallean Protein
4 Tbsp almond milk
1 egg
1/8 tsp baking soda
1 tsp salt
1 cup coconut flour
1/4 cup almond flour
*Sprinkles (optional)


INSTRUCTIONS
Preheat oven to 350 degrees.

Mix together coconut butter, coconut oil, erythritol, powdered erythritol, and almond milk until fluffy.

Add egg and mix until combined. Mix the rest of the dry ingredients and slowly incorporate into the mixture. Don't be alarmed if the mixture looks crumbly, it should stick together when you form into a ball.

Put parchment paper onto a cookie sheet. Roll into 12 balls (should be about the size of 1 inch). Press cookies down with the bottom of a cup. You can also press it into a cookie cutter for a smoother shape. They should still be thick.

Bake for 8-10 minutes. Add sprinkles and enjoy!

Each cookie: Calories: 118. Protein: 4g. Net Carbs: 3g. Fat: 8.2g.
4.Raspberry Macarons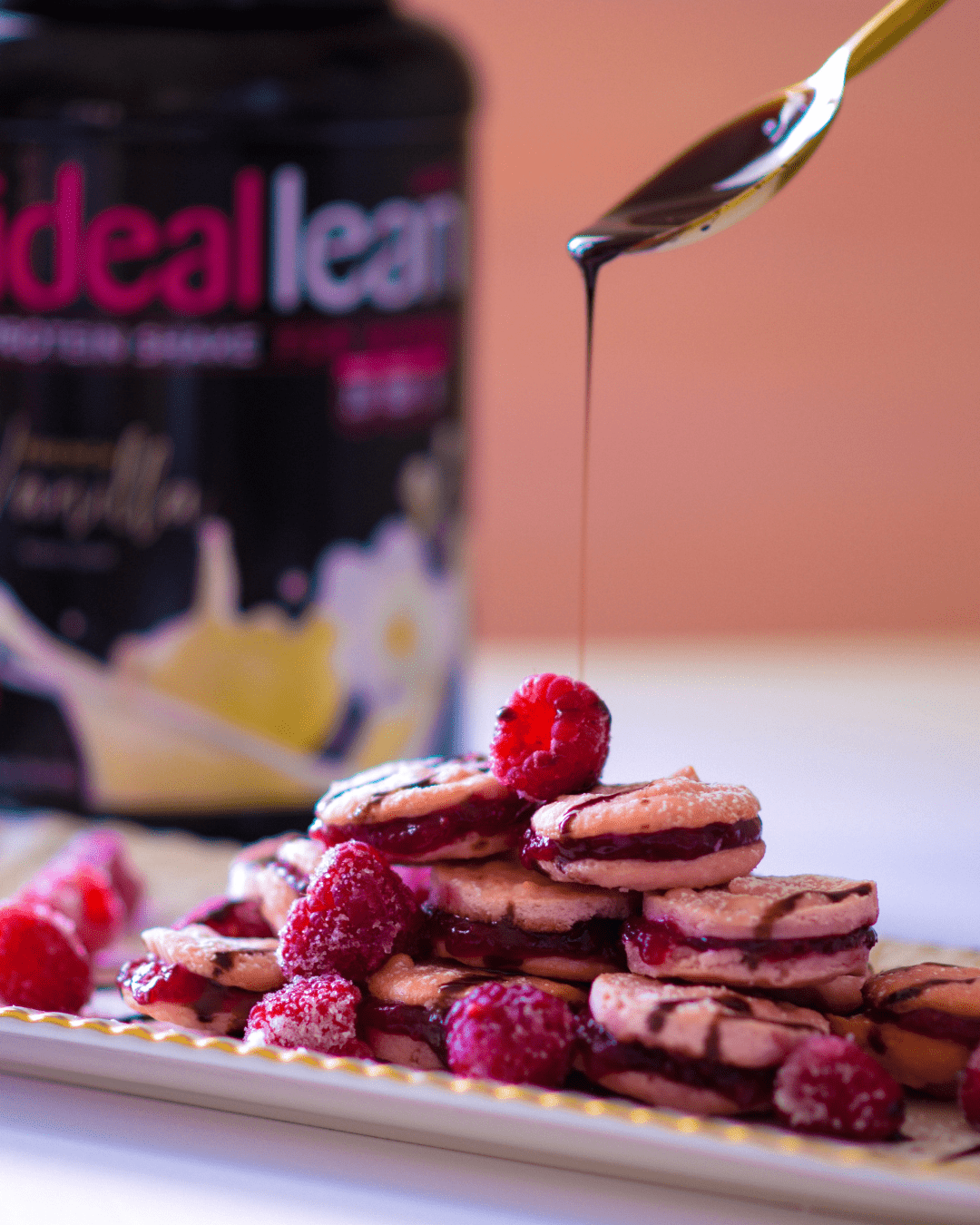 INGREDIENTS
1 cup Almond Flour
½ tsp salt
1 Tbsp Baking Powder
1 tsp Vanilla extract
1 3/4 cup powdered erythritol or powdered sweetener of choice
¼ cup French Vanilla IdealLean Protein
3 ½ egg whites
3-4 tbs crushed raspberries
Filling:
Sugar-free Raspberry jam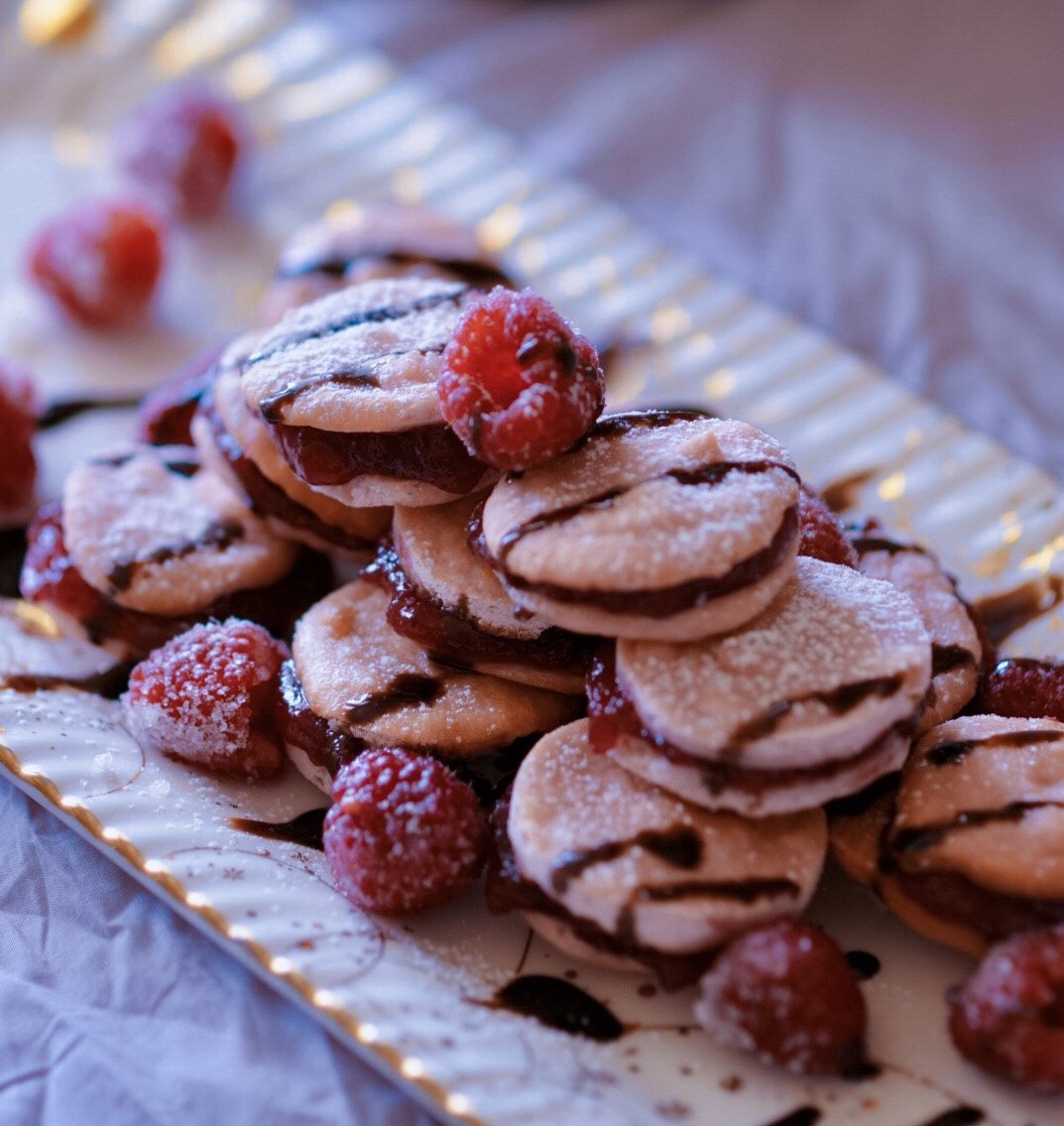 INSTRUCTIONS
Preheat oven to 280 degrees.

Combine the protein, almond flour, 1 ½ cup powdered erythritol, and baking powder in a food processor. When you have reached a super fine texture, sift the mixture into a bowl.

Mix the egg whites and salt until they form stiff peaks. Then add ¼ cup erythritol, raspberries, and vanilla. Continue to mix until stiff peaks form.

Slowly incorporate the dry ingredients until fully combined. Pour the mixture into a large plastic bag and cut the corner.

On a large cookie sheet with parchment paper, squeeze the batter into circles. They should be at least 1 inch apart.

Let the cookies sit for 1-2 hours, they should be firm before you bake them.

Bake the cookies for 15-20 minutes. Let them cool.

Fill the macarons with sugar-free raspberry jam, then drizzle with melted dark chocolate and powdered erythritol (optional). Enjoy!

Each macaron: Calories: 52. Protein: 8. Net carbs: 2. Fat: 1.
5.Mini Crepe Cakes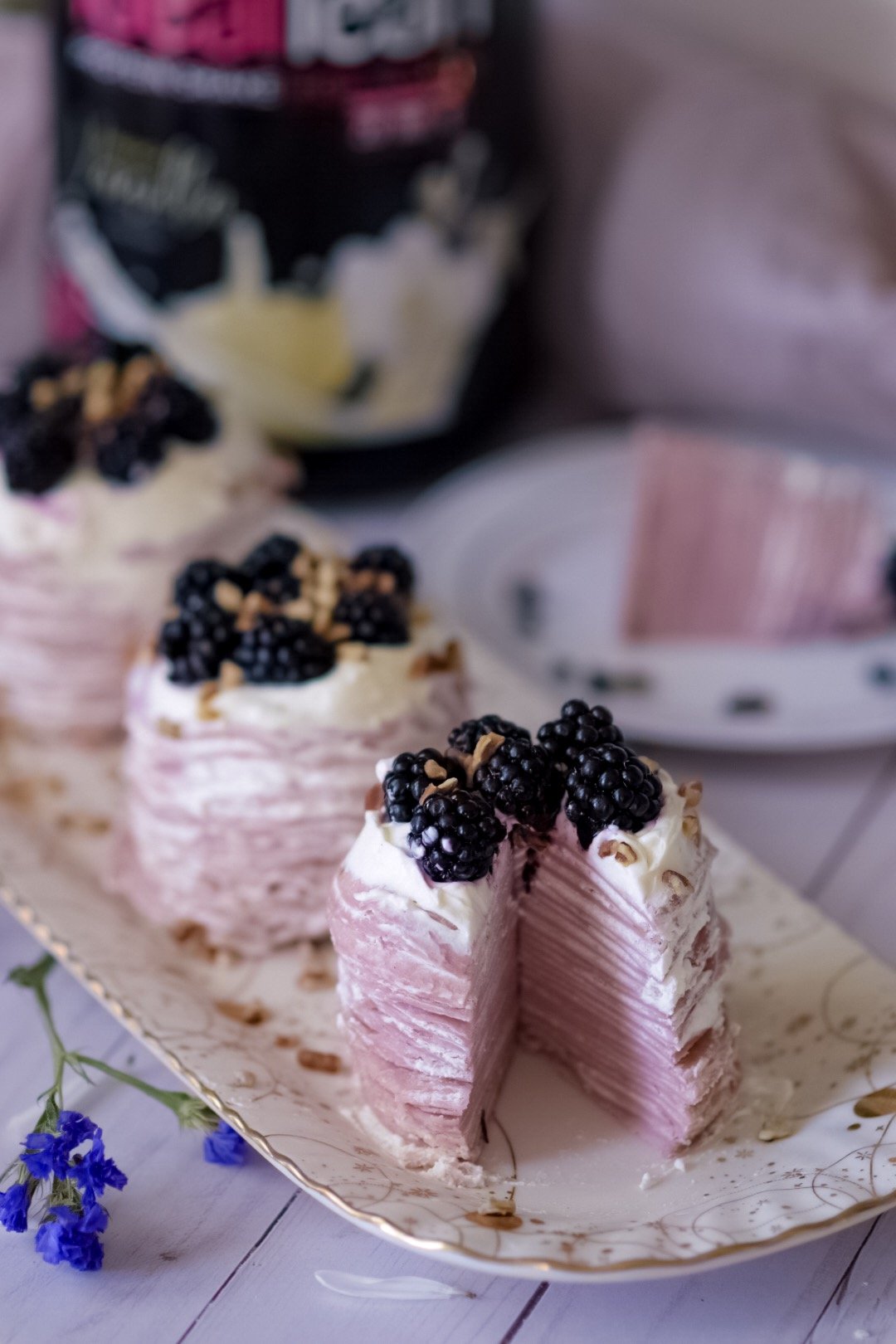 INGREDIENTS
3 cups almond milk
1 scoop French Vanilla Ideallean Protein
2 cups coconut flour
5 eggs
3 tbs coconut oil
1 tsp vanilla
1 tsp erythritol or sweetener of choice
5 tbs crushed blackberries
Sugar-free whip cream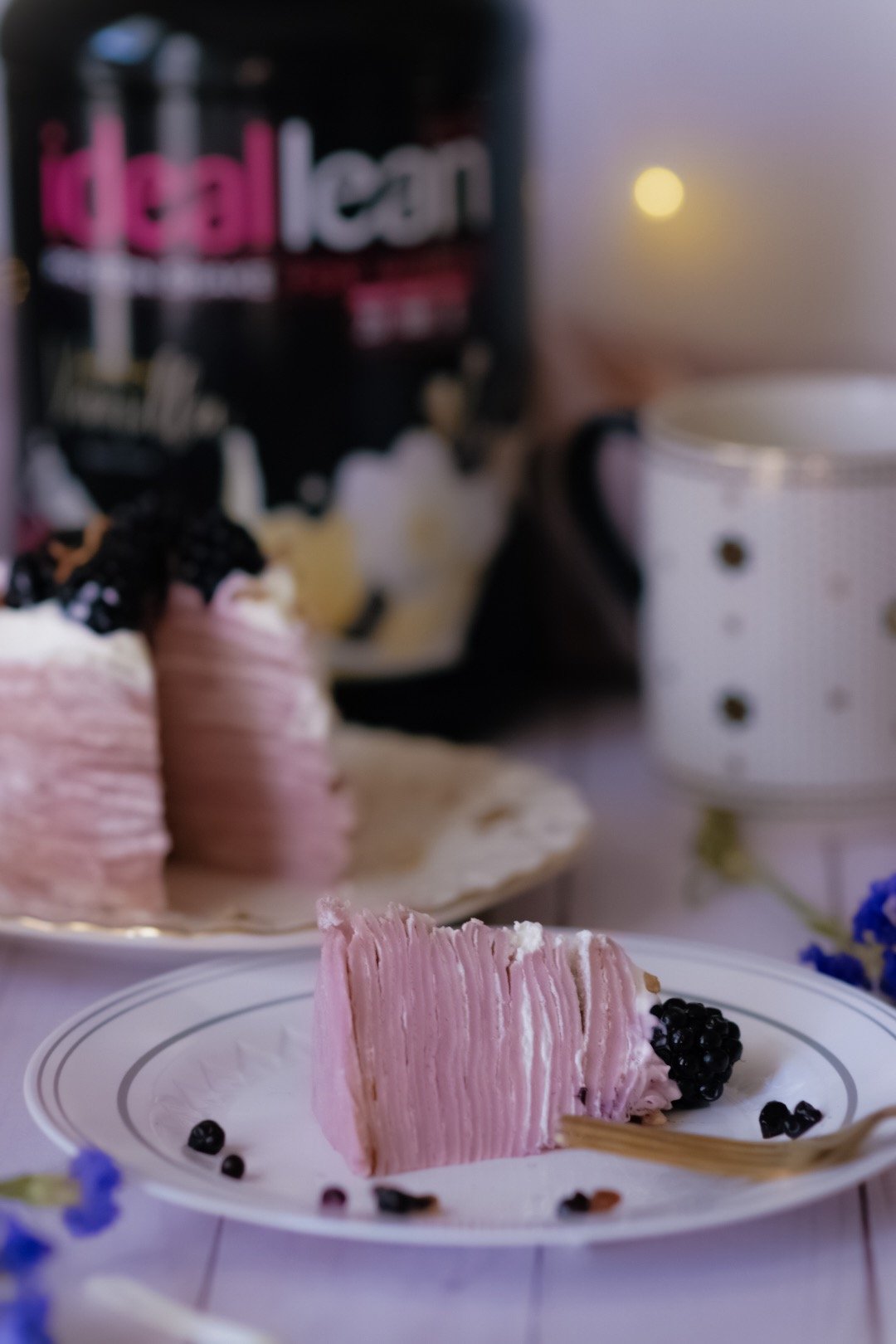 INSTRUCTIONS
Mix the dry ingredients together, then mix the wet ingredients. Slowly add the dry mixture to the wet batter.

Spray a small frying pan and let it warm for a minute on the stove. Then add about an ⅛ cup of batter to the pan. Roll the batter till it forms a circle. Flip the crepe and remove once it has been cooked.

Repeat this process until the batter is gone. Let the crepes cool.

Take the sugar-free whip cream and use it to frost between each layer of the mini crepes.

The batter should make 84 mini crepes or 7 crepe cakes. Enjoy!

Each crepe: Calories: 28. Fat: 1 g. Carbs: 1 g. Protein 1g. Each crepe cake (crepes only) Calories: 319. Protein 15g. Net carbs: 13 g. Fat: 16g.
6.Birthday Protein Balls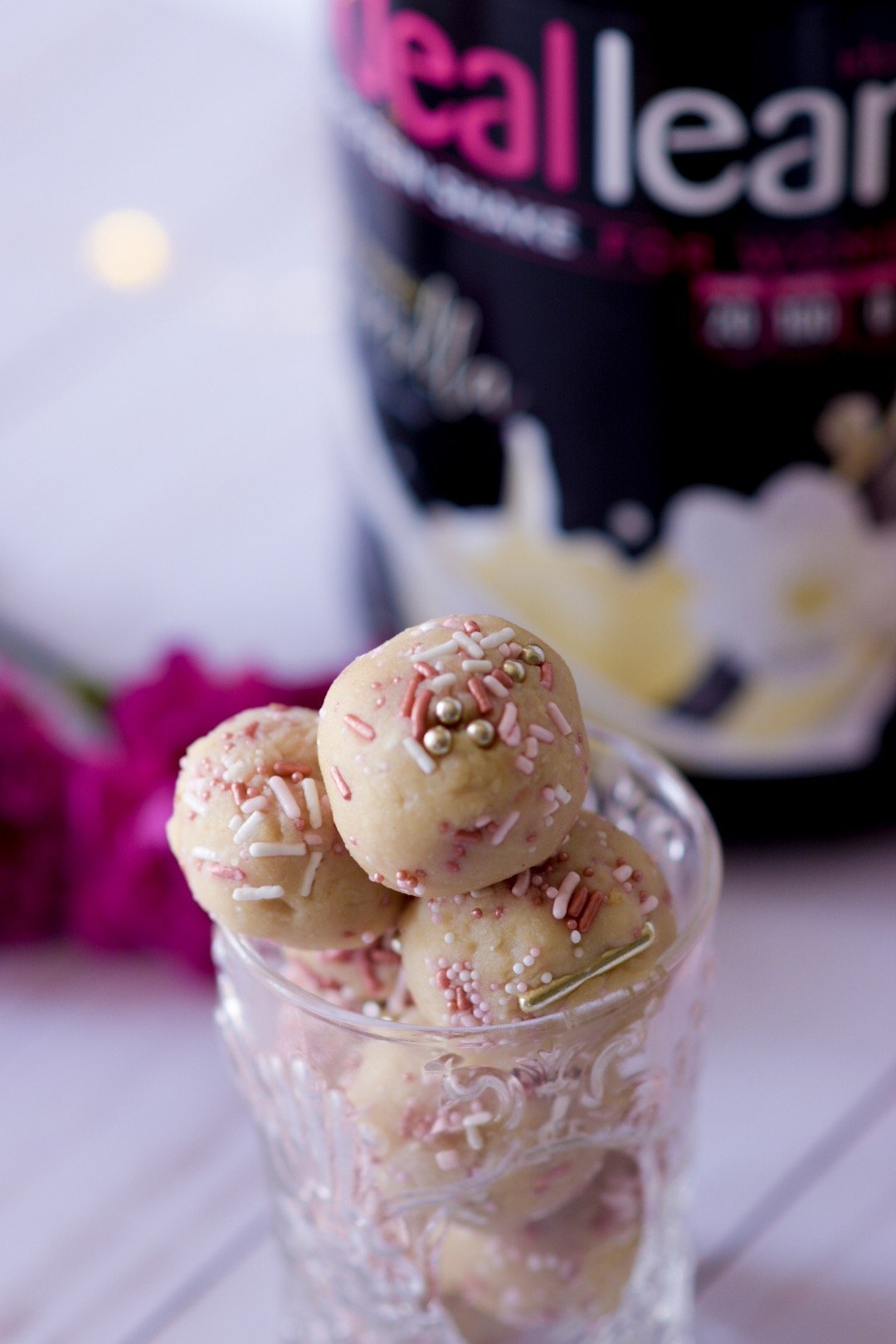 INGREDIENTS
½ cup vanilla protein
1 cup coconut flour
⅓ cup coconut oil
1 tsp vanilla extract
¼-⅓ cup almond milk
½ cup sugar-free maple syrup
sprinkles(optional)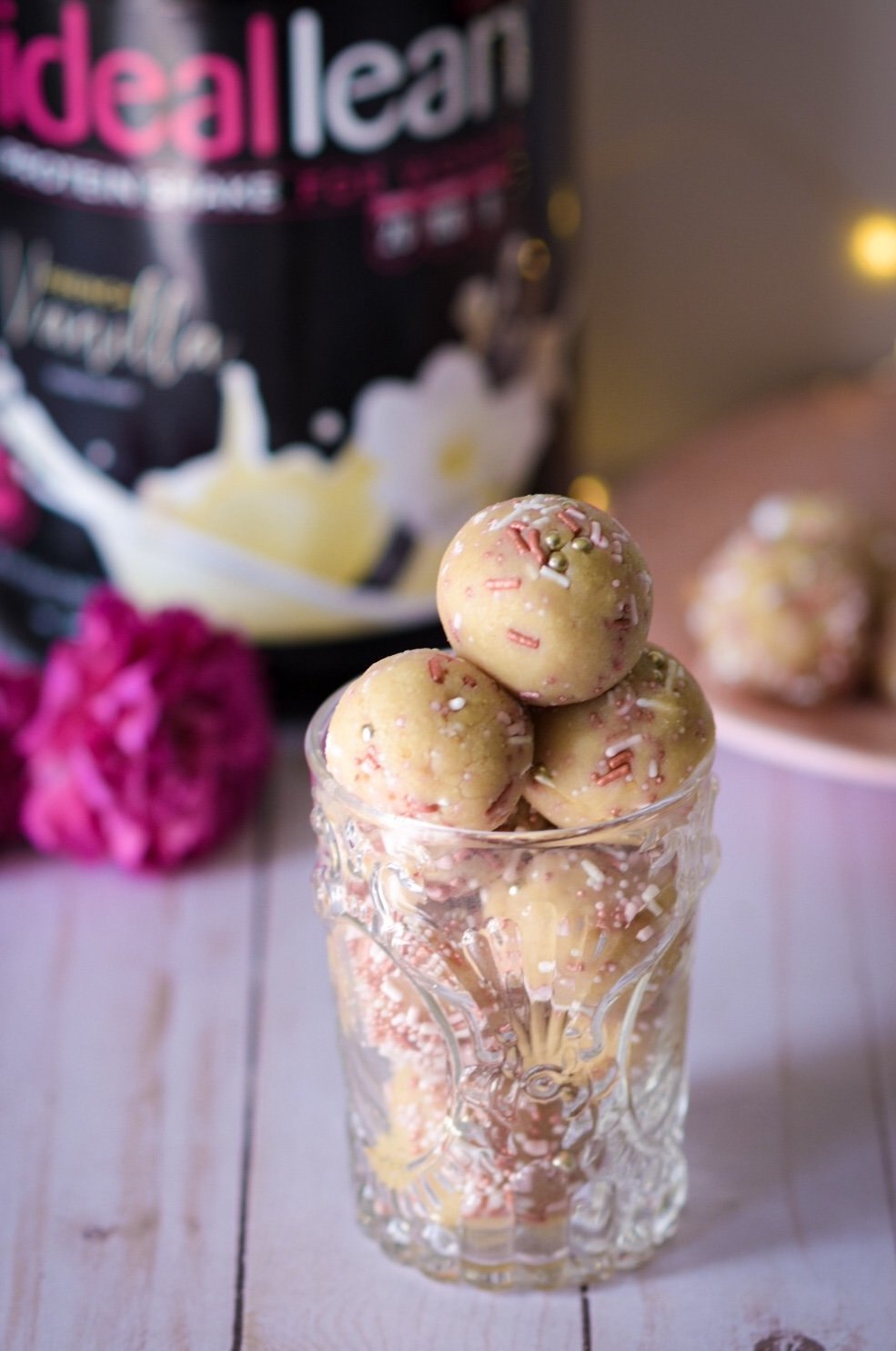 INSTRUCTIONS
Mix all ingredients together, add more maple syrup and almond milk if the mixture seems too dry. Knead the mixture with your hands. 

Scoop the mixture with a tbsp and smooth into a ball.

Makes 15 protein bites. Calories: 108. Fat: 5 g. Net carbs: 3g. Protein: 6g.
We hope you enjoy these recipes! They're a great way to have the food you love while reaching your goals. If you want to get started making these, grab a tub of our French Vanilla Ideallean Protein! All of these recipes are specially made with our Pure Whey Isolate protein to help you get the results you need when you hit the gym. For more details, click the banner below!