There is nothing more rewarding than seeing our customers and friends reach some of their weight loss and fitness goals. With the help of our challenges, products, and community along with A LOT of hard work and dedication, we have been able to see so many women like you achieve their ideal body.
This is why we do what we do. Seeing your transformations is so inspiring and keeps us going day after day!
Astra has inspired so many of us as well as many women she has come into contact with. With a young family and a lot on her plate, she has still been able to find the time to turn fitness into a lifestyle, even while she was living in a camper for 15 months, and has lost 43 lbs!
It goes to show that you really can do anything when you put your mind and heart into something.
Try Our Free Fitness Challenge
Join the movement, and kick-start your weight loss with Trainer Lindsey's Free 15-Day Fit Body Challenge!
Astra's Story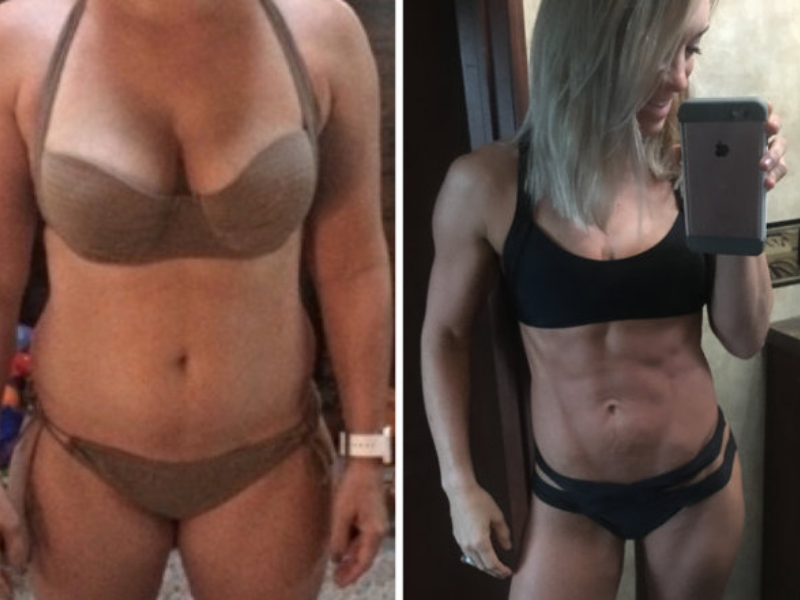 "I found IdealFit when I was 3 months postpartum from my second child. I was currently nursing and trying to eat clean, but despite running 7 to 10 miles a week and biking upwards of 50 miles a weekend I had only lost one pound since my son's birth. This made so upset and I felt really lost.
At the time I was training for an Ironman 70.3 triathlon race and I wanted to be in my best shape. So I signed up for the 15-Day Fit Body Challenge and jumped into it 100%. Within 3 months I lost 40 pounds and the weight had come off so fast I didn't even recognize myself.
I felt better and looked better than I ever had prior to having kids.
I shared my progress on social media and to my surprise I had many friends say they wanted to do it with me. So I started a Facebook group and together we have lost over 350 pounds from challengers and their spouses. My friends constantly say their lives have been forever changed.
In January of 2017, I went on to earn my sports nutritionist certification and am currently studying for my personal trainer certification.
From January to August of 2016 I juggled being a mom to a 2 year old and 4 month old, nursing, pumping, going to the gym, working out 6 days a week, training for an Ironman race while being 1000 miles from "home" while my husband worked 70-80 hour weeks as a Journeyman Lineman. I juggled so much and I look back now and don't know how I did it all.
I crossed the finish line of my first ironman 70.3 in 6:18 and it was a magical moment. After that, I went on to race Ironman 70.3 Canada a month later. Then I placed 2nd at the Playa Del Rey Olympic triathlon in September. I am currently training for my first full Ironman in August of 2017.
I needed and craved a full lifestyle transformation and that is exactly what IdealFit gave to me.
Now I use IdealLean Protein, IdealLean BCAAs, and IdealLean Protein Bars every single day. I'm so blessed I have found a company that produces such incredible products, programs, informational articles, and genuinely good people that work there.
I truly feel like a member of the IdealFit family and I will never be able to show my thanks enough. I have always wanted to live an active, healthy, inspiring life and just never knew where to start. Thank you for giving me that starting point and always providing even more!
I love Trainer Lindsey and IdealFit because their products and programs teach you how to make lifestyle changes. IdealFit taught me how to live a healthy lifestyle, and so much more. I cannot even begin to express how different my life is now. I have found a passion, a platform to share my successes, and lifelong friends along the way."
Try the challenge that jumpstarted Astra's weight loss, as well as thousands of other women. Click on the banner below!