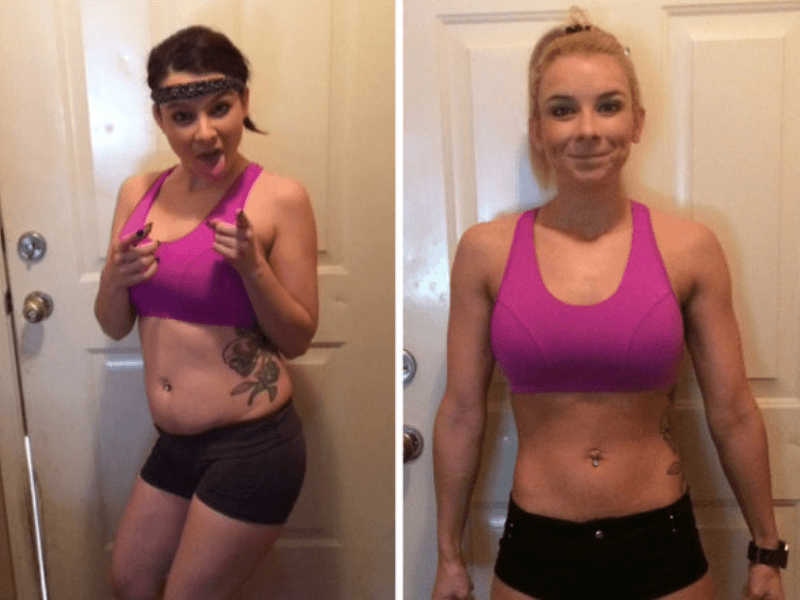 I am a HUGE supporter of loving the process. If you have read this post, you know that I have had my fair share of weight loss, followed by weight gain, and weight loss again.
But getting frustrated by the scale isn't going to help you progress. You have to love the whole process, slip-ups, setbacks, and all!
We will always have hardships and trials in life, but Alexis is an example of getting back on track when life happens, and more importantly, of loving the process. Fitness isn't just a destination, it is a lifestyle. Finding ways to keep you going and trusting the process is huge if you are going to make anything work. And then stick with it.
Alexis has reached her ideal with the help of our products and programs and a desire to constantly improve herself and learn healthy habits.
Learn how Alexis got back on track and hear her advice to anyone going through their own journey.
Are You up to the Challenge?
Try our FREE 15-Day Challenge and learn the principles of effectively burning fat, building lean muscle, and feeling good from the inside out.
Alexis's Story
"I didn't realize my health might be at risk until I attended a conference for my daughter. She had to undergo surgery for a heart defect. My husband and I both work from home, so we sit a lot, and evidently that increases women's risk for developing heart disease, especially if you aren't active, which I wasn't. It was then that I realized I needed to be a better example to my daughter.
I started the 15 Day Fit Body Challenge, which set the pace for what I needed to do to change. It was an intense program, but I was able to complete it twice with great end results.
On just my third day of the 15 day challenge, I had a moment when I bent over in my usually tight shorts, and my belly didn't hang over the band, but the amount of confidence I gained is what meant most to me. I used to gaze down when I spoke to people, but I don't do that anymore.
Then I started the 6 Week Fit Body Challenge. I hit my goal weight on my second round of the 6 Week Challenge. I learned the importance water and protein play in success.
Now I am maintaining my weight and gaining muscle in Trainer Lindsey's 6 Week Fit Body Sculpt program. I have lost 12.5lbs and 17.5 inches.
Every day I am getting stronger, every day I see progression, every day I trust the process!
To all the ladies out there my advice to you is to start today and follow these 2 steps:
Step 1: Invest in yourself.
Step 2: Keep Going!
Life happens, but setbacks are a setup for a comeback and investing in yourself in the best thing you can do.
Between vacations, all you can eat business trips, and several family events, I had my fair share of setbacks.
But whenever I got back, I would jump right back into meal prepping and would only have one treat meal a week. Treat meals were actually a treat because I didn't have them every day.
The number on the scale didn't matter because I knew that I felt good after feeding my hungry hippo hormones with healthy food, and the endorphins from working out makes me feel so good! It's a choice to take the first step. It's dedication to yourself to do step two.
Give it all you got and never give up.
Now my life is better every day! I continue to drink a gallon of water a day, eat healthy meals throughout the day and work out every evening. IdealLean Protein is on my daily meal plan and I get up in the morning with a better attitude. I feel good about myself and I am striving each day to maintain my progress and stretch myself to do more.
My eight-year-old daughter is my little cheerleader and reminder to workout- Lol I don't have to set an alarm- every night she says "Mom it's time to workout!" She sets up our yoga mats and works out with me.
I can't thank you enough for helping me achieve my goal to be fit, lean, and be in the best health of my life."
Alexis has an amazing transformation, and we want to help create yours as well! Click on the banner below to try one of our challenges that have helped women solve their fitness problems and get back on track.