Fitness and healthy eating can sometimes seem like a mysterious art. What does "lean" meat really mean anyway? Are all carbs created equal? Is all produce good for you? Plus, when you're making complicated healthy recipes your grocery bill can add up quick.
Don't worry, I've got you covered. I took a poll of all the fit girls in our office to see what their grocery lists looked like, and I found out that all of their healthy grocery lists looked pretty much identical. It turns out that fit girls have some common staples, and now I'm passing their lists on to you!
Without further ado, here is the downloadable grocery list of the top 50 staple items that healthy eating fit girls always have on their grocery lists! Below, we'll break down each major food category and why these foods are so important!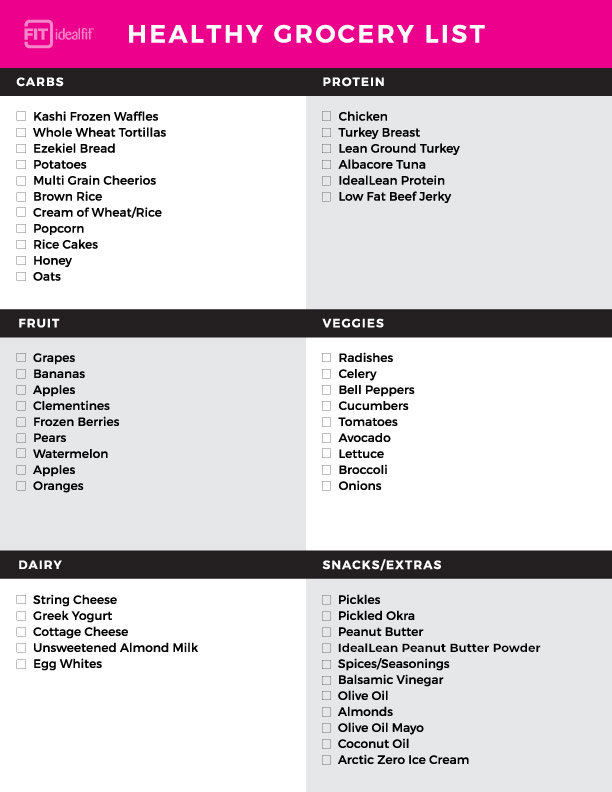 Healthy Grocery List:

 Fruit
While fruit is actually considered a carb, it deserves its own category. Fruit makes a great snack or dessert when your sweet tooth is calling. Fruit is also a great mix-in for your protein shakes to help make them a balanced pre- or post-workout meal.
Unlike other carbs, such as oats, fruit is a great grab and take-anywhere snack. And just like vegetables, fruit contains tons of nutritious vitamins and minerals! Also, a lot of fruits are very hydrating and full of water.
Fruit is sweet, flavorful, and full of healthy and energizing sugars, plus fiber to give you a boost of sustained energy. To make your serving of fruit a complete snack, pair it with some yogurt, beef jerky, or cottage cheese.
Fruit can also be pretty versatile. When it's hot out and you're craving a frozen sweet treat, pop a bag of grapes into the freezer for no sugar added, mess-free popsicle bites. You could also try turning frozen bananas into "ice cream" like this (you might want to leave out the Oreos though).
Here are our must-have fruits:
1. Grapes
2. Bananas
3. Apples
4. Clementines
5. Frozen Berries
6. Pears
7. Watermelon
8. Oranges
Healthy Grocery List:

 Veggies
Veggies are a healthy eating fit girl's best friend! If you've taken my 15 Day Fit Body Challenge, you know just how true that is! (If you haven't taken my 15 Day Fit Body Challenge, you totally should. Here's a link: http://www.idealfit.com/15-day-fit-body-challenge.list) If you have a specific goal, sticking to a strict meal plan can be a great way to achieve that goal, whether you're trying to put on muscle, take off fat, or both.
But that means you can't go back for seconds just because you're still feeling hungry. An extra scoop of rice or an extra serving of chicken on the daily can keep you from achieving your goals. As the saying goes, "Abs are made in the kitchen!"
That's why veggies are so essential. Not only are they packed with nutrients, vitamins, and minerals but they're filling, delicious, and best of all, low in calories. There's no reason to go hungry when you can pack your meal with vegetables.
Not only do veggies add bulk to your meal, they also add variety and make great anytime snacks. Instead of munching on pretzel sticks, munch on celery sticks.
Here are our must-have veggies:
9. Radishes
10. Celery
11. Bell Peppers
12. Cucumbers
13. Tomatoes
14. Mushrooms
15. Leafy Greens
16. Broccoli
17. Onions
Healthy Grocery List:

 Protein
You might be used to hearing that you should get plenty of "lean" meat and protein, but what the heck qualifies as "lean?" Lean meat is meat that has 10% or less fat. Most grocery stores will include the percentage right on the label of ground meats, but not necessarily on whole cuts of meat.
Boneless skinless chicken breast, white fish, and turkey breast are all safe bets. Chicken breasts are not a fatty cut of meat to begin with, and when you take off the skin they're extremely lean with only 2.5g of fat per serving.
Another great way to up your protein intake is with a protein supplement like IdealLean Protein. We love IdealLean protein. Not only does it taste amazing, it's basically pure protein! It's super low in fat, sugar, and carbs. You really can't get much leaner that this.
Protein is extremely important for building lean muscle, getting stronger, and reaching your fitness goals. Healthy eating fit girls include protein with every meal, even snacks! Beef jerky is a really convenient way to take tasty protein with you anywhere, no cooking required.
Here are our must-haves from the protein department to add to any healthy grocery list:
18. Chicken
19. Turkey Breast
20. Lean Ground Turkey
21. Albacore Tuna
22. IdealLean Protein
23. Low Fat Beef Jerky