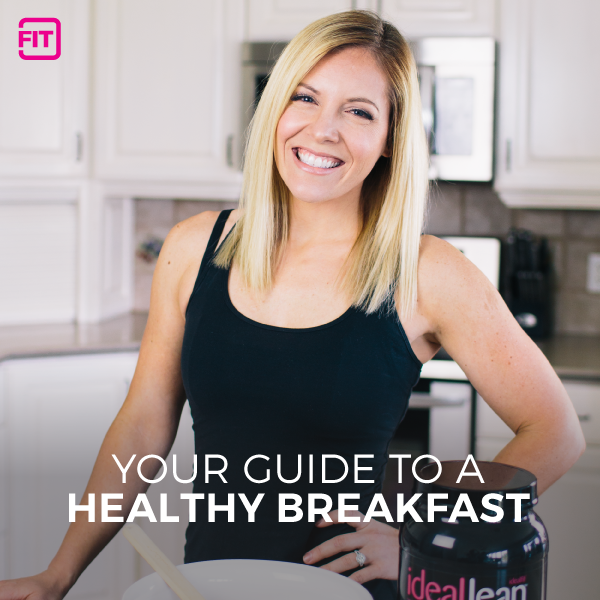 Oh so you've heard the phrase, "Breakfast is the most important meal of the day" once or twice, have ya? Yeah, most likely if you are breathing you have heard this. Okay, you get it. You know that it's important.
Yet, how many of you still feel like you don't have the time to put together a meal? Or you simply forget? Maybe all you have is your child's sugary cereal on hand, and you literally don't have time for anything else, so that is what you find yourself eating in the morning. Or maybe you just don't know what to eat.
You see, starting off your morning with a healthy meal is important for a number of reasons:
A More Nutritionally Complete Diet
Staying at a Healthy Weight
Being More Alert and Focused
Having More Energy
Starting your day off with a meal that consists of mostly sugar and/or saturated fat will make you feel sluggish, and these simple sugars get processed by your body quickly so you will find yourself hungry shortly after.
Likewise, skipping breakfast can increase your body's insulin response which can increase your fat storage and cause weight gain. Plus, skipping breakfast can cause you to reach for sugary, fatty foods by mid-morning.
Eating a nutritious breakfast can help you to control your weight by kick-starting your metabolism, which will help keep you energized to get through your morning, and can improve your memory and concentration.
What Nutritionists Advise
Breakfast should be eaten within two hours of waking
Eat more vitamins and minerals with your breakfast
Consume 25-30% of your daily calories in the morning
Eat less fat and cholesterol in your breakfast
Stay away from high-sugar foods as well as saturated fat as much as possible
Eat a nutritionally complete meal, which contains a good combination of all three macros
Drink water with your breakfast
Healthy Breakfast-Quick Options
Okay, but maybe you can't find the time to put together a full meal at breakfast (or maybe you just don't want to). Here are some quick options you can whip up on days where you can't even.
Some people totally prefer to eat their protein instead of drinking it. I get it, and a lot of days I am right there with ya. I love protein bars, and always try to keep a few handy with me in my gym bag or purse.
That way if I rush out the door and totally forget to eat, I can whip this baby out of my bag, while getting 20-23g of protein and 52% of my daily fiber needs.
Okay, so alone IdealLean Protein doesn't constitute a full meal. However, you can turn this into a meal in a jiffy if you add some carbs and fat to your IdealLean Protein. This blog post-How To: Use Your Protein Powder as a Meal Replacement will give you tips on how to turn your protein into a nutritionally complete meal.
Get Free Recipes
28 Free Recipes which incorporate IdealLean Protein are healthy and delicious options that can be eaten as snacks or meals.
Smoothie Bowl
Here is my standard, go-to fruity smoothie bowl for you!
IdealLean Smoothie Bowl
Smoothie:
1/2 c frozen blueberries
1 c almond milk
1/2 c strawberries
1/2 banana
2 Scoops French Vanilla IdealLean Protein
Toppings:
1/2 banana, sliced
2 tbsp. unsweetened coconut flakes
1/2 c fresh blueberries
1/2 c. fresh strawberries
1/3 c granola
Put all smoothie ingredients in a blender, add more almond milk if needed. Blend until smooth. Pour Smoothie mixture into a bowl. Top with Desired ingredients.
Makes 2 bowls. Serving size: 1 bowl.
Calories per serving: 310, Carbs 42g, Protein: 24g, Fat: 7g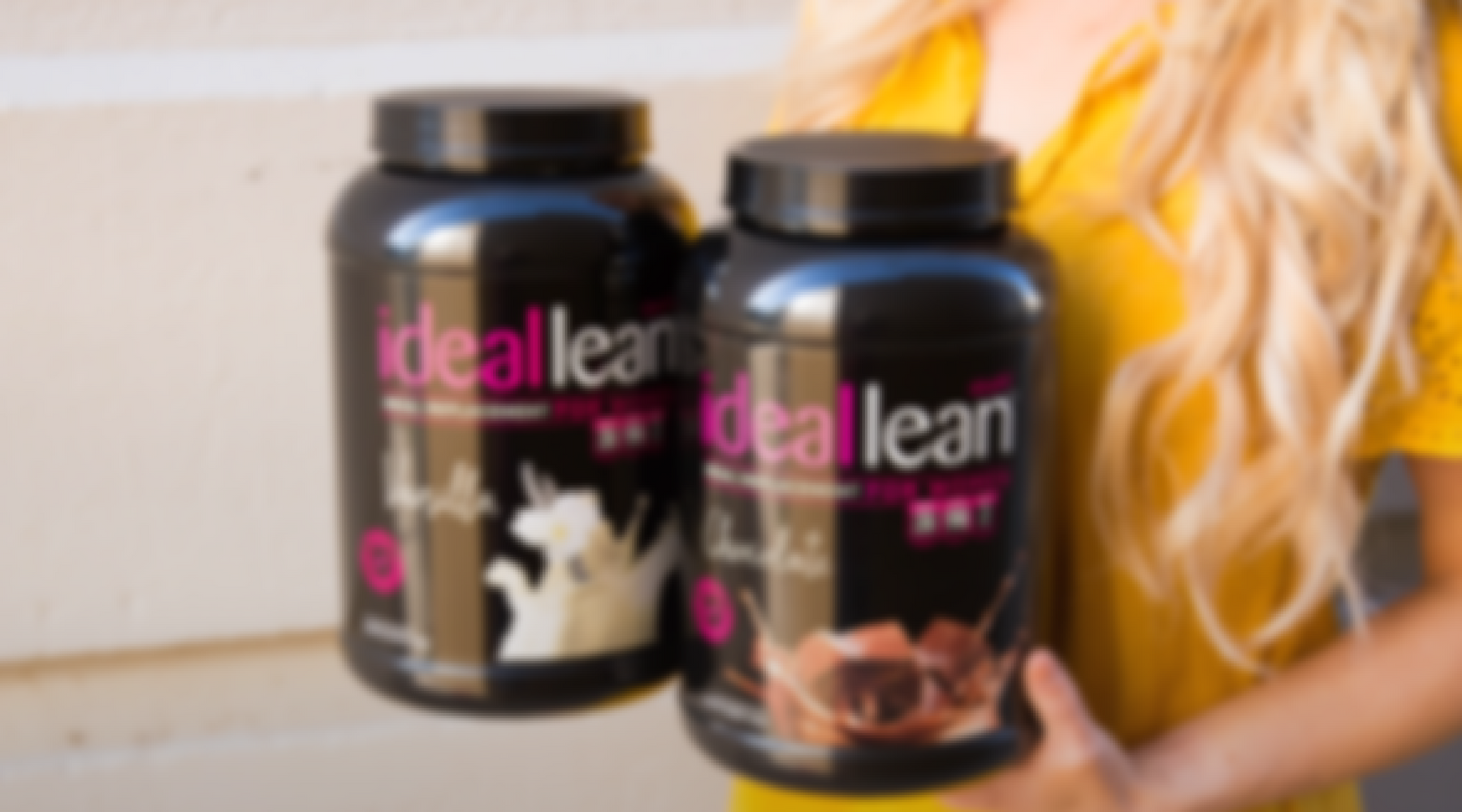 So you don't have time to make a nutritious breakfast? Then just try IdealLean MRS. It contains 190 calories, and a healthy amount of protein, carbs, and fat to make up a complete meal. Simply pour a scoop of your MRS into milk or water and you've got yourself a meal.
Hard Boiled Eggs
Okay, this one is pretty easy, you can make up a dozen or so hard boiled eggs, and enjoy them over toast (and maybe some guac), along with some fruit, or any other ways you can think of that will fit into your macros throughout the week.
And have you ever tried making your hard boiled eggs in the oven? Game changer.
I love oatmeal. Oats provide you with complex carbs and fiber to help keep you fuller longer and aid in digestion. IdealLean Oatmeal is great because it has 20g of protein, 5g of fiber, and 22g of complex carbs, and is perfect when you only have a few minutes before you have to run out the door.
Cereal
If you are going to go with cereal for breakfast, avoid ones where one of the first ingredients is sugar. Make sure the sugar per serving is under 6g and look for at least 3g of fiber per serving. Also, you could add IdealLean Protein into your almond milk to up the protein count and make a macro friendly meal.
To learn more about macros, download my Ultimate Guide to Macros eBook here.
Meal Prep For The Win
Meal prepping is my jam. Seriously, I love it. Not only does cooking in bulk cut my shopping bill down a bit (no wasting food here), it also makes it so that I only have to spend an hour or so on Sunday prepping my food for a week, and have healthy breakfast options. Some of my favorite breakfast meal prep meals include:
Protein Pancakes
Give this healthy pancake recipe a try and let me know what you think!
Chocolate Chip Cookie Pancakes
3/4 c oat flour
1 Scoop French Vanilla IdealLean Protein
3/4 tsp. baking powder
1/4 tsp. baking soda
1/4 tsp. salt
1/2 c unsweetened almond milk
1 tbsp. honey
1/2 tsp. vanilla extract
1 egg, beaten
1 tsp. coconut oil, melted
2 tbsp. dark chocolate chips
Mix oat flour, French Vanilla IdealLean Protein, baking powder, baking soda, and salt.
Next, add almond milk, agave nectar, vanilla, egg, and melted coconut oil and mix until combined. Fold in chocolate chips.
Using a ¼ cup, pour batter on a hot griddle. Once top of pancake is bubbly and bottom is golden brown, flip and cook until both sides are done. Enjoy!
Makes 6 pancakes.
Serving Size: 1 Pancake. Calories per serving: 110, Carbs: 14g, Protein: 4g, Fat: 4g
Make up a few batches of these, and then refrigerate or freeze them and enjoy for the rest of the week. You could also just make up the batter and place that in the fridge, then warm up your skillet in the morning for a healthy breakfast.
Breakfast Burritos
I love to make these on a Sunday, and freeze them for the following week.
Here is an easy, healthy breakfast burrito recipe:
6 whole eggs
6 egg whites
1 red bell pepper, diced
1 green bell pepper, diced (or any other veggies you want to add)
1/2 c onion, diced
1/2-3/4 c turkey sausage
8 LaTortilla Factory Tortillas
In a large bowl mix together the whole eggs and egg whites.
In a large skillet over medium high heat, brown the sausage, peppers, and onions until fully cooked. Set aside.
Add the eggs to the skillet and cook for a minute or two, until cooked through.
Spoon the vegetables, sausage, and eggs into the center of your tortilla and wrap up. Repeat with the remaining ingredients.
Wrap up in foil or plastic wrap then put in the freezer or fridge.
When ready to eat, microwave and add 1/4 cup salsa and 1/4 avocado, if desired, for garnish.
Muscle Muffins
1 c egg whites
1 whole egg
120g (1 1/2 c) oats
115g (1/2 c) low-fat cottage cheese
1 scoop IdealLean Protein Powder (I used Peaches 'N Cream)
1/2 tsp. baking powder
1/2 c baking stevia (or to taste)
1/4 tsp. salt
140g (1c) blueberries, frozen
Blend all ingredients except the berries in the blender and pour into 12 greased muffin tins. Top with blueberries. Bake at 350 degrees for 20-25 minutes or until a toothpick inserted in the center comes out clean.
These are so easy to transport! I usually eat three for one meal and I put them in baggies (three to a bag) and throw in the freezer until I need them!
Serving Size: 1 muffin.
Calories per serving: 80, Carbs: 9g, Protein: 7g, Fat: 1.6g
Breakfast egg cups
I love to pack these with as many veggies as I can get away with. This is also a super good breakfast to make when you are trying to clean out the fridge. Put in whatever veggies you have on hand and prepare these bad boys for the week ahead. Depending on how quickly you will be eating these, you could refrigerate or freeze them.
Here is a simple recipe you can try:
12 slices turkey bacon
6 turkey sausage links, diced
6 eggs
2 c. egg whites
1/2 t. salt
1/8t pepper
Diced onion and peppers (or any veggies)
24g cheddar cheese
Preheat oven to 350 degrees. Spray muffin tins with non stick spray and wrap turkey bacon around the edge of the muffin tin.
Sprinkle diced sausage links into muffin tins.
Blend up eggs and salt and pepper and pour into muffin tins, filling to the top.
Bake at 350 for 15-20 minutes, until almost cooked through.
Top with cheddar cheese and bake for 5-7 more minutes until fully cooked.
One muffin: 122 cals/7g fat/1g carbs/12g protein
Get More Recipes Like This
For even more ideas for healthy meals that you can make, try my FREE 15 Day Fit Body Challenge. You don't only get meal plans, you also get workouts, support, and tips to help you reach your fitness goals.
Start Your Day the Best Way
Mornings for me start really early. I get up and head to the gym even before the kiddos are awake. Some days are SO hard to motivate myself to get up and go, but I never regret it afterwards. Prepping foods in advance is so convenient for mornings like this, so that I don't have to spend time thinking about what I want to eat then making it. I mean I'm not trying to wake up THAT early.
I also notice such a huge difference in my day when I start off with a healthy breakfast—I feel energized, satisfied, and ready to take on whatever comes my way.
That is why I love reaching for my favorite IdealLean Meal Replacement Shake! It provides me with all the nutrients that I am craving in the morning and only takes seconds to make!
Fuel your morning with the help of IdealLean Meal Replacement Shakes HERE!