Hey beauties! For those of you who may not know me, allow myself to introduce myself 🙂
My name is Karina and I'm a trainer, a fitness model, and a wellness coach. I love eating healthy, taking napsicles (otherwise known as naps), breaking out into random dance moves, and just livin' a fit life.
To me, living the fitness lifestyle goes way beyond just hitting the gym, getting a shredded bod, and making healthy food choices. It also means building an attitude of self-love, being comfortable in your own skin (you do you), and learning to live life to the fullest. And that means knowing how to get a little goofy sometimes.
Let's be real for a quick second: getting fit can be quite a challenge, but it's something that everyone can do. I work hard every single day to keep my outlook on life, love, and everything in between POSITIVE. But I also know that we all run into some negativity every now and then.
How do YOU deal with negativity?
I do it with exercise, some spontaneity, and maybe some minor prep.
Let's address some Debbie Downers that might disrupt your fitness goals:
Low Motivation
Are you ever impatient for results? What about the lack of motivation to pull those tight exercise pants up? Ever moody? Yes yes yes and yessssssss.
I'm right there with you. Do I ever have days when I don't want to get out of bed? For sure. But I know (and my friends can confirm this) that I get seriously grumpy if I don't get some sort of exercise in every single day.
I've found that the easiest way for me to lose motivation is to complicate the process. That's why I like to keep it chill. Sometimes, I'll go to the gym and run SUPER HARD for just 10 minutes. I'm talking so hard that I can barely stand up when I'm done. But after that 10 minutes, I'm done.
When I'm having a low motivation day I make sure I have my IdealLean Pre-Workout (blue raspberry is my fave!). It gets me pumped without all the jitters. Talk about motivation!
Don't Know How to Exercise
Walking into the gym without a game plan and hoping for the best is setting yourself up for failure.
To get the best results possible, you need to be doing the best exercises.
So… which ones, and how many reps and sets do you need to do to make sure you're pushing your body hard enough to see results?
Knowing how to perform the exercises is just as important as knowing which exercises to perform. Form is crucial when you're exercising. Good form will not only allow you to work your muscles properly, but it will also keep you from potentially hurting yourself.
Don't Have Enough Time to Exercise
Life can get really busy. Trust me, I know exactly how it is: so many errands to run, places to be, and things to get done that it seems like there's never enough time in the day to do it all… exercise can get lost in the whirlwind of your everyday life.
Carving out enough time to get in an effective workout can be a huge downer. I hear this a lot when I chat with people.
But the truth is this: real results require real dedication.
Do you want to get fit but just don't know how you're going to be able to set aside enough time to exercise throughout the week?
Low Self-Esteem (booo!)
Low self-esteem is like viewing yourself through a pair of scratched-up, smudgy sunglasses. The way you see yourself is tainted. Having a negative view of yourself affects not just your fitness goals but also the way you view life in general.
A poor self-image can leave you feeling unmotivated, embarrassed, and afraid to open doors to new opportunities.
It can be easy to constantly compare yourself to other people, and not feel completely comfortable in your own skin. I definitely know this feeling. Before I was a fitness model, I did some modeling in Singapore. I was literally surrounded by the most beautiful women in the world! I was even told at one point that my legs were too muscular. You might hear negative things from others OR you might say them to yourself. But I want you to be your biggest fan. You do you! Live yo life!
Don't sabotage yourself with negative thoughts. Positivity always.
Don't Know How to Eat Right
Weight loss is challenging. There are so many misguided and conflicting fad diets out there, and this can make things super confusing when you're trying to decide what will help you lose weight and build lean muscle.
Not to mention, so many "diet" plans out there aren't sustainable long-term, and will end up leaving you feeling starving, tired, and discouraged while also breaking the bank.
I have a couple questions for you. Feel free to answer any of them in the comments below so I can see your responses! I'm really interested in your thoughts:
Do you know how much you should be eating to lose weight?
Do you know which types of foods best support lean muscle growth?
To build lean muscle and lose weight, you need to eat the right foods… and your diet needs to be sustainable. You need a lifestyle, not a crash diet.
For example, protein is essential for helping your muscles rebuild after exercise, and not getting enough protein can make it harder for you to recover after workouts and build muscle.
No Support System
Surrounding yourself with positive, like-minded people who can share in your successes (no matter how small they may seem) is crucial when it comes to staying on track with your fitness goals.
A good support system can make all the difference in how far you go in your fitness journey.
Not only is it so much more fun to share your fitness experiences with people who have the same goals as you, it's also so much easier to let your fitness goals fall through the cracks when there's no one to hold you accountable. #FitFams are a real thing and they can help in the support department.
Don't Know How to Maintain Results
Have you heard of "yo-yo" dieting? This is when people go on a diet to lose weight, only to gain it back, whether it's days, weeks, or months later. Rinse and repeat! Talk about frustrating! This has become an all too common experience for so many women.
Building a bikini bod that you're proud of is only half the challenge! Once you get there you've got to maintain the results.
So how do you keep the lean body you've built without losing it over time and starting that endless cycle of putting on weight and then trying to lose it all over again?
Here's MY Fitness Formula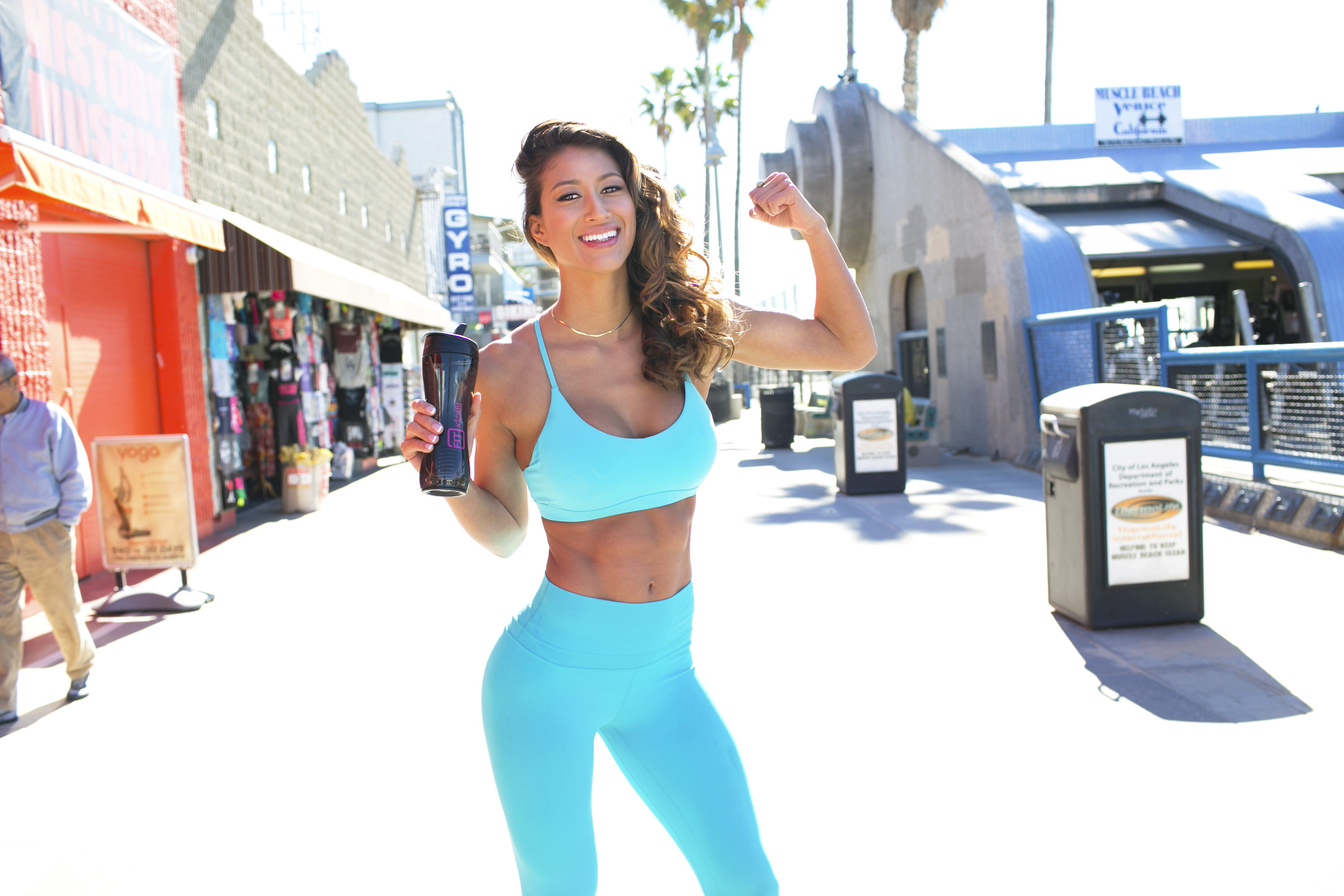 Whether you experience one or all of these challenges, each one of these has the potential to make your fitness journey miserable… or even impossible.
But guess what? I have some great news. No matter their circumstances, everyone can look and feel fit, and I know how.
I've created the 15 Day Fit Model Fitness Challenge to help you overcome every single one of these obstacles and to get you the lean, shredded body that you've been wanting.
Are you ready for some even better news? It's FREE!
That's right. My 15 Day Fit Model Fitness Challenge won't cost you a dime (but you will be lookin' like a dime).
Here's what you get with my completely free program:
Flexible, Pick-Your-Own Meal Plans (totally chill)
15 Day Workout Plan
Tips on How to Gain Fitness Model Confidence
Private Community Support and Motivation (your own #fitfam)
Access to Me to Ask Questions and Get Answers
Eating healthy and working out doesn't have to be bland or boring. It can be fun and laid-back.
In my 15-Day Challenge, I will share my formula for fit model fitness!
Don't have time? I'm here to prove you wrong! Give me 20 minutes a day in the comfort of your own living room and I will get that bum in shape.
Girls, nothing is sexier than total confidence in yourself and your body, and that is what my challenge is designed to give you. Being a fit model is no quick trick, it's a lifestyle!
It's time to own your health, because health IS happiness.
So what are you waiting for?! It's time to go balls to the wall! Join the Fit Model Fam!