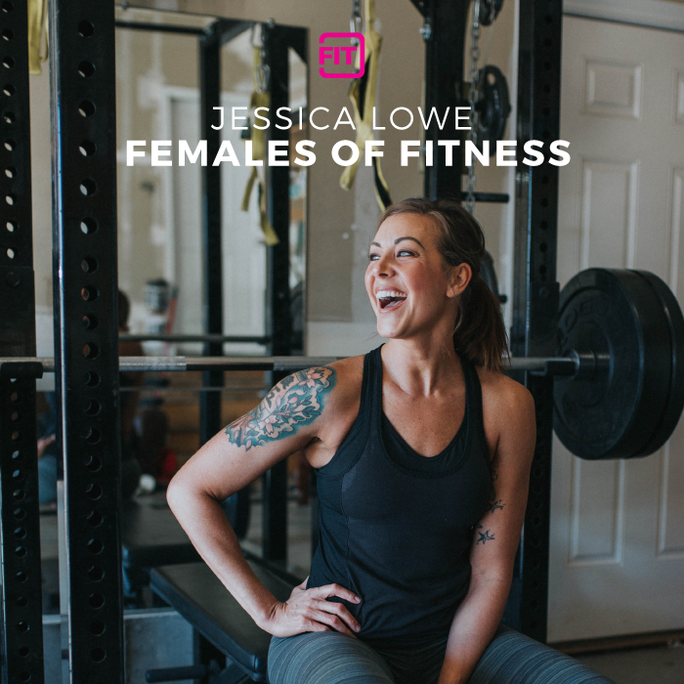 Meet Jessica: military wife, mother of 5, bikini competitor and lover of all things strong! 
I am happily married to my high school sweetheart, we celebrated our 18 year anniversary in January. Together we have five heathens ages 16, almost 14, 11, 8 and 7. We're a military family and have lived everywhere from Virginia and North Carolina to Okinawa, Japan but we'll always think of Texas as home. After leaving the Marine Corp last year, we decided to settle our family in Utah and just made the big move a few months ago.
As a family we love to be outside and have a small gym in our garage where Austin and I lift and the kids often join in too. We like to encourage even our littlest boys to be strong and healthy! I spend most of my days running kids back and forth, studying for my NSCA Personal Trainer Certification, and of course, hitting the gym.
I guess my fitness journey started with my husband, Austin. He's always been involved in lifting and strength programs and encouraged me to do it with him. I just never really caught the bug until after the birth of my daughter. I really wanted to get back in shape so I started a running program and challenged myself by setting a goal to run in a local 5k.
I had no idea that I would actually be able to finish that race. I know it sounds so easy but coming from a girl who never lifted ANY weight or EVER ran, this was HUGE for me. I finished that race and the pride I felt was overwhelming, I wanted more! Unfortunately, life got in the way with my husband starting law school, a job, and two young kids to manage. I was sidelined for a bit.
Fast forward to three MORE kids and again I found myself wanting to get back into shape. I knew I was finished having babies and it was time to take care of ME. Running didn't fill my cup the same way and after talking to a friend, she invited me to a CrossFit class, and I went. At the time, CrossFit was kind of new, I was a little intimidated since I'd never done anything like it but reluctantly I went. Surprise! I loved it. Like, a lot. I loved the camaraderie there and this new addiction to feeling STRONG. Because I still had small kids, I wasn't able to go as much as I would have liked. After about 6 months of attending CrossFit classes off and on, I started to really get into lifting and found myself hungry to know more about the mechanics and science of strength training. I read everything I could get my hands on and also had a good friend that was a powerlifter and personal trainer who helped answer a lot of my questions. Eventually I put together my own home gym so that I could train and take care of my family, and I've focused on strength training ever since.
We got orders to move to Japan soon after I got my gym together and my equipment got packed up into storage for a few years. Moving to Japan was amazing, but it also took a toll on some parts of me that I'm not especially fond of. I suffer from severe depression, anxiety and PMDD. Up until that point, I had it pretty well managed with exercise and a good medication regime, but moving to a different country added the kind of stress to my life that I couldn't anticipate. I also started homeschooling my kids which added a whole other layer on top of the frustrations of living in a foreign country and away from family and any support system.
The first year and a half in Japan was hard for me and my mental health. I hadn't been working out AT ALL and had been eating terribly and I knew it had to change. I went to the doctor and had my medications adjusted and then I went back to the gym. Starting over was very intimidating, my gym was on a military base with thousands of Marines and sailors who are all super strong and extremely fit. I had to walk in there every day to face them. I was overweight, and insecure, but I needed to get that workout in. Eventually, I found my way back and after finishing a 12 week strength program – I decided to rip the bandaid off and enter my first bikini competition.
I wondered what friends or family would think of me, and I second guessed myself every step of the way, but I was committed. I trained for 10 months total to prepare for the show: 6 months of it just building muscle mass, and the last 3 months leaning out. It was such a fascinating process and got me super interested in different training methods and how the body is capable of adapting and changing.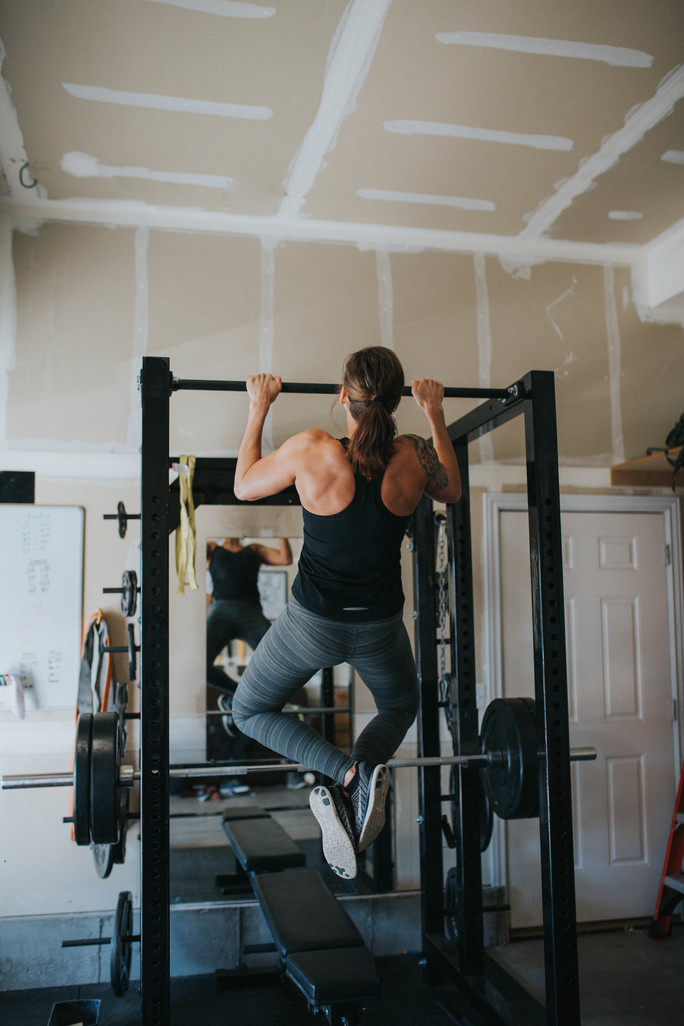 The actual competition and show was an amazing experience. I placed 4th in novice and 4th in my Masters class and I was hooked! Even though I'm a quiet person, turns out I love being on stage! I've spent the last year since my show bulking up for more size since I started out pretty small in the first place and I plan to compete in my next show in June of 2017. I'm excited to see the transformation from this looooong building phase.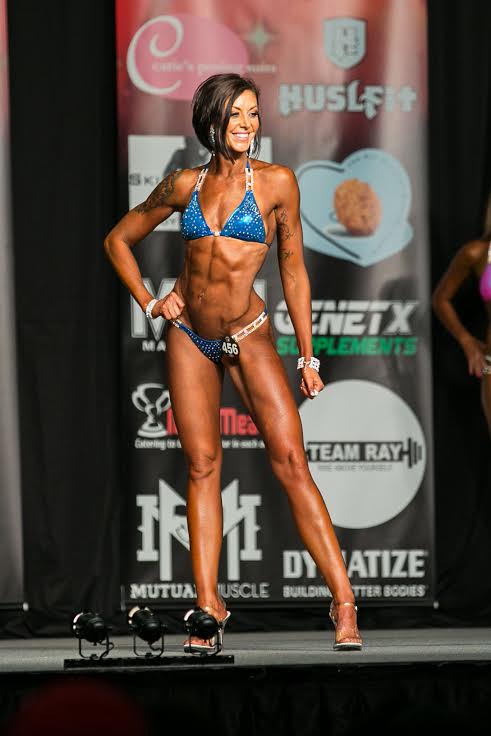 I really love lifting because of the feeling that I get from being strong and consistent. It's also really good for my mental health and I feel it when I skip a few days. I enjoy helping my family members and friends when they have fitness or nutrition questions, I like seeing them reach their goals and feel proud of their hard work because of what they've learned and applied.  I also love competing because I'm naturally a very competitive person and I don't like being told I can't do something or won't be able to. I do best when I choose goals that seem out of my reach because I like to prove everyone wrong. I also enjoy doing things a little out of the box because I want to be able to show my daughter that you don't need to be afraid to try things that may seem too hard or impossible. I want to be an example to her AND my four boys that you can accomplish anything you put your mind to, YOU get to decide what's important.
I would love to see myself qualify on a national level as a bikini competitor and eventually turn pro and be able to compete in a Masters pro show. I want to be able to maintain a good diet and be an example to my kids so they know how to eat healthy but also enjoy life and all the good foods as well. I have also been debating on whether or not I want to compete in a powerlifting competition before my next show since I love feeling strong so so much! I think it would pretty fun to do alternating off seasons with bikini and power lifting eventually so that may be in the cards for me down the road.  I also plan to finish my NSCA PTC before the end of this year.
Jessica is such a fantastic example of facing your fears and not being afraid to dream big, while managing the busy, everyday stuff life throws your way. Thanks Jess! 
Looking for more whey protein options?
On the days you just don't have time to meal prep or you forget your food at home, rather than derailing your entire day by skipping a meal or snacking on unhealthy food, have a scoop of a meal replacement. It provides you with the nutrients you need to sustain you until your next meal.
Check it out here!
*These women may or may not be actual users of IdealFit products. We simply want to share their story.
Subscribe to our VIP Newsletter
Receive awesome FREE fitness and nutrition information, exclusive deals, amazing free recipes, expert advice, professional training tips and much more!