Meet Amber: group fitness instructor, weights enthusiast, and macros expert. Oh, and she's an RN, a wife, and mother of 4 too!
I'm a wife and mother to 4 active kids. I graduated from college with a Bachelor's Degree in Nursing and practiced as a Registered Nurse for several years while my husband was in school. After he graduated and our circumstances changed, I quit working as a nurse and started pursuing fitness as a career. I began working as a group fitness instructor and now have progressed to starting my own coaching business and am currently working on my Certified Personal Training certificate.
I grew up with a mom who was a fitness instructor. She taught step aerobics classes at the YMCA as early as I can remember. When I turned 14 and was allowed in the weight room at the YMCA, my mom took me there and walked me through how to lift weights. It never occurred to me that weightlifting was something only guys did. My mom was an awesome example of a woman and mother who put her health and fitness at the top of her priority list and I grew up seeing how that made her a better mom, wife, and woman.
I continued to lift and exercise on and off through the years until about 8 years ago when I was introduced to group fitness classes at my local gym. I took Zumba classes regularly and then was introduced to my first Les Mills BODYPUMP class. I was hooked. Eventually, I decided that I wanted to be the one instructing the classes so I signed up to become a Zumba instructor. Slowly over the years I added more and more certifications to my repertoire including- BODYPUMP, BODYCOMBAT, CXWORX, and Ballet Barre. I currently teach 4 classes a week and I LOVE motivating a whole room of people to push themselves to do their best. There is nothing like standing up in front of a room of people, teaching them how to do a class, and sweating it out together to awesome music. I love love love teaching group fitness.
About a year ago I decided to get serious about lifting and scheduled time outside of the weekly group fitness classes I teach to lift on my own in the weight room. I currently teach classes 3 days a week and lift on my own 3 days a week. I've added so much more muscle with the additional strength training added in, and I enjoy being able to listen to my own tunes and focus just on myself and what my body can accomplish.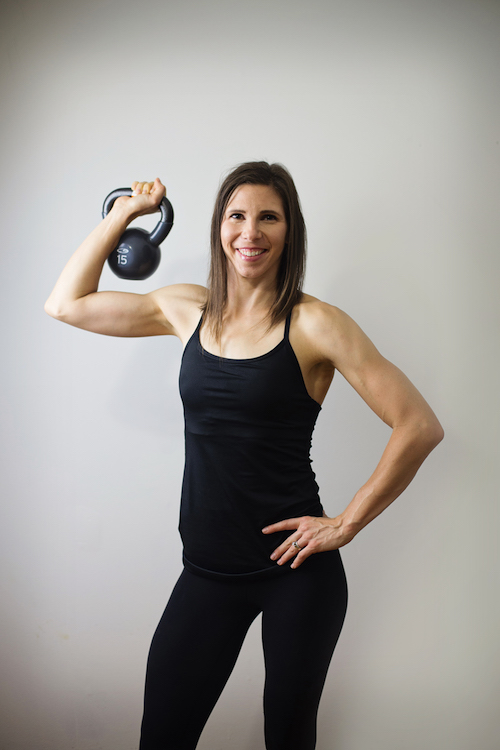 Also around the same time, I learned about and implemented IIFYM (If It Fits Your Macros), which is essentially a guided form of calorie counting to help you hit your goals. At first I wanted to lean out so that I could see all the muscles that I had spent so much time and effort building. I dropped 10lbs and was really happy to find all those muscles that had been hiding! Now I am working on a bulk where my goal is to eat more calories to be able to put on more muscle over the winter. I keep an active Instagram page (@biceps.after.babies) where I post macro-friendly recipes, exercise ideas, and tips and tricks for counting your macros and I also run a private macro coaching business under the same umbrella, I love helping and watching my clients succeed in their own fitness journeys.
My motivation is twofold – first I want to be a good example to my kids on the importance of keeping our bodies healthy and strong. I had a mother who ingrained in me the importance of exercise by her example, and it's important for my kids to learn that from me as well. Second, I love to feel strong. I love to feel like my body can do hard things. I know that I am a better mother, wife, and woman when I take some time for myself daily at the gym and keep my body healthy. Lifting weights and chasing after PR's has also given me all the motivation I need for the simple fact that as the weights go up, the stronger I get, and the more goals I smash through. It's a linear progression that can't be argued with!
My current goals are to continue to improve my strength in the weight room. I not only want to be fit, but I want to be strong! I want my PR's to continue to go up as I continue to improve and get stronger. I'm also almost finished with my NASM Certified Personal Training license which I am pretty proud of. That certification has been on my bucket list for a long time and I finally decided to just do it a couple months ago.
With my business, I want to continue to teach people about IIFYM and how counting macros can give them freedom from viewing foods as "good" and "bad", but rather food with the right macros to fit into a framework. Nutrition is important not only because it helps us look our best, but also perform and feel our best as well. I can't tell you how much learning this has helped me and I want others to know and feel the same!
If you want to learn more about counting macros then check out IdealFit's Head Trainer and Nutritionist, Trainer Lindsey's post: here. 
If you've got PR's to chase, give your muscles a chance to rebuild and repair to help you come back stronger and better than ever before. Make your muscles happy and your taste buds pop with IdealLean BCAA's!