Meet Emily: barre instructor, kitchen whiz, wife, mother to two, recent gestational carrier and adventure addict! 
"Life is a whirlwind and I wouldn't have it any other way. I am a busy body, very rarely found at home and when I am I'm busy in my kitchen, concocting delicious food and snapping photos to share on Instagram, or painting a watercolor, styling an outfit, or planning out my next adventure. I'm a free spirit and I enjoy being spontaneous. My two littles, Perry (age 5) and Steele (age 7) are my world! I also was a gestational carrier for a family and delivered a healthy baby boy just a few short months ago in April of this year, you can read about it HERE or follow me on Instagram (@emilysbrady) for more of that experience.
We spend our time outdoors as much as possible exploring the beautiful state of Utah we live in and love to take advantage of the state parks and amazing recreation opportunities all located within a few hours drive. We have a love for hiking, backpacking, swimming and travel. My husband Brett and I have been married for eleven years and there's no one else I'd rather be with on any adventure.
As a young girl I was very thin and was often made fun of for it. I was always athletic anyway, playing tennis, softball, basketball and volleyball. In my mid teens I became involved in my junior high drill team and that's where my love for dance began. Expressing myself through movement was something I  really thrived on and I danced until I graduated from high school on many different stages, it was a huge part of my life.  
I was always active and participated in sports, but I have never been one to particularly love weights or running. This became a struggle for me as I entered new stages in my life, from working full-time to getting married and eventually starting a family. I was less and less active and didn't notice that it was becoming a problem until after I had my second baby and realized that my body was not going to be young forever.
I wanted to be healthy and active again! I tried a few at home workouts but found myself immediately bored and without any motivation so I buckled down and trained for a half marathon, which I'm super proud of because I don't consider myself a runner at all. But then what? I stopped running again and became complacent with my fitness options yet again which is unfortunately, a cycle we all get caught in every now and then it seems.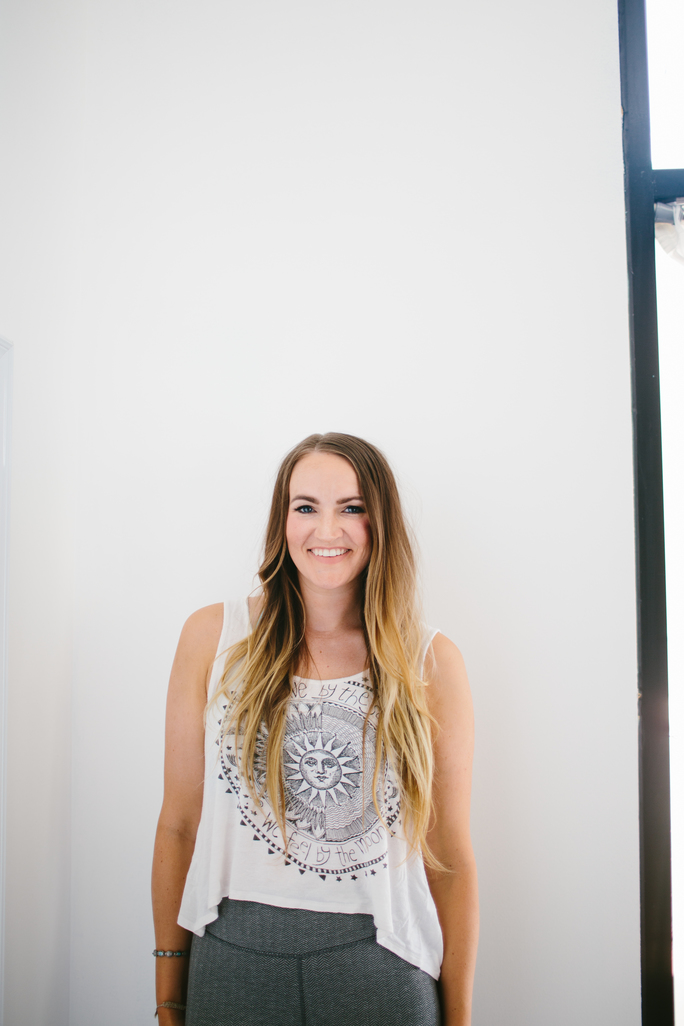 Luckily, I found Xtend Barre. It was a form of exercise that didn't feel stiff and rigid and is the perfect fusion of pilates and ballet. I saw results that I didn't see with any other type of exercise and I actually wanted to go to every class I could. I didn't get bored and that was a huge appeal for me, I had finally found my niche! I was a client and student for a year when the owner approached me about becoming an instructor. I was surprised and caught a bit off guard because I had never taught anything in my life and teaching group fitness didn't seem like something I could even wrap head around. I had so much self doubt, but with some encouragement from my husband I had this little breakthrough, a moment of empowerment, a feeling of I can do hard things! So I set out on this grand adventure, traveling to Denver to train for a week with an amazing Australian mentor. I grew in confidence, worked hard and created new friendships.
Fast forward two years and a baby later, I love it more than ever. I noticed a huge difference in my body's ability to bounce back, so to speak. After giving birth in April, I'm back to instructing and helping other women see their potential and achieving their goals. Nothing is more rewarding than seeing a look of exhaustion in someone's face and helping them dig deep to keep pushing through. Seeing that spark of determination is empowering to witness. It's not easy, I've been there and it's something you have to work for every day, but it is a privilege to have confidence in YOU! I have loved regaining that mind-body connection. Doing hard things is what gives us the will to live.     
I am currently working on the nutrition side of my fitness journey. Now that exercise is naturally a regular part of my life, I'm working towards eating a healthier diet and shifting the way I think about food. This area is an on-going work in progress, I will continue to make conscious changes in the choices I'm making because I am seeing amazing results so far and I can't wait to see what the future brings.
I know that every woman's fitness journey looks different, this is what worked for me and I'm so happy to have found Xtend Barre and look forward to learning and growing more in the days and years ahead."