We hope you're enjoying Easter! We want to help you celebrate by giving you some healthy Easter recipes!
No one will be able to tell how secretly healthy these delicious Almond Salted Caramel Chocolate Easter Eggs are. Seriously so so yummy! But they're also gluten-free, vegan, and paleo!
We also have a delicious Easter smoothie to energize your body and spirit with beautiful nutrient-dense colors. And a tasty carrot cake pancake recipe to satisfy your sweet tooth!
Grab these recipes below and don't forget to take advantage of our Easter Sale!
Almond Salted Caramel Chocolate Easter Eggs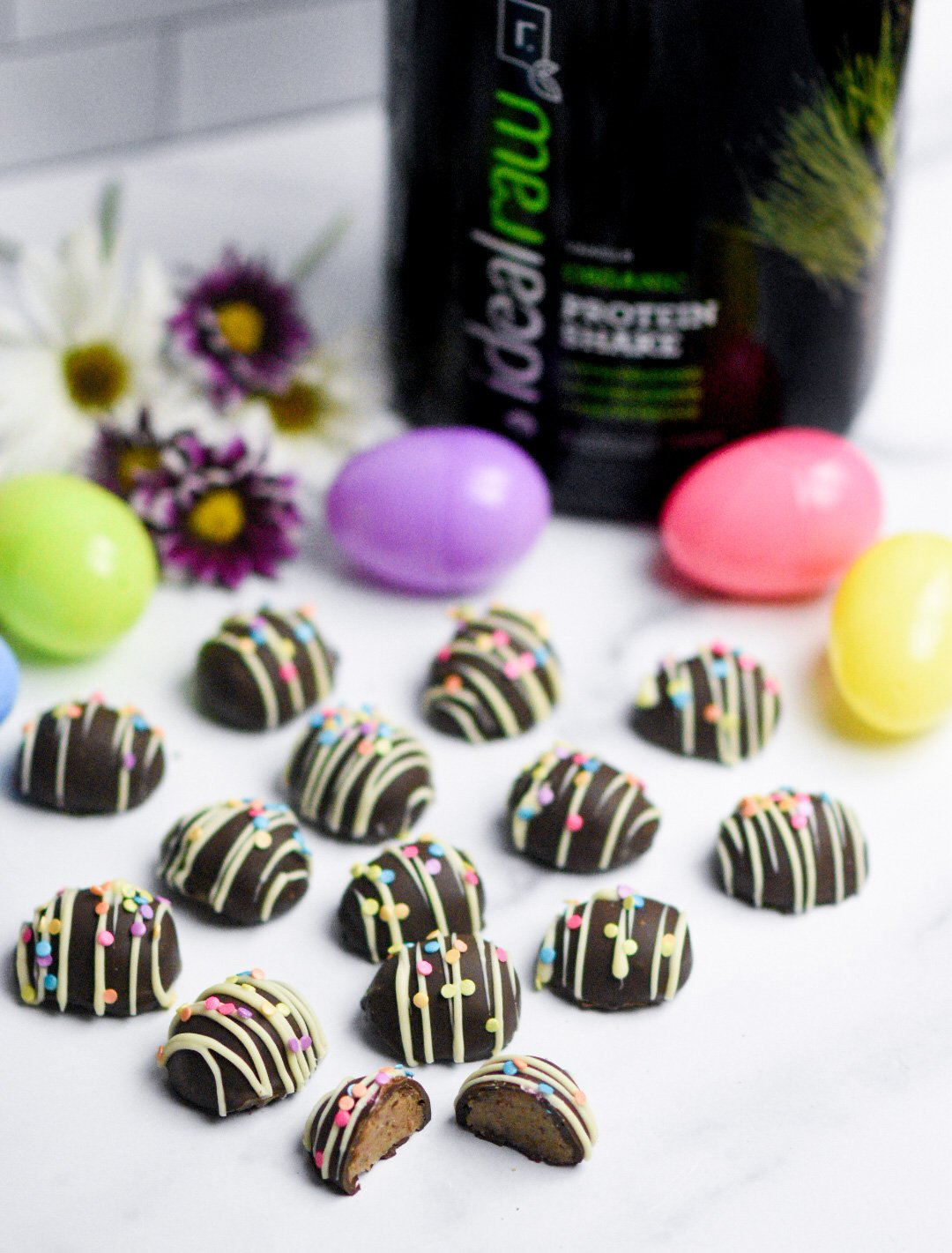 INGREDIENTS
1/2 cup smooth almond butter (ours was almost runny)
1/3 cup melted coconut oil
1/3 cup pure maple syrup
1 tsp vanilla extract
1/4 tsp salt
1 scoop IdealRaw Vanilla Protein
1+ cup vegan chocolate chips (enough to cover all eggs)
INSTRUCTIONS
In a bowl, combine the almond butter, coconut oil, maple syrup, vanilla, salt, and IdealRaw Vanilla protein powder. Stir until smooth and evenly combined. Spoon the mixture into egg molds and refrigerate until smooth.
If you do not have an egg mold, refrigerate the whole mixture until hard/soft enough to scoop and roll into balls/egg shapes. Return to the fridge and chill until completely hard – about 30 minutes.
In a small bowl, microwave (or warm over the stove on very low heat) melt the chocolate chips in 30-second intervals, stirring each time until completely smooth.
Remove eggs from the fridge. Using a fork, dip each egg into the chocolate until completely covered and set on wax paper or silat mat.
They will harden pretty quickly because they're still cool. Decorate as you wish. We used vegan white chocolate and sprinkles for color! Return to the fridge until ready to serve. Enjoy!