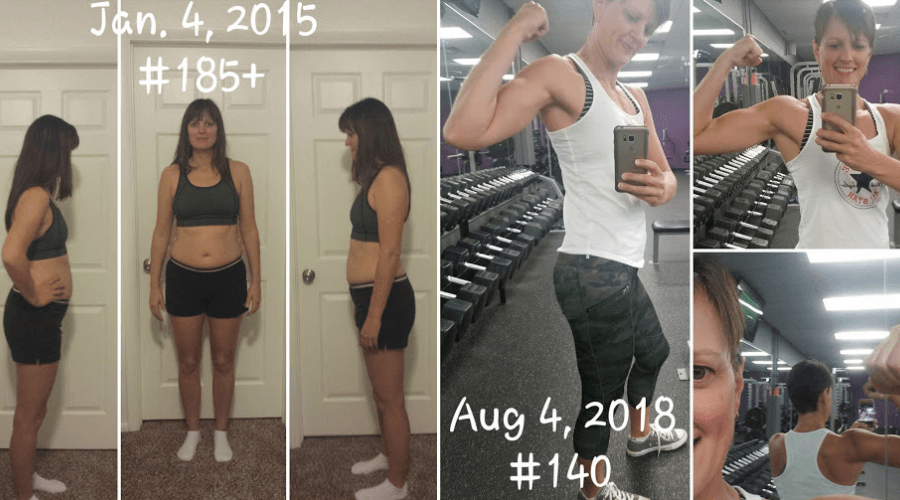 Q: When did your journey start?
My fitness journey started in January of 2016. I got on the scale one day and I weighed the most I had ever weighed before, including my delivery weights for all five of my children.
Q: What made you want to make a change?
I did not like who I had become. I did not have any self-confidence, I couldn't fit my clothes, and I didn't feel good about myself.
I had been doing some workout videos but I did not quite have the nutrition down. I wasn't losing any weight.
As I was scrolling through Facebook one day, I saw trainer Lindsey's 15-day program. I decided to give it a try. That was the best decision of my life! Lindsey's programs have changed my life.
I have also done some other trainers programs who are with IdealFit, Trainer Tamara, Kaitlin, and some others as well. I dropped 40 pounds that first year with Lindsey's FBC program. I actually dropped more weight than I wanted to! I started reverse dieting and moved into Lindsey's sculpt challenge when it came out. I have loved all of the challenges and have learned so much about nutrition and about my body.
Q: What tips do you have for others starting out?
If you're wanting to tone up, thin down, and grow muscle, you have to be dedicated and have a fit family that supports you! Fitness is a lifestyle! I've made so many friends in these programs that help, support, and cheer me on daily! Surround yourself with positivity and you will succeed!
Q: What are some of your go-to, favorite meals?
One of my favorite meals is my daily muscle muffins! They're the best and they fuel my early morning workouts! I also crave my chocolate protein peanut butter oatmeal post workout! I'm a breakfast lover!
Q: What are some go-to supplements that have helped?
I always use my BCAAs during my workouts to help prevent muscle soreness.   

Q: What are some of your biggest victories?
I've had some pretty awesome victories because of my fitness success. I applied for and got a job as a flight nurse, my dream job! I have learned how to dive and am now on the rescue dive team for search and rescue. I'm strong enough to enjoy rock climbing and repelling. I love water sports and have been learning new things this summer.
Q: How has this affected your life?
I'm not afraid to try anything! I have run several spartan races and plan on doing more.  I may even decide to compete on stage one day, who knows? The possibilities are endless. I turned 50 this month and I feel and look better than I ever have! All because I decided to take a chance on Lindsey's 15-day program.