"What supplements do you use?"
This might be one of the more popular questions I'm asked by my clients, people taking my fitness challenges, and other women. Most of what I tell them is probably somewhat predictable:
"I drink protein shakes to help support my workout recovery. I drink my BCAAs to help reduce muscle soreness and stay hydrated. I take pre-workout to help me push my hardest in the gym to get the results I'm looking for."
But then I sometimes get a couple surprised looks when I say this:
And when I'm trying to build more lean muscle, I also use creatine for women.
Let's be real for a second: creatine is a very popular supplement in the fitness world, and you may see a lot of men taking it to help them go "beast mode" in the gym.
But guess what?
Creatine isn't just for men! Creatine is for women, too! That's right. Creatine is such a game changer when you are trying to build strong, lean muscle and push through training plateaus that women taking creatine shouldn't be unusual!
So why aren't more women already using it? Quite frankly, there isn't a legitimate reason. It basically comes down to misinformation within the fitness community and a stereotype in the market that creatine is a guys-only supplement.
I'm here to blow that bias out of the water! Let's run through what is creatine, when to take creatine, what it can do for your workouts and lean muscle building goals, and the best creatine for women!
The Best Creatine for Women
IdealFit Creatine was designed with the highest quality creatine to provide the best results possible.
Improve your lean muscle building & training intensity! 
What is Creatine?
Creatine is a nifty little nutrient that provides energy by helping recycle the fuel your muscles use during exercise.
Your body actually produces a certain amount of creatine naturally, and you can get it in small amounts from certain foods, like red meat and fish.
Your body stores creatine in your muscles, but the storage capacity is beyond what your body makes, so the more of it you consume the more you can stock up.
To increase your creatine consumption, you can either down steaks all day long, or you can choose option #2 (my preferred choice) and take creatine for women.
These supplements usually come in powder, pill, or capsule form (I'll tell you which is best in just a minute), and they allow you to flood your muscles with creatine, increasing your readily available supply!
The takeaway:
Creatine helps provide energy by recycling the fuel in your muscles

Your body produces a certain amount of creatine naturally, and you can get creatine from foods like red meat and fish

Your body stores creatine in your muscles, but storage capacity is beyond what your body makes

You can increase creatine consumption through supplementation and keep more in your muscles
What Does Creatine Do to a Woman's Body?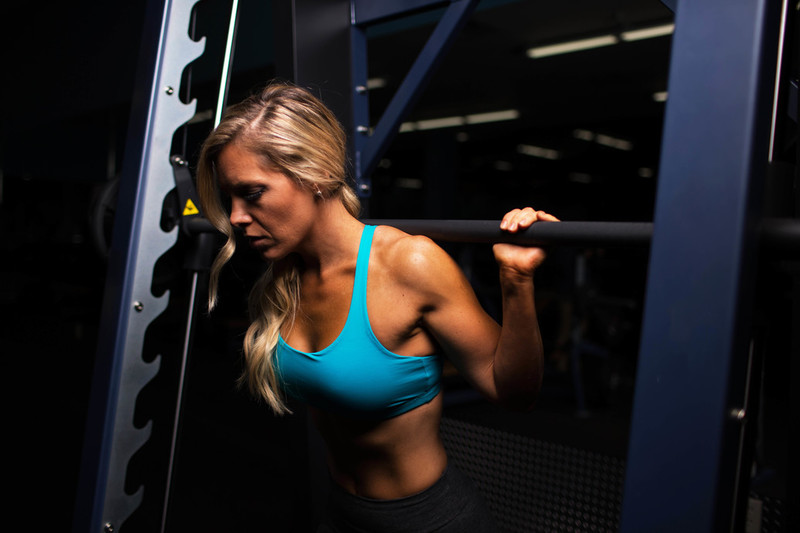 Essentially, creatine helps you train a little bit harder for a little bit longer, day after day, leading to enhanced training results over time!
You may be asking how this works exactly. Let me explain.
Picture yourself doing a pushup, and visualize the upward phase of this exercise. During this upward movement, your triceps muscle (the muscle on the back side of your upper arm) contracts and gets shorter, causing your arm to straighten out and push the rest of your body up.
If we zoomed in on that triceps muscle – I mean REALLY zoomed in – we would see the whole of the muscle is actually made up of thousands of tiny, string-like muscle fibers.
The same is true for every muscle in your body. When all these tiny muscle fibers get shorter all at once, the entire muscle contracts and gets shorter, which leads to movement.
Each time you contract a muscle to perform a movement, every one of the contracting fibers burns up a little bit of fuel.
This fuel is a little molecule called ATP, and it's stored in your muscles, but in limited quantities. During exercise when you have a lot of movements going on at once, the ATP in your muscles starts to become depleted.
Fatigue sets in and you find yourself unable to push your body as hard as you were at the beginning of your workout.
This is where our hero creatine makes its grand entrance into the story.
The creatine within your muscles allows your body to replenish the depleted ATP relatively quickly, providing more fuel and delaying the onset of fatigue, which allows you to push out a few more reps before your muscles are toasted!
As I mentioned a moment ago, taking a creatine supplement for women significantly increases the amount stored within your muscles, prolonging your workouts even more!
Wow, okay… Deep breath, I promise I'm done nerding out. 😉
The main idea is that creatine can help you increase your training intensity and help you really work your muscles, producing even better results.