Calling all Coffee lovers! Coffee is so tasty, it's the best part of every morning. So we thought why not put it in a little bit of everything? We've got some amazing recipes using our New Cold Brew Coffee Protein Flavor. They're the perfect way to hit your macro goals, while still having some tasty treats.
Here's what you can expect:
20g of Pure Whey Isolate Protein
Only 100 Calories
0g Fat/0g Sugar/5g carbs
100% Whey Isolate Protein
These recipes are the perfect way to change up how you take your protein and they have the cozy taste of coffee that you'll love. Get the recipes below and don't forget to grab a tub of our Cold Brew Coffee Protein to get started!
1.Chocolate Caramel Latte Mug Cake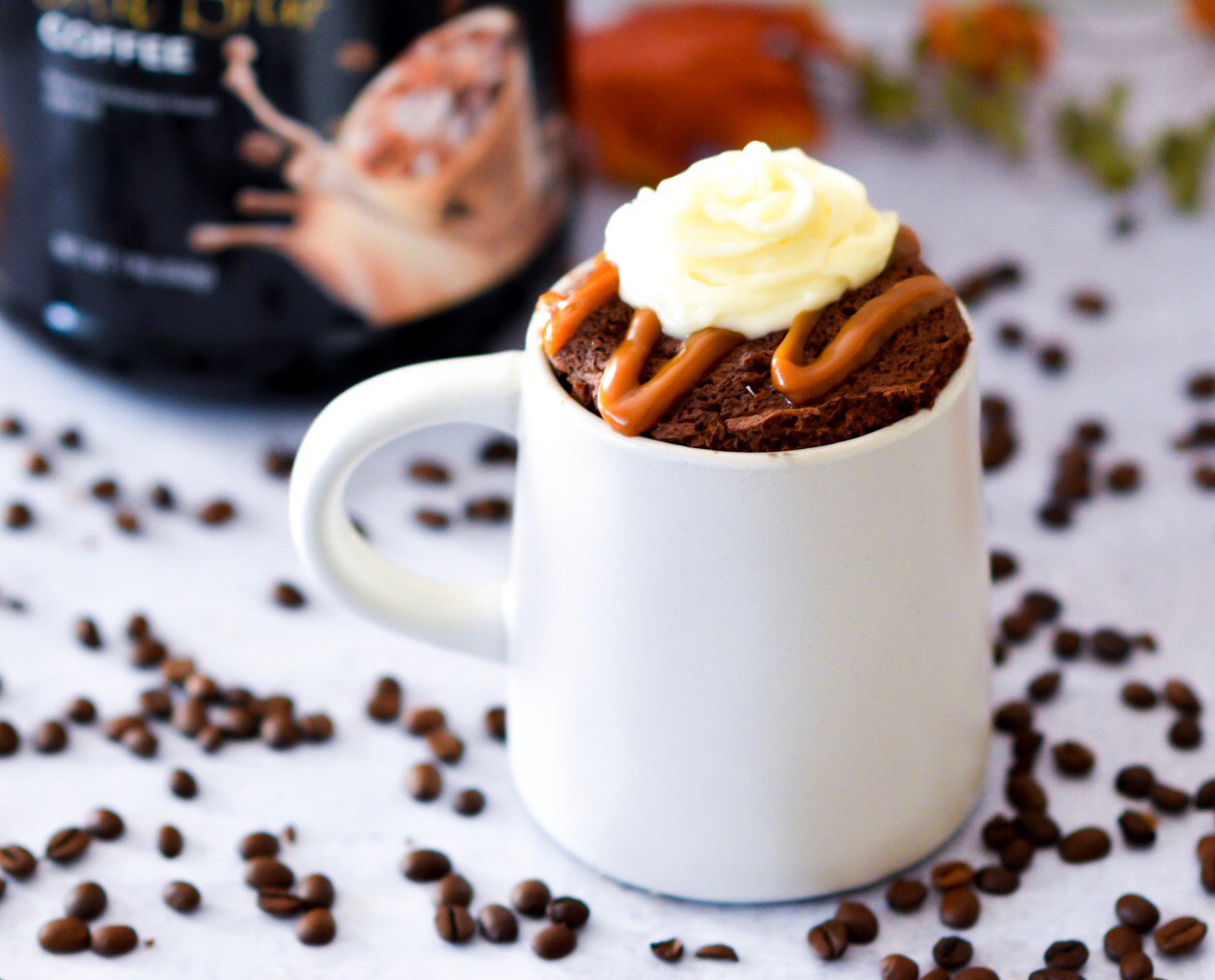 INGREDIENTS
1/2 scoop Ideallean Cold Brew Coffee
2 tbsp. white whole wheat flour
1/2 tsp. baking powder
1/1/8 tsp. white vinegar
1/4 c unsweetened almond milk
1 tsp. coconut oil
1 egg
1/4 tsp. vanilla extract
1 tbsp cocoa powder
INSTRUCTIONS
In a microwave-safe mug or dish, add Ideallean Cold Brew Coffee, flour, and baking powder. Add vinegar, almond milk, coconut oil, egg, and vanilla extract and mix until combined.
Microwave for 60–90 seconds and enjoy!
Serves 1. Calories per serving: 270 / Protein 19g / Carbs 23g / Fat 13g
2.Pumpkin Frappe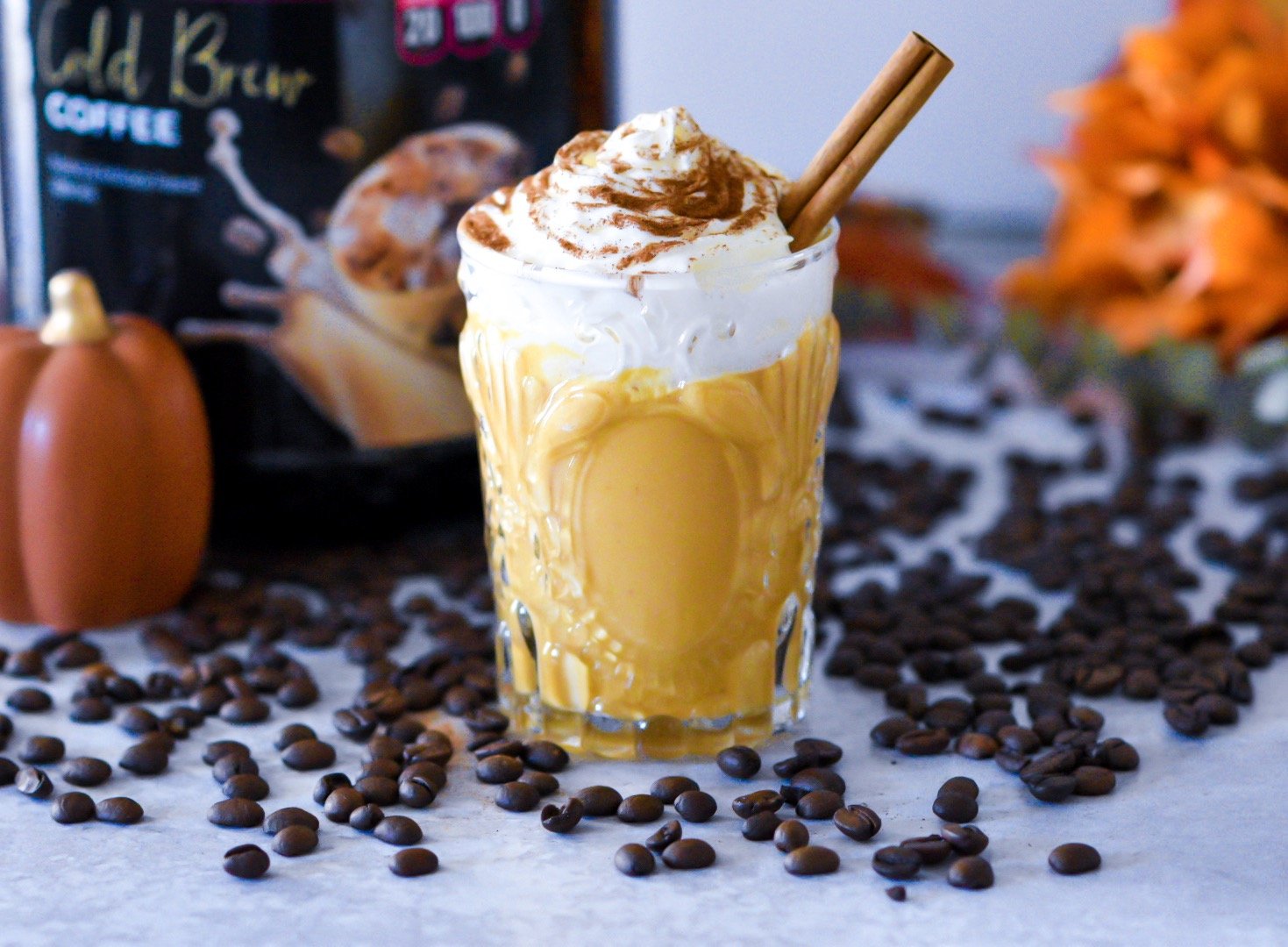 INGREDIENTS
1/4 cup pumpkin puree
1 cup unsweetened almond milk
1 scoop Ideallean Cold Brew Coffee
2 tbs coconut cream
1 tsp cinnamon
1/4 tsp nutmeg
Ice- to taste
INSTRUCTIONS
Whisk together the almond milk and Ideallean Cold Brew Coffee. In a blender pour protein mixture and the rest of the ingredients. If desired add ice for a more frosty texture. Top with sugar-free whip cream and Enjoy!
Calories: 235. Protein: 23 g. Net Carbs: 12 g. Fat: 9 g.
3. Coffee Protein Whoopie Pies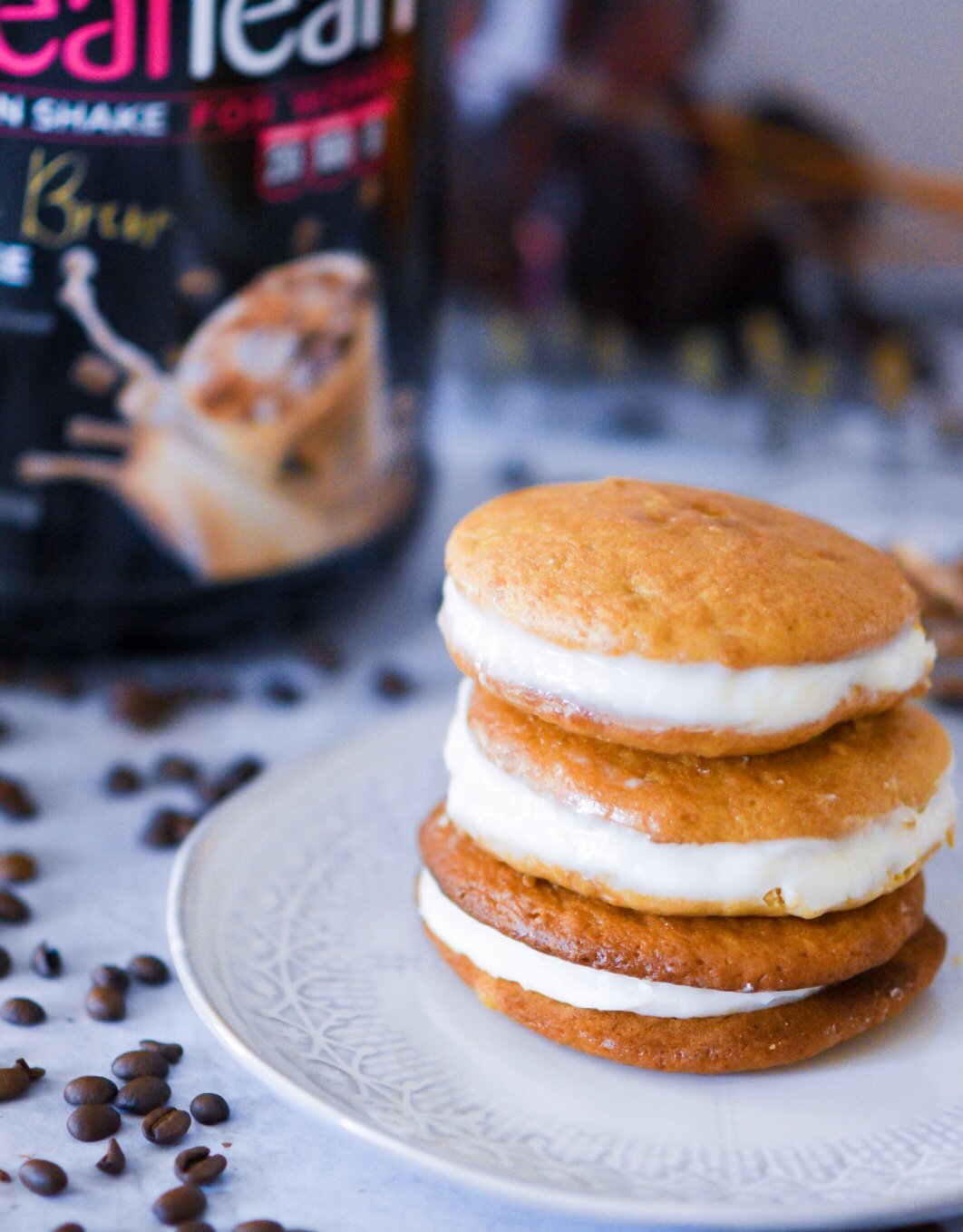 INGREDIENTS
1/2 cup mashed banana
2 scoops Ideallean Cold Brew Coffee
1 egg 
1/2 teaspoon baking powder
1/2 teaspoon baking soda
2 cups whole wheat flour
1/2 cup Brown Erythritol
1/4 cup Erythritol
1/2 cup Natural Peanut Butter
1 tsp Vanilla Extract
Frosting
2 tbs nonfat cream cheese
1 cup erythritol
3 tbs almond milk
INSTRUCTIONS
Preheat oven to 350 degrees, line a cookie sheet with parchment paper. Combine the flour, baking soda, and baking powder. Then combine the peanut butter, Ideallean Cold Brew Coffee Protein, and erythritol until thoroughly mixed.
Add the egg and the vanilla extract. Fold in mashed bananas. Slowly incorporate the dry mixture.
Mix together until smooth, then gently pour into small circles onto cookie sheet. (leave 2 inches of space) Bake for 10-12 minutes.
Whisk ingredients for frosting and put it in between two cakes. Enjoy!
Makes 9 whoopie pies. Calories (including frosting): 233. Protein: 12 g. Net Carbs: 22 g. Fat: 8 g.
4. Banana Coffee Cake Bars

INGREDIENTS
1 scoop Ideallean Cold Brew Coffee
1/2 cup peanut butter (warmed)
2 cups erythritol
1/2 cups mashed ripe bananas
3 large eggs
1 tsp vanilla extract
1 tsp baking soda
2 cups whole wheat flour

Optional Toppings:
Sugar-free chocolate
Oats
Nuts
Unsweetened coconut flakes
Drizzle of Caramel
INSTRUCTIONS
Mix melted peanut butter, erythritol, and Ideallean Cold Brew Coffee protein. Add eggs one at a time, then vanilla extract, and then the mashed bananas.
Combine Baking soda and flour, and slowly incorporate into the peanut butter mixture. Line a 9 by 13 inch pan with parchment paper. Pour mixture in and smooth the top. Optional: Add toppings like sugar-free chocolate, oats, nuts, and unsweetened coconut flakes. Bake for 25 minutes and Enjoy!
Makes 12 bars. Calories: 172. Protein: 8g. Net Carbs: 18 g. Fat: 6.
We hope you enjoy these recipes! They're a great way to get that delicious coffee flavor into a variety of different treats. Don't forget to check out our New Cold Brew Coffee Protein to get started! Click the banner below to grab a tub.