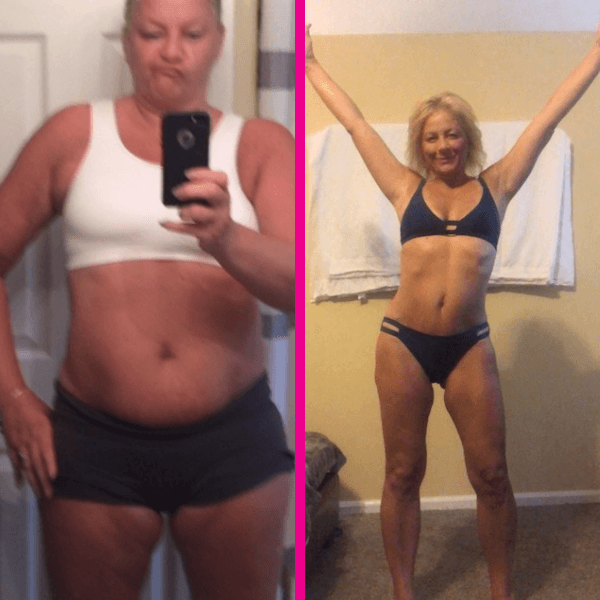 Q: When did your journey start?
May 2nd, 2016 with the free 15-day FBC. I did 2 rounds of that followed by Kaytlins Fight the Fat Challenge, and several rounds of the 6-week FBC. March 6th, 2017 I started Sculpt.
Q: What made you want to make a change?
I was vacationing in Michigan and saw some pictures of me playing with my nephews and fishing in the lake, and I just could not believe how far I had let things go as far as my overall weight and health.
My nephews were talking about their workout programs and looked so healthy. I was on blood pressure and cholesterol medicine and in a high-stress job and I could feel signs and symptoms of having heart issues.
I was also going through a divorce and feeling overall sad about where I was in life.
Q: What tips do you have for others starting out?
Don't give up and don't compare. It is a lifestyle and it takes time to achieve your fitness goals.
We all want instant gratification these days and it just doesn't happen like that for everyone. But with some consistency and effort, those changes will come, don't rush it. Your body did not get out of shape overnight and it won't return overnight.
Everyone is different, things will change on some people quicker than they will for you, and you will have things that show change quicker than they do.
Love your body and appreciate those small changes that are happening every day. Look for those as opposed to what you want to see and celebrate the positive instead of focusing on the negatives.
The hardest part isn't getting your body in shape. The hardest part is getting your mind in shape.
Q: What have been some of the biggest obstacles you've had to overcome?
Waking up early to get my workouts in. It's truly the best way to kick off your day. If you wait until later you find obstacles and things that can get you off track and keep you from getting it in.
Push-ups on my toes and jumping lunges were a big obstacle too. It used to take everything in me to push through them. Now they are often warm-ups to my exercise routines. I will never forget the day that I did a full 10 push-ups on my toes, I literally stopped to cry.
Finding the courage to let people see my starting pictures and just how bad things had spiraled out of control with my overall health and well-being.
Q: What are some of your go-to, favorite meals?
Buffalo chicken is a game changer. I use it to make nachos mixed with black beans. I serve it over rice with avocado and cut vegetables. Wrap sandwich, tacos, the options are endless and it is so easy to make.
Also, grilled salmon. I make a Salmon & strawberry salad with red onions and feta cheese. I make salmon cups with salmon seasoned and tossed with lemon juice, avocado and mango and cilantro in butter lettuce cups. Again endless ways to eat it with rice and veggies.
Lindsey's brown sugar/ balsamic pork loin with feta cheese is seriously so amazing. It was a flush meal option in the 6-week FBC, but now I pair with rice for the carbs.
Honestly, all her recipes in the fitness challenges have been so amazing.
Q: What are some go-to supplements that have helped?
Ideal lean BCAAS for sure, grape explosion is my absolute favorite. They are a game changer for sore muscles and recovery after a hard work out!
I love the protein powders, they are a must to make sure you hit those protein macro goals without extra added fats and carbs, and hands down the best tasting protein powders out there.
I love the L- Carnitine for fat loss, and the nighttime probiotic as well when I was having trouble sleeping.
Q: What are some of your biggest victories?
Losing over 40 pounds and being in the best shape of my life. I'm 50 years old and I'm consistently told I look nowhere near 50 years old. Seeing just how beautiful and capable my body is as I age.
Self-love. As women we do so much for others we forget how important we are in that process.
The amount I can lift each day in my workouts. They no longer feel effective unless I am holding additional heavyweights. I remember starting with 3 sets of different weight-a 2lb, 5lb, and 8lb set. I have since graduated to Bowflex selects that go up to 52.5lbs per weight.
I am off all medications, no blood pressure or cholesterol medications! I had my annual checkup in December just before I turned 50 and my doctor was astonished. Her exact words were " wow, these numbers and changes are incredible, I don't know what you are doing, but keep it up because this is amazing!" Of course, I proceeded to tell her all about my IdealFit lifestyle and these programs.
Q: How has this affected your life?
I have a sense of self-love and caring, no medications anymore. I feel younger, happier, healthier. My confidence is through the roof. I work in a building of 600 people, many of whom are following my progress through IG and FB, and I am always told how inspirational and dedicated I am and how impressed they are with the changes. They ask, "How are you doing this?" and I get to talk about something I have become passionate about and help change people's lives or inspire them to make a change.
I have met so many amazing people through the Facebook groups with each challenge, they are all so inspiring and uplifting and supportive and I get a sense of satisfaction when I can encourage them through the struggles.
I have also learned how to count my own macros and fuel my body correctly to achieve my goals.