Let's talk salad, shall we? I could talk about salads all day, everyday, that's how much I love them. Because they're nutrient-dense, filling, and flavorful, you can eat tons (if you make them right), and have so many options. It makes them the perfect meal. You can literally always switch-up ingredients in the salads you make and never repeat the same one.
Salad can go one of two ways, though. They can be a calorie-filled, fat-laden mixture of creamy dressing and tons of bacon that has a calorie count equal to deep-dish pizza, OR a six-inch salad plate holding eight pieces of iceberg lettuce, three cherry tomatoes, and a couple slices of cucumber that would lead anyone to dive face-first into that pizza.
So, my approach here is different—it's the best of both worlds. Salad can satisfy your hunger, be healthy, and taste amazing if you do it right; I'm talking large mixing bowls filled with protein, carbs, AND fat that will leave you dreaming up your next concoction.
I consider several components when I'm building my salads. I'll share them with you here to get your own wheels turning. You can incorporate salad-heaven into your own daily meals for low-impact to your macros and high-impact to your nutrition and taste buds.
Free Meal Plans
Take all of the guess work out of it with my FREE 15 Day Fit Body Challenge, which includes meal plans, workouts, and support to help you reach your fitness goals.
My Recipe for A Healthy Salad
1. Greens
Let's start with what makes a salad a salad—greens! I love a variety of greens. It really makes a difference to me in taste and texture of my salads. So I usually keep a couple different types on-hand. You really can't go wrong here; use whatever you enjoy.
Think variety—they all have different tastes and crunch:
Romaine

Iceberg

Spring greens

Spinach

Kale

Cabbage

Broccoli slaw
Experiment, and mix them up!
2: Carbs Always Belong in Salad
I'm serious! My favorite carb to add to my salad is probably rice (white or brown), but check out these ideas:
Beans (black, garbanzo, pinto, etc.)

Potatoes (sweet, red, golden, etc.)

Quinoa

Barley, farro, etc.

Pasta

Fruit

Baked tortillas—for crunch!
A hearty, healthy complex carb adds bulk and substance to your salads. Remember, these are main-dish type salads, not something we're eating off of tiny plates on the side of our roast and potatoes. So keep these types of carbs in mind when you meal-prep each week. You could cook them in bulk, and add some to your salads.
3: Protein
Of course protein is really the star of a main-dish salad; otherwise it really is just a side dish. And, you'll forever hear me talk about the importance of protein, so don't skip it here! Again, let your meal prep guide what you add to your salads:
Grilled chicken

Steak

Fish

Shrimp

Ground turkey or beef

Eggs

Tofu

Cottage cheese
You can even throw in deli meat, canned chicken breast or tuna in a pinch if you don't have any protein prepped. Just figure out how much you need, slice it or shred it up and toss it in there.
4: Veggies
Load them up! I love this part of salad-making most of all because it adds so much volume with low-impact to my carbs and overall calories. My favorites include:
Tomatoes

Onions

Peppers

Mushrooms

Cucumbers

Asparagus

Green beans

Celery

Radish
Sometimes I even throw in my steamed or roasted veggies that I meal prep and then add more raw veggies (can you tell I heart veggies?!).
My salads usually end up taking on a theme depending on the flavors I want to use and I just go with it—taco style, Greek, chef, BBQ, etc. But I can honestly say whatever I end up putting together always ends up tasting great, so don't be shy or hesitant of what to put in your salads. Whatever vegetables you like eating individually, you'll like them in your salad too.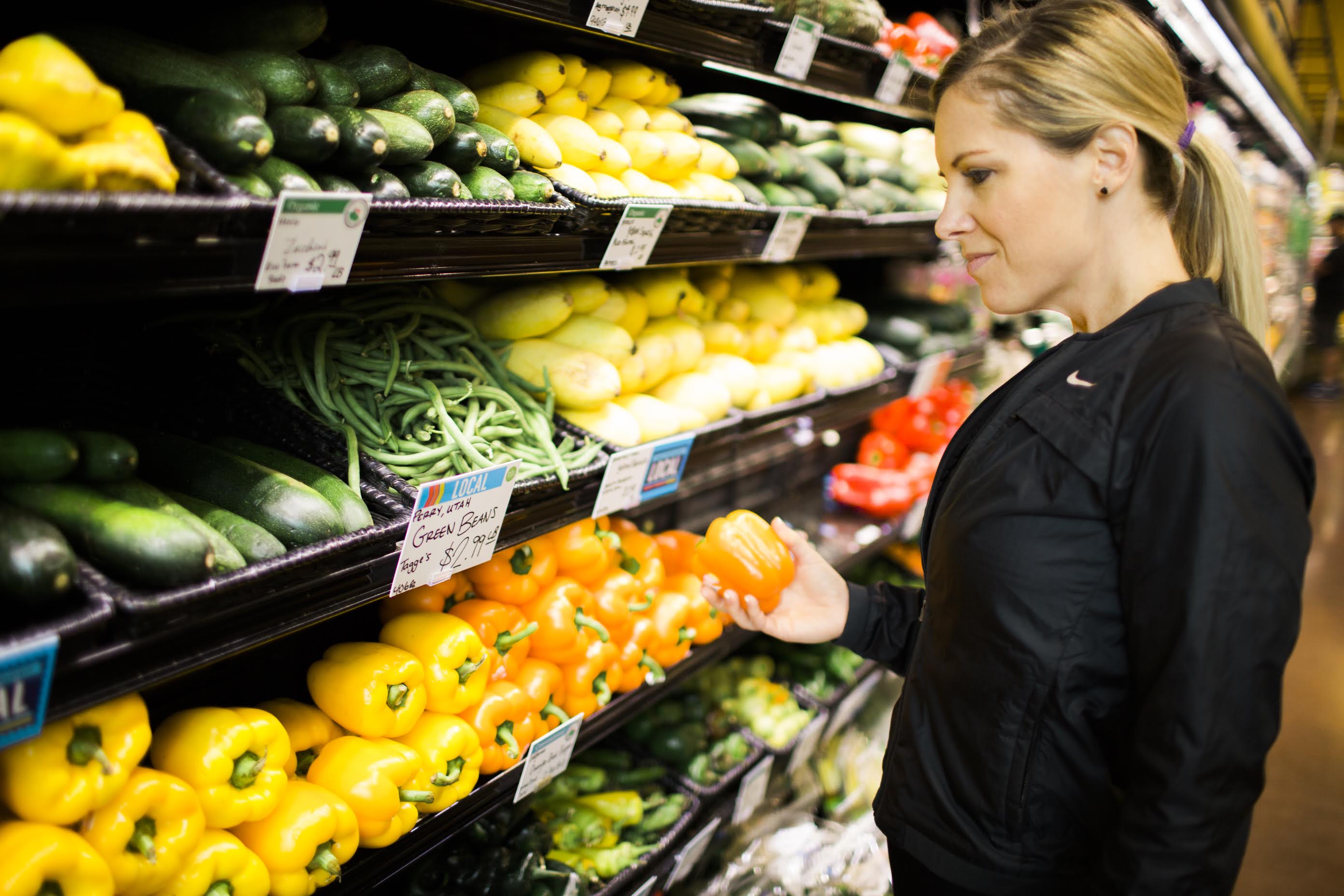 5: Fat
Yes, fat definitely has its place in salad. You NEED a little fat if you expect to absorb all the nutrients available in a salad. It just needs to be moderate; a little goes a long way! Avocado, nuts, cheese, and of course dressings are all great…but probably not all of them together. When that happens, you realize you may as well have gone out for a burger and fries. So pick one or two, depending on how much you use.
There are lots of great low-calorie, yet pretty tasty dressings available now that still allow you to add a little avocado or cheese to a salad and not rack up the fat calories overall. And if dressing just doesn't fit—it's OK! You can add lemon or lime juice, vinegars, salsa, hummus thinned with water, a little greek yogurt, or soy sauce. Once those mix with your avocado or cheese, it really makes its own dressing and your salad won't be dry and inedible.
6: Flavor Additions
Guess what? By "flavor additions" I pretty much mean more veggies. People often get into trouble with their salads because as they move down the line in the salad bar, they get to the finishers and start adding lots of calories by way of nuts, sugary dried fruits, croutons, etc.
You don't need those things to have tasty, texture-filled salads. Veggies and crunchy things that are pickled, salty, sweet, and have a bite to them give my salads tons of flavor with minimal impact to macros and calories. So think:
Pickled jalapeños

Banana peppers

Pepperoncinis

Pickled, caramelized, or raw onions

Chia seeds

Hemp seeds

Tortilla chips
It's all about knowing how much you are adding and making it fit!
Your Salad Awaits!
So, make it your mission this week to dream up your ultimate salad and build it! They can become a daily part of your meal plan and they never need to get boring. Be creative and don't be afraid of putting together unexpected combinations. You'll be surprised at the flavors and textures that go really well together; and you'll feel like a million bucks knowing your body is fueled with the best nutrition nature has to offer.
XOXO, Lindsey
Just a tip; if you're not sure you're getting enough protein in each day, you probably aren't. I know it helps me A TON to have a convenient and yummy way to get my protein in. If you haven't tried all of the IdealLean flavors, what are you waiting for?? Don't be afraid to try new things!