Which is the best protein shake for you?
Protein shakes have been hugely popular among gym rats for decades now. But more recently, the less exercise-obsessed among us have started seeing the benefits that protein supplements can offer when it comes to improving our diets, seeing better results from our workouts, and even losing some weight.
Because protein keeps us feeling full longer than carbs and fats, it can stop us from grabbing unhealthy foods when we get that hangry feeling.
Protein is what our bodies need to build and repair muscles, so many people see more lean muscle tone when they get plenty of protein.
The combo of better diet and better workout results = a fitter, leaner body!
What's more, tons of women have started using protein shakes now that it's clear protein doesn't make you "bulk up."
That's why we're doing a protein shake comparison, lining up some protein powders popular with women. Most but not all of these favorite protein shake brands are marketed particularly towards the ladies. And because nearly every brand makes a chocolate flavor, we'll be taking our nutritional information from the chocolate variety of each brand.
But before we begin, let's get one thing straight: meal replacement shakes and protein supplements are two completely different products!
We've noticed that lots of women who use shakes think that they're taking a protein supplement when they're actually using a meal replacement shake. This isn't necessarily a problem since many meal replacement shakes are perfectly nutritious.
However, meal replacement shakes are designed to do just that: replace a full meal. This often means that they have more calories than many women would prefer in a supplement. And while meal replacement shakes do contain protein, they usually contain less protein than you'd expect to get from a protein-specific shake.
Why is this important? Because many active women aren't getting the protein they need in order to see the best possible results from their workouts. Our trainer and nutritionist Lindsey Mathews says that women who work out should get 1g of protein per pound of body weight every day. That means 140g of protein per day for a 140lb woman. Most meal replacement shakes don't focus on adding this kind of protein to your diet, because they're simply balanced meals in liquid form, with fiber, carbs, and other nutrients in addition to protein.
First we're going to do a quick meal replacement shake comparison so we can see the differences between these complete meal replacements and protein-specific dietary supplements.
(Pricetags show the retail price of each product at the time of publication)
calories: 160
protein: 17g
sugars: 7g
fat: 2.5g
price: $129.95 for 30 servings
Shakeology is one of the most popular meal replacement shakes out there. It's also one of the most expensive at around $129.95 for 30 servings.
How do they get away with charging so much? Shakeology focuses on superfruits, antioxidants, "super-greens," "adaptogens," and a probiotic digestive blend. In other words, they include ingredients that you'd otherwise have to get from a bottle of supplement pills… but they're not ingredients that your body necessarily needs. If you're regularly buying antioxidants, probiotics, and other types of supplements separately from your other purchases, then Shakeology could potentially save you some money.
Like most meal replacement shakes, Shakeology Chocolate contains fiber, protein, a little bit of fat, and a wide variety of vitamins and minerals that you need every day.
So is Shakeology for you? Only if you put a lot of faith in the supplement blends that drive up its price point.
calories: 110
protein: 11g
sugars: 1g
fat: 3.5g
price: $49.99 for thirty servings
Selling at $49.99 for 30 servings, IdealShake easily beats Shakeology in the budget department at less than half the price.
Like Shakeology, IdealShake contains the essential daily vitamins and minerals your body needs, plus protein, fiber, and a small amount of fat. The drastically reduced price tag comes at the cost of all of those non-essential supplement blends like probiotics and superfruits. Again, if you regularly spend money on these types of supplements, then Shakeology might appeal to you. If you don't, then IdealShake might be your best bet for a complete meal replacement.
IdealShake also rings in with fewer calories than Shakeology, and significantly less sugar.
But remember: neither Shakeology nor IdealShake are protein shakes! They're both meal replacements, with a lot of additional nutrients (including fat and sugars) that you might not need, and less protein than you might be looking for.
Let's move on to shakes that focus on providing protein.
calories: 90
protein: 16g
sugars: 1g
fat: 1.5g
price: $27.95 for 36 servings
This protein powder definitely has an eye-catching design, with sleek pink and black packaging and chunks of chocolate on the front!
But how does this supplement shape up when it comes to nutrition and price? Similar to Shakeology, FitMiss Delight contains a "Proprietary Greens and Fruit Blend" that adds ingredients like mango seed extract and blood orange, the benefits of which are a little vague. But 38 servings of this protein ring in pretty cheaply at $27.95.
FitMiss Delight contains 16g of protein, which is actually less than the meal replacement Shakeology. This could be less protein than you're looking for in a protein supplement. The good thing is that FitMiss contains very little fat and sugar.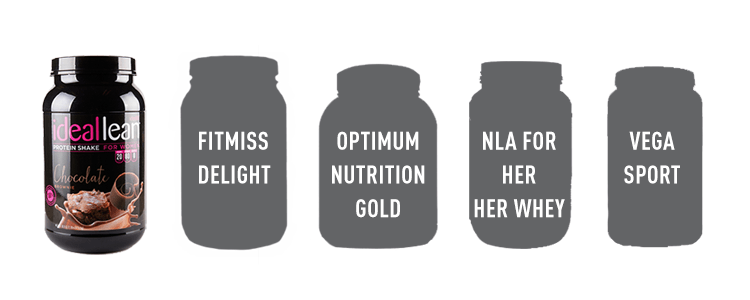 calories: 120
protein: 24g
sugars: 1g
fat: 1g
price: $51.49 for 30 servings
Many protein supplements are targeted specifically at either women or men: they're hot pink and feature a sexy female silhouette, or they're covered with pictures of sweaty men's abs and biceps. This protein powder walks a line between genders, appealing to both men and women.
29 servings of Gold Standard cost $51.49, with sales offering the product for $29.99. This powder is very protein-focused: it contains a whopping 24g of protein. However, Gold Standard derives protein from a combination of whey protein isolate and whey protein concentrate. Since isolate is 90% protein compared to concentrate's 80%, many users of protein supplements prefer isolate to concentrate.
Gold Standard also contains very few supplemental nutrients: just a little calcium and iron, and no vitamins. While you might not be seeking to add other nutrients to your diet, you might be able to get additional nutrition from another product for a similar price. It all depends on your diet and your fitness goals.
calories: 190
protein: 28g
sugars: 0g
fat: 5g
price: $44.99 for 18 servings
With its purple cursive label and sexy female photo, this supplement is definitely marketed towards women! Her Whey also includes ingredients said to curb appetite, and is directed at women who do "high intensity training."
Her Whey contains more protein than many women's supplements at 28g per serving, but each tub contains just 18 servings compared to the 30 servings offered by most other brands. And those 18 servings run you $44.99!
So what extras do you get with that high price tag? Primarily, the appetite curbing effect that Her Whey claims. But this protein powder does include a wide range of vitamins and minerals plus a "fatty acid complex," which might interest you depending on your diet and goals.
Her Whey also differs from many other women's supplements in that it contains 5g of fat and close to 200 calories, more than double brands like FitMiss and IdealLean.
calories: 100
protein: 20g
sugars: 1g
fat: 0g
price: $49.99 for 30 servings
IdealLean Protein from IdealFit is made specifically for women. Like FitMiss Delight, this product comes in pink and black packaging that appeals to the ladies. IdealLean's major selling points are the amount of protein it contains and the ingredients it includes to benefit women in particular.
This product contains 20g of protein, all from whey protein isolate.
At $49.99 for 30 servings, IdealLean is comparable to NLA For Her Her Way in price, but IdealLean Protein contains more servings (12), less than half the calories per serving, and less fat.
calories: 160
protein: 30g
sugars: 3g
fat: 3g
price: $84.99 for 45 servings
Here's another protein that tries to be gender-neutral like Optimum Nutrition's Gold Standard Whey. Vega seems to focus more on alternative health and nutrition trends than many other brands, touting their inclusion of turmeric, tart cherry, and probiotics in their powder. This Vega protein is also vegan!
This supplement contains more protein than any of those we've discussed so far: 30g per serving! Vega also includes amino acids, calcium, and iron, but no other vitamins and minerals. One concern some buyers might have with Vega is its relatively high amount of sodium: 370mg, more than double most other protein supplements.
But like Her Whey, Vega's largest tub of Performance Protein contains just 45 servings for a price tag of $84.99.
calories: 150
protein: 25g
sugars: 3g
fat: 3g
price: $39.99 for 17 servings
This product certainly has the longest name! Lean Body makes other women's protein products that aren't endorsed by Jamie Eason, and in this "signature" series there are also whey concentrate products and other supplements.
This is probably the plainest, most straightforward of the proteins we've looked at so far. It includes a large amount of protein and almost nothing else: there are no vitamins and no minerals listed in the nutrition facts, and the only fruit additive in this product is monkfruit extract, which is used as a sweetener.
However, the price of this product doesn't quite reflect how plain it is. $39.99 gets you just 17 servings. If you're willing to pay a bit more, products from IdealLean and FitMiss give you more servings and more nutritional components that you might be looking for.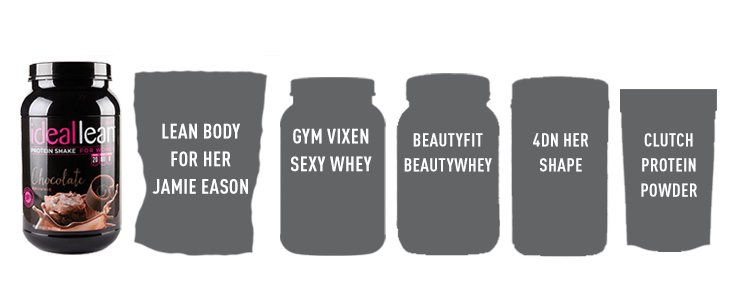 calories: 96
protein: 24g
sugars: 0g
fat: 0g
price: $39.95 for 30 servings
In case you couldn't tell from its name, this product is meant for women. We're not sure what makes this protein "sexy," but the packaging is certainly pretty!
 If you're expecting a lot of additional nutrition from Gym Vixen, you might be disappointed. Although this product packs a major protein punch and is fat- and sugar-free, the only additional nutrition it includes is folic acid, vitamin D, and a little bit of calcium.
Like Jamie Eason's Lean Body For Her, Gym Vixen Sexy Whey might work for you if you're looking for a supplement that supplies protein only. But you could probably find one with a lower price tag.
calories: 150
protein: 15g
sugars: 3g
fat: 7g
price: $49.99 for 27.5 servings
This is one of the higher-calorie women-specific proteins we've looked at, and it's easy to see why: BeautyWhey also contains more sugar and more fat than most other women's proteins. Maybe this isn't surprising since the focus of BeautyWhey seems to be on flavor rather than on function. The company touts this protein powder as "gourmet" and a "treat."
Aside from a relatively low amount of protein, BeautyWhey includes a complex of essential fatty acids and 25% of the calcium your body needs daily. Like IdealLean Protein, BeautyWhey costs around $45 for 27 servings.
If you want to add a moderate amount of protein to your diet and struggle with the flavor of other products, this might be one for you to try. However, many other women's proteins like IdealLean also focus on flavor, and IdealLean contains no fat or sugar at all!
calories: 80
protein: 18g
sugars: 0g
fat: 0g
price: $49.99 for 30 servings
4DN HerShape ties with IdealLean as the lowest calorie protein we're discussing! Like IdealLean, HerShape contains no sugars and no fat, but it also contains less protein.
HerShape does derive all of their protein from high-quality whey protein isolate, with no concentrates in sight. When it comes to additional nutrition, HerShape focuses on Green Tea Extract with "95% polyphenols," said to "supercharge" workout results. You'll also find a little bit of calcium and iron in this protein supplement.
This supplement is $50 for 30 servings, so it's certainly cheaper than real wallet-busters like Vega Sport!
calories: 110
protein: 25g
sugars: 0g
fat: 0g
price: $39 for 30 servings
With its edgy all-black packaging, minimalist type, and focus on grass-fed, ethically raised whey protein, it's clear that Clutch isn't trying to appeal to the typical "gym bro" protein customer. In fact, Clutch focuses more on what it DOESN'T have than what it does: no artificial sweeteners, no GMOs, no gluten, no preservatives, no lactose, no soy. Whew!
What Clutch does include is plenty of protein, along with the sometimes controversial sweetener Stevia. Clutch also includes a "Patented Protein Enzyme Blend," plus some calcium and potassium.
If ethically-sourced foods are a cause you believe in, then Clutch is the clear choice for you. But nutritionally, its selling points differ very little from plenty of other, cheaper protein supplements.
Let's Wrap It Up!
Your choice in protein supplement depends primarily on your budget and your nutritional goals. But there are some clear winners and losers in this bunch! For example, we learned that we can get 30+ servings of a product that serves up plenty of protein plus some additional nutrients for under $60, like IdealLean and FitMiss. And we learned that some proteins with relatively few nutritional add-ins can still hit our wallets for $60 or more.
Which protein should be your first choice? Naturally, we recommend trying delicious IdealLean Protein: just 90-100 calories and low in fat and sugar.
IdealLean will help you work towards your goals and supply your body with the right muscle-building nutrients to recover effectively after training. Try it now! 
Support Your Post-Workout Recovery & Lean Muscle Goals!
When it comes to getting results, your recovery is just as important as your workout. Available in several delicious flavors, IdealLean Protein is only 90-100 calories & packed with 20g of high-quality whey protein isolate, so you can take your fitness results to the next level.
Get 20% OFF IdealLean Protein