At-home workouts are all the rage these days and for good reasons! Most women wonder if you can get as good of a workout at home as you can at the gym, the simple answer is yes! You absolutely can!
If you put in the time and push yourself you can get amazing results right from your very own home. The best part is, they require minimal to no equipment!
There are many perks to working out at home, and today we'll tell you about them.
Then we'll share with you some ways to get started with your at-home workouts!
Why At-Home Workouts Are For You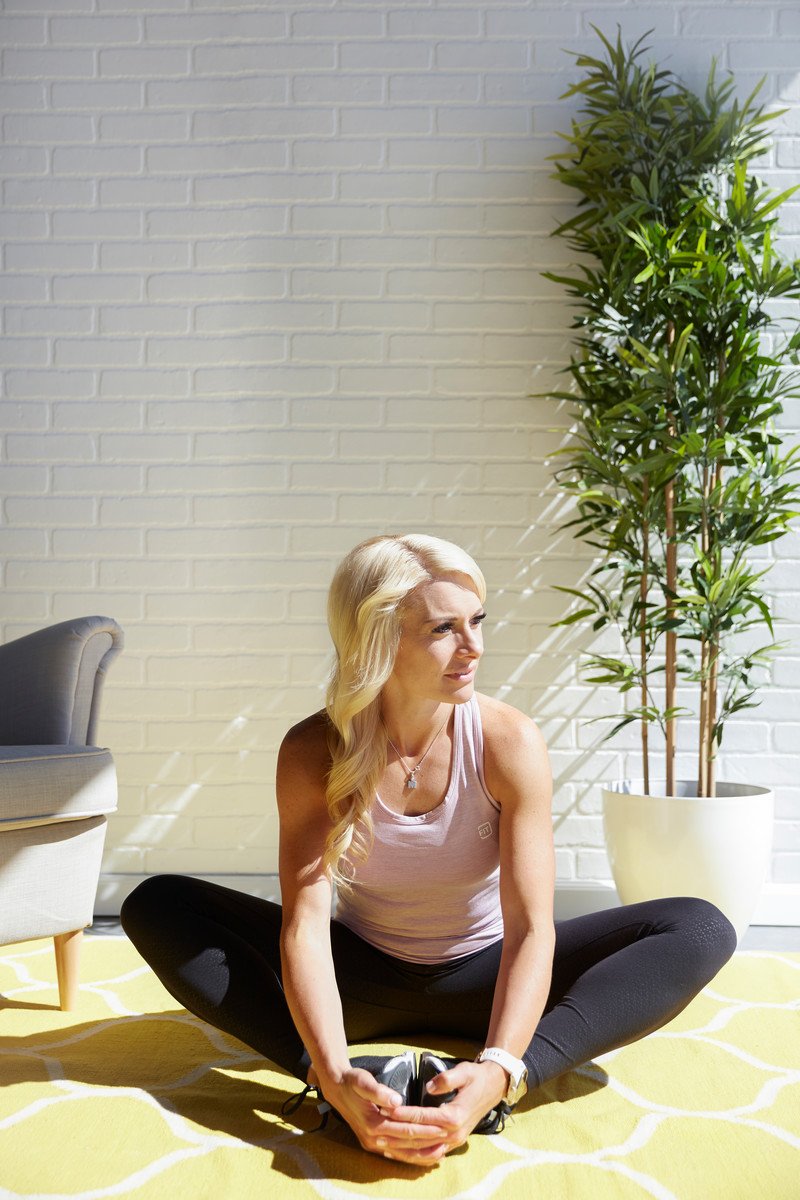 It's amazing the number of people who pay for a gym membership and never actually use it. That's like throwing money away!
One of the best perks about working out at home is that it's free. You don't have to pay a monthly membership.
The fact that you don't have to actually drive to the gym not only saves you time but gas money as well. You avoid making the excuse of getting stuck in traffic or spending too much time in the car just getting back and forth.
As women and mothers, our lives are busy enough. If we can save time and money we are more likely to work out.
Once we toss the myth aside that at-home workouts are not as effective as gym workouts, we open our minds to a whole new way to get fit!
Top Five Reasons To Workout At Home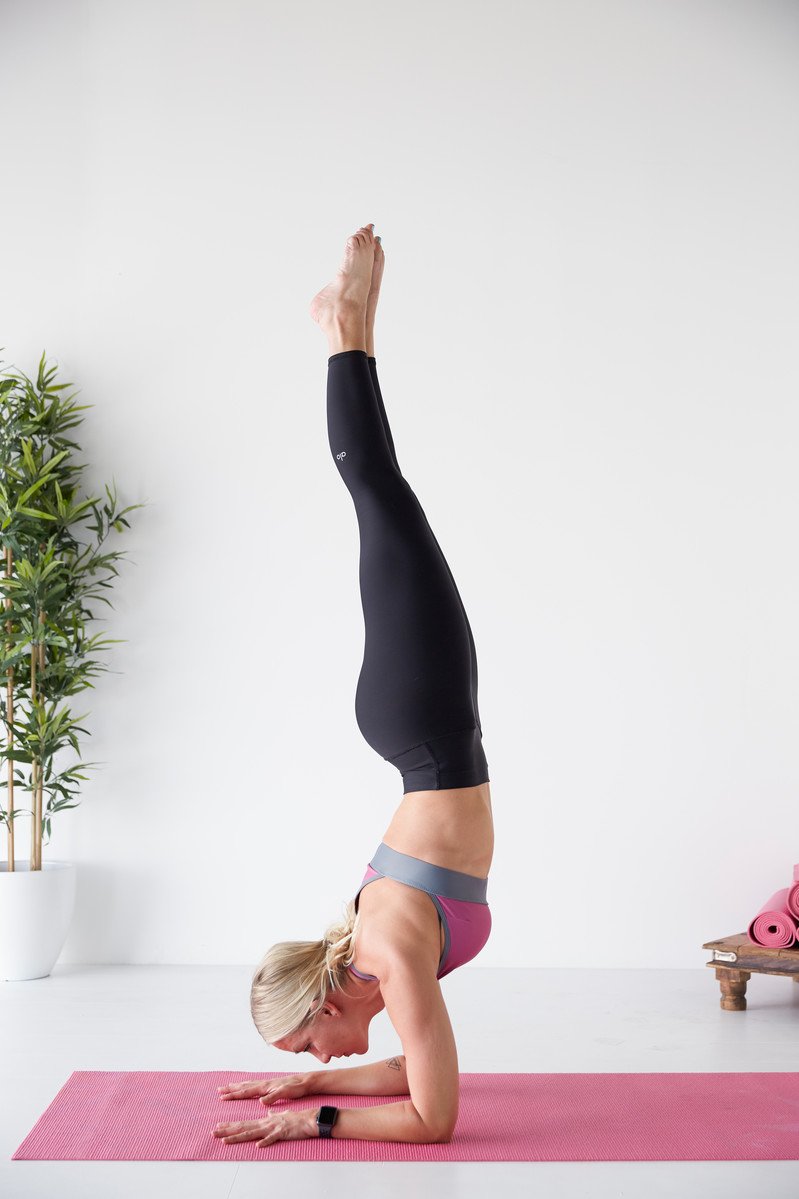 There are plenty of reasons why working out at home is the way to go.
Here are the top five reasons to choose to workout at home.
1. Time- As mentioned before, you'll save time because you don't have to drive to the gym or spend extra time packing a gym bag. So you'll eliminate the excuse that you don't have the time to get it done.
2. Child Care- Child care centers have helped a lot of women be able to make it to the gym even with kids. However, sometimes its nicer to have them working out beside you getting to spend that extra time with each other. Again, saving yourself some money.
3. Little To No Equipment- The best thing about working out at home is you don't need much. Bodyweight exercises are super effective and can be done anywhere. You can get by with a few weights and some resistance bands. You can also use things like your couch, a chair, steps or even the side of the bathtub to take your workout to the next level right from your house.
4. Self Pace- You don't have to rush through your workout thinking you're holding up the next person waiting to use the equipment. You can take your time with each exercise and take breaks as you need to. You have the ability to go at your own pace and really get the most out of your workout.
5. No Intimidation- This is key if you're first starting out and have no idea where to begin. It's very intimidating to walk into the gym and not have a clue as to what you are doing. When you're at home you have the freedom to take your time and actually learn the moves you're trying. You don't have to worry if someone is staring at you while you're working out.
Get a great at-home workout program with our 15 Day Fit Body Challenge! It's a great way to start pushing yourself today.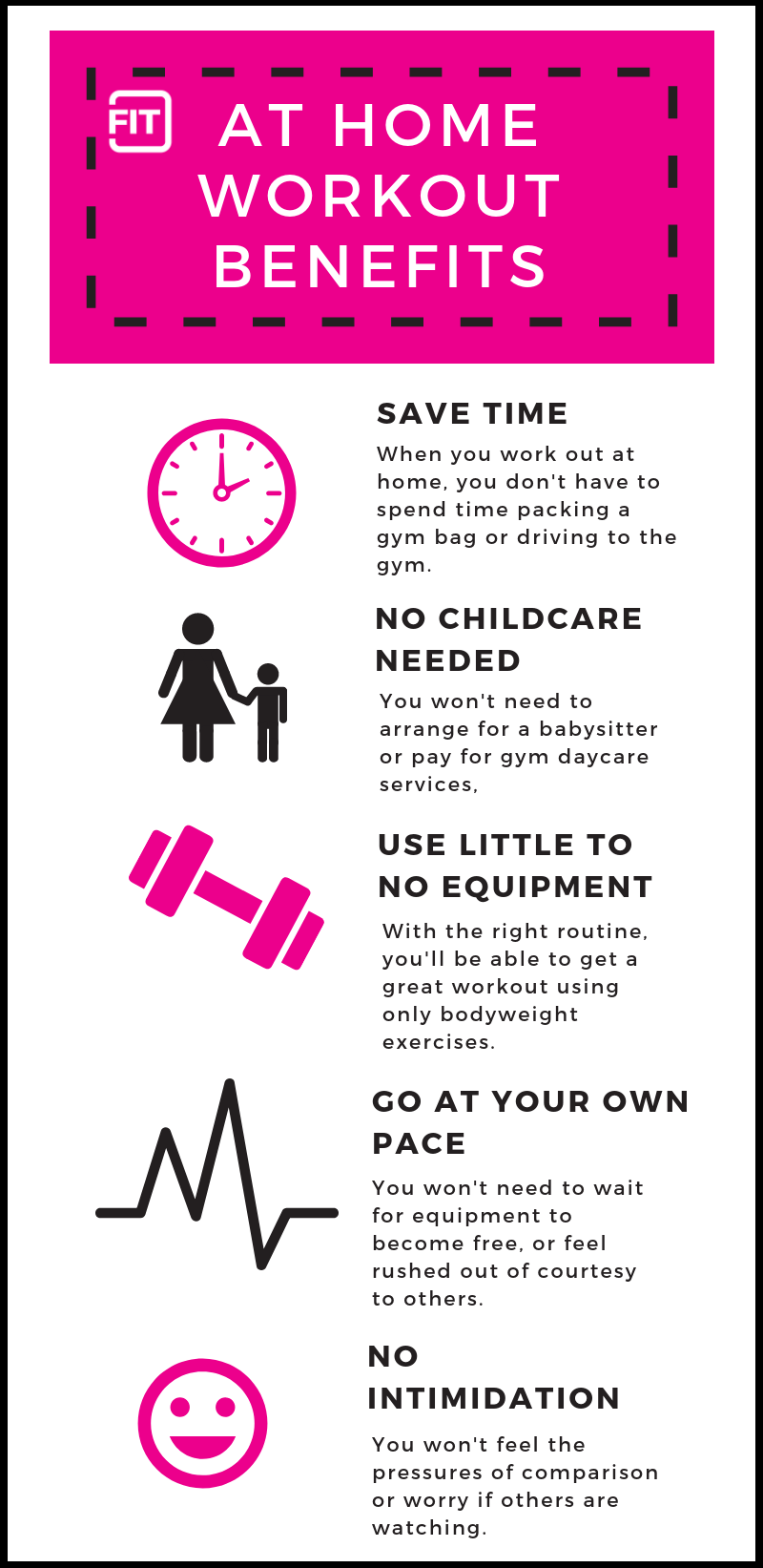 At Home Workouts To Try
These workouts are great to help you get started. I highly recommend starting with our free 15-day challenge to make sure working out at home is the right fit for you.
There are plenty of modifications that you can implement to help you get started and it shows you some of the best full-body workouts for women. Here are a few of our favorites from this challenge.